Microsoft Dynamics 365
Drive shorter sales cycles with Oneflow for Dynamics 365.
+ Built by Oneflow + 100% native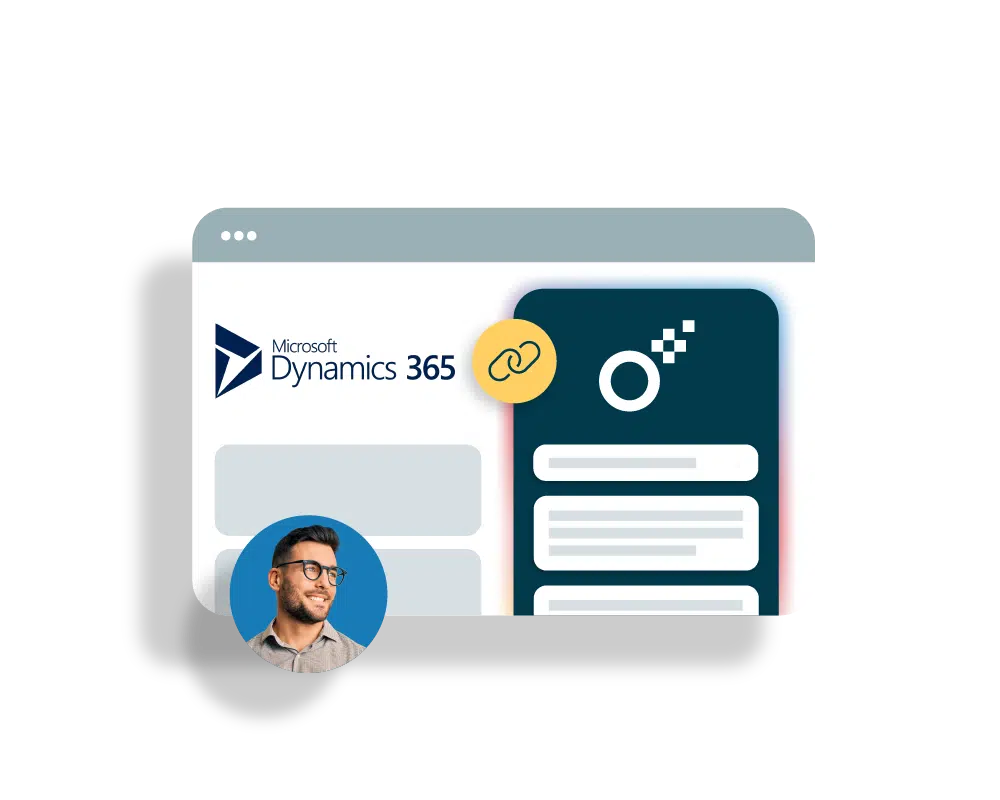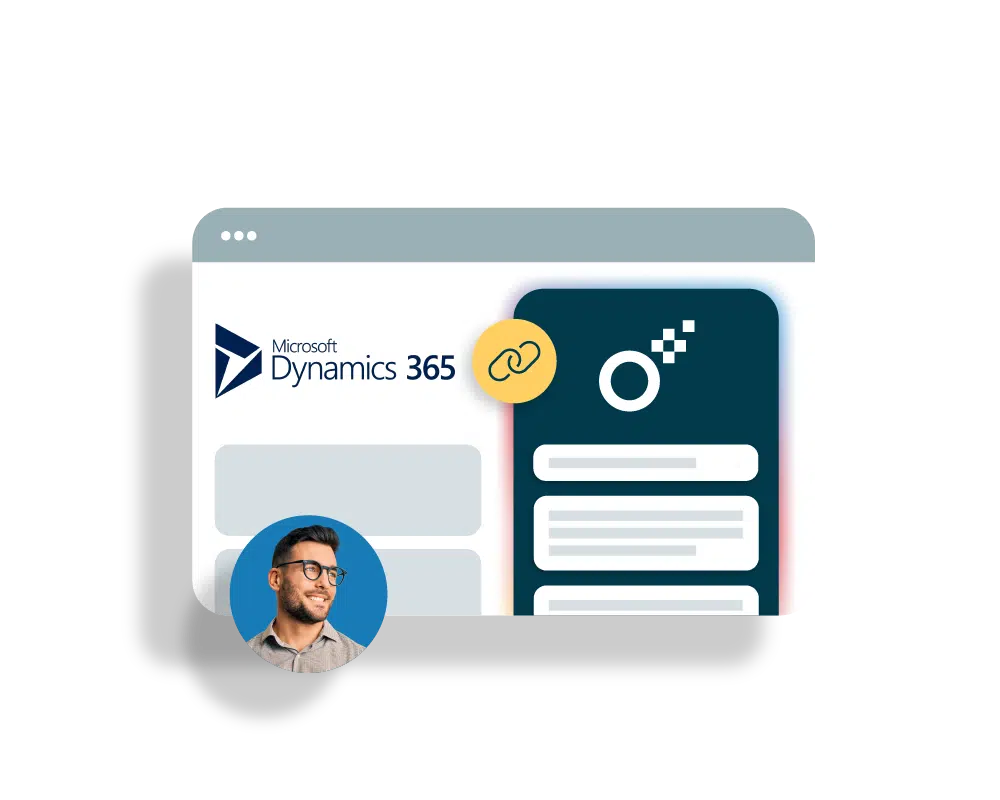 Put an end to slow, uncertain sales processes. With Oneflow's integration, you can create, negotiate, track, and e-sign sales contracts, without ever leaving your CRM.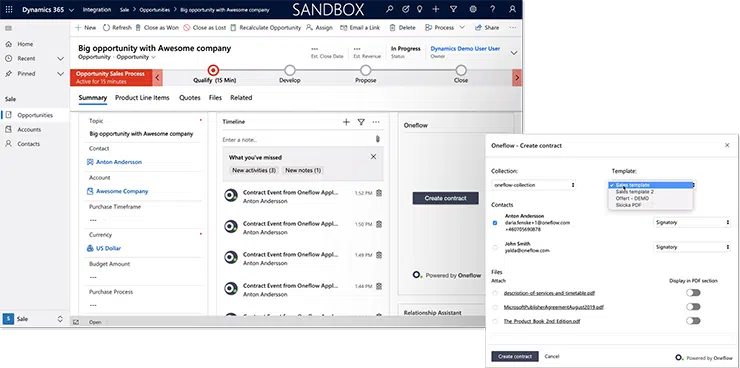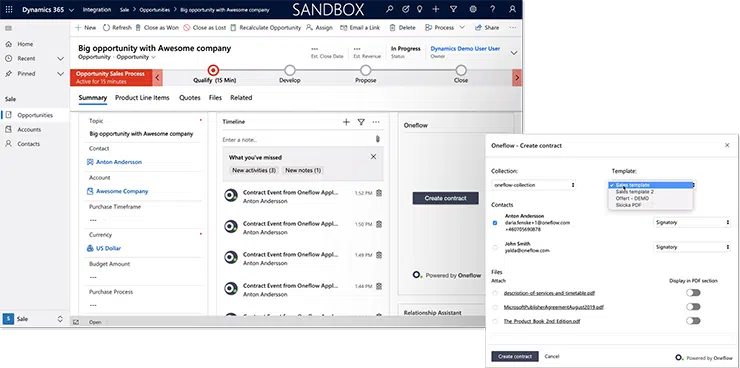 Save time and reduce error
Send out error-free contracts in just a few clicks. Pick a template and see how the data from custom data fields, standard data fields, and products are automatically added to the contract. Create one or more contracts for every opportunity.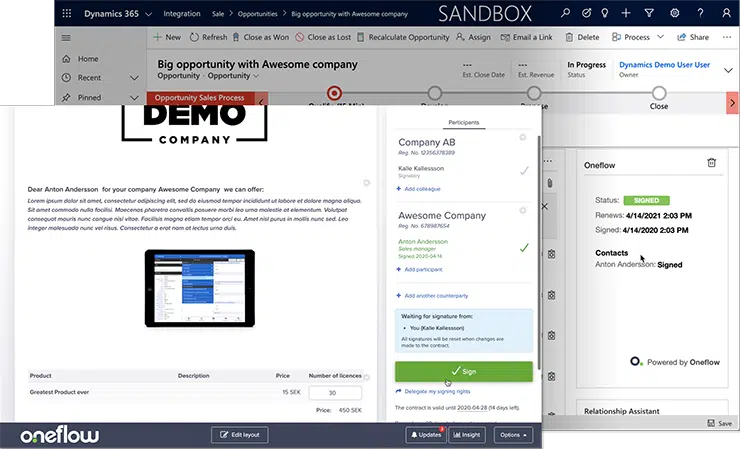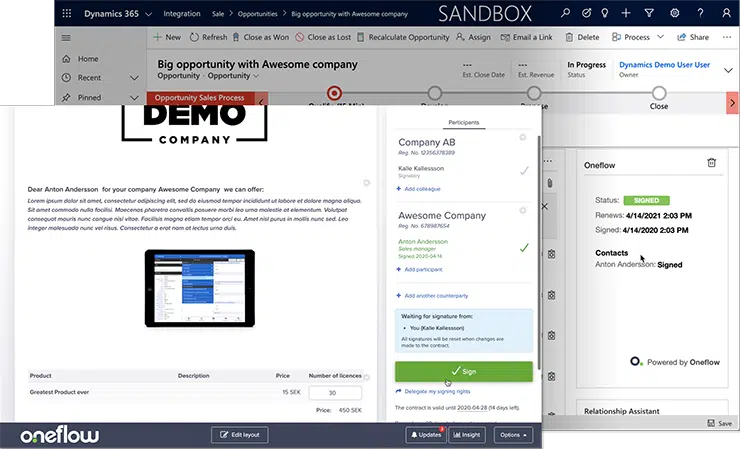 Negotiate with ease
Close deals faster by negotiating with your customer inside the contract, directly in the browser. Make changes even after it's sent and forget about multiple versions or long email threads. There'll only be one version of the contract.
Stay in control, even after sending
Don't lose control the moment you hit send. Track contract status on the Dynamics 365 timeline and get instant notifications when your customer interacts with the contract. The contract card shows you detailed info on who has signed and who you're still waiting on. Use these insights to know exactly when to follow up.
Sign without any fuss
Get your deals signed from anywhere with legally binding digital signatures. Choose the signing method that suits you and your customer the best — either with electronic identification (eID), SMS and email authentication, or standard one-click e-signing.
Find your flow in Dynamics 365
Eliminate admin
Don't waste precious time on admin. Account, opportunity, and contact data — both standard and custom fields — are automatically added to your contract.
Get organized
Make sure the right person has access to the right contracts. Create Workspaces for different types of contracts across your organization with permission control.
Crystal clear communication
Full transparency in every step of the contract workflow. All changes made throughout the process are saved in the audit trail.
FAQs
Where do I find the integration on Microsoft AppSource?
Which Dynamics 365 products does the integration work with?
The integration works with Dynamics 365 Sales and Dynamics 365 Customer Engagement.
How do I get started with the Dynamics 365 integration?
We've gathered lots of useful information on how to get started in our Help Center.
Can I customize the Dynamics 365 integration?
Yes! Product logic can be changed to fit the needs of your business, and you can also extend the Oneflow application with custom logic. Get in touch if you'd like to know more.
Who do I contact if I want to start using Oneflow for Dynamics 365?
Glad you asked! You're welcome to book a demo and we'll take it from there.