A digital signature is a way to sign a car rental agreement in minutes, no matter where exactly you are. This way, you can book car rentals, issue invoices, and sign contracts anywhere and anytime. All you need is a smartphone or tablet and an electronic signature.
Advantages of a Digital Signature for Car Rental
The digital signature will help you save time in comparison to signing the agreement manually. This way of formalizing documents is also great
for car rental companies because it reduces the cost of printing paper documents and postage. It also improves the quality of customer service.
Advantages of digital signature for people who need to use a car rental service:
You don't need to be physically present in the company's office to sign the contract
You have access to all your documents online
The contract can be drafted and edited anytime and anywhere
You send a digitally signed document by email, thereby saving time and money on postage
Digital signatures are stored in highly secure databases
Easy access to documents at any time since they are stored on cloud servers
Robust protection of documents against loss or other types of vulnerabilities because all documents are stored in cloud storage
Reduced risk of errors, such as duplication or alteration of a document by employees of the company that provides the car rental service
There is minimal exposure to tampering, reducing the risk of documents being intercepted by a third party
The fleet manager simply sends you the contract by email. After that, you only need to provide a digital signature. Afterward, you will be notified that the agreement has been submitted and verified by the company.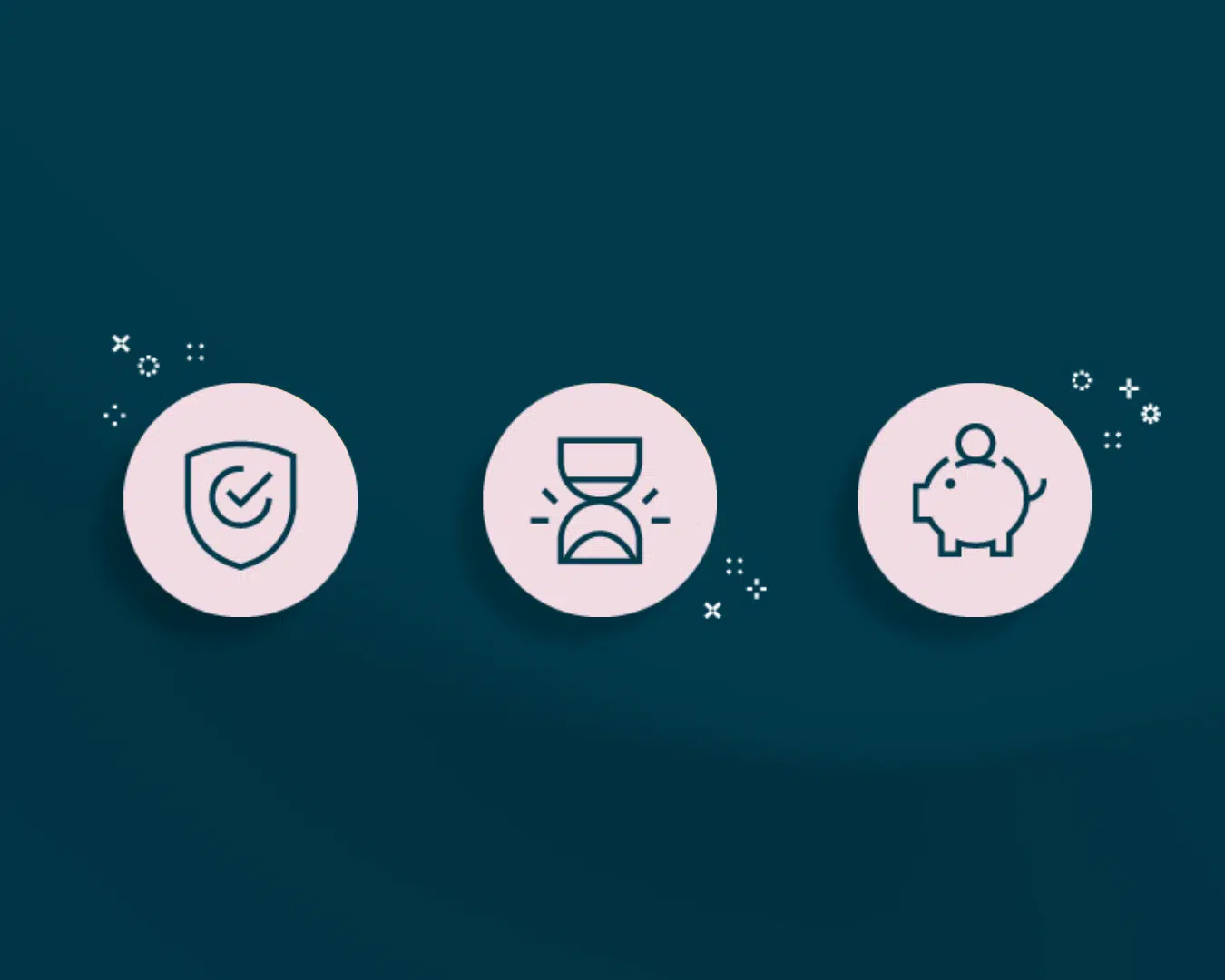 How to Get Started with Digital Signatures
To get started with a digital signature, you'll first need to choose the software that you can use to sign rental agreements online.
The principle behind the operation of such a service is extremely simple from the stage of booking the car to signing the rental agreement. The software automatically generates a PDF file of the agreement, which you will receive by email. After that, you can manage all your reservations, contracts, and invoices in a few clicks.
Many are also interested in how to make an app with a digital signature feature. For this, you need to contact the developers to implement such a feature. But you can always integrate a third party solution.
Read also: Edit and sign PDFs online: A how-to guide
Software Selection
When selecting the most reliable digital signature software, you need to consider the following basic criteria:
Flexibility
Scalability
Maximum legal security
There are many specialized services intended particularly for online car rentals. Let's consider options of such software, which have the biggest number of positive reviews from clients.
MyRent
MyRent is a cloud-based software for showrooms and dealerships for booking and renting various kinds of vehicles. The list of main functions of the service includes:
Customer data management
Vehicle reservation management
Contract creation
Payment processing and invoicing
Vehicle availability calendar
List of all previously uploaded documents
Digital signature
With this software, you can search for cars and check their availability, quickly find a rental agreement, and create non-productive solutions. Various versions of documents can be quickly uploaded: customer data, contracts, or vehicle documentation.
There is also a mobile version of this service for convenient access to documents at any time. Also, one client of the service can set up this application for another client if necessary.
You can be sure that all your documents uploaded to this application will not be lost. MyRent has a local application database that stores users' personal data until they are successfully uploaded to the server.
Coastr
Coastr is a feature-rich digital rental platform. Its operating principle is based on IoT technology. This solution is designed for efficient management of all car rental operations. Users can also sign contracts with a digital signature.
The benefits of the Coastr service:
Efficient management of all processes, from car reservation to billing
Customer app with the ability to access the platform without a key
Convenient booking management
Complete security and data reliability
The platform has a user-friendly interface because the site is hosted on Whitelabel +.
Read also: Why electronic signatures are just as valid as handwritten signatures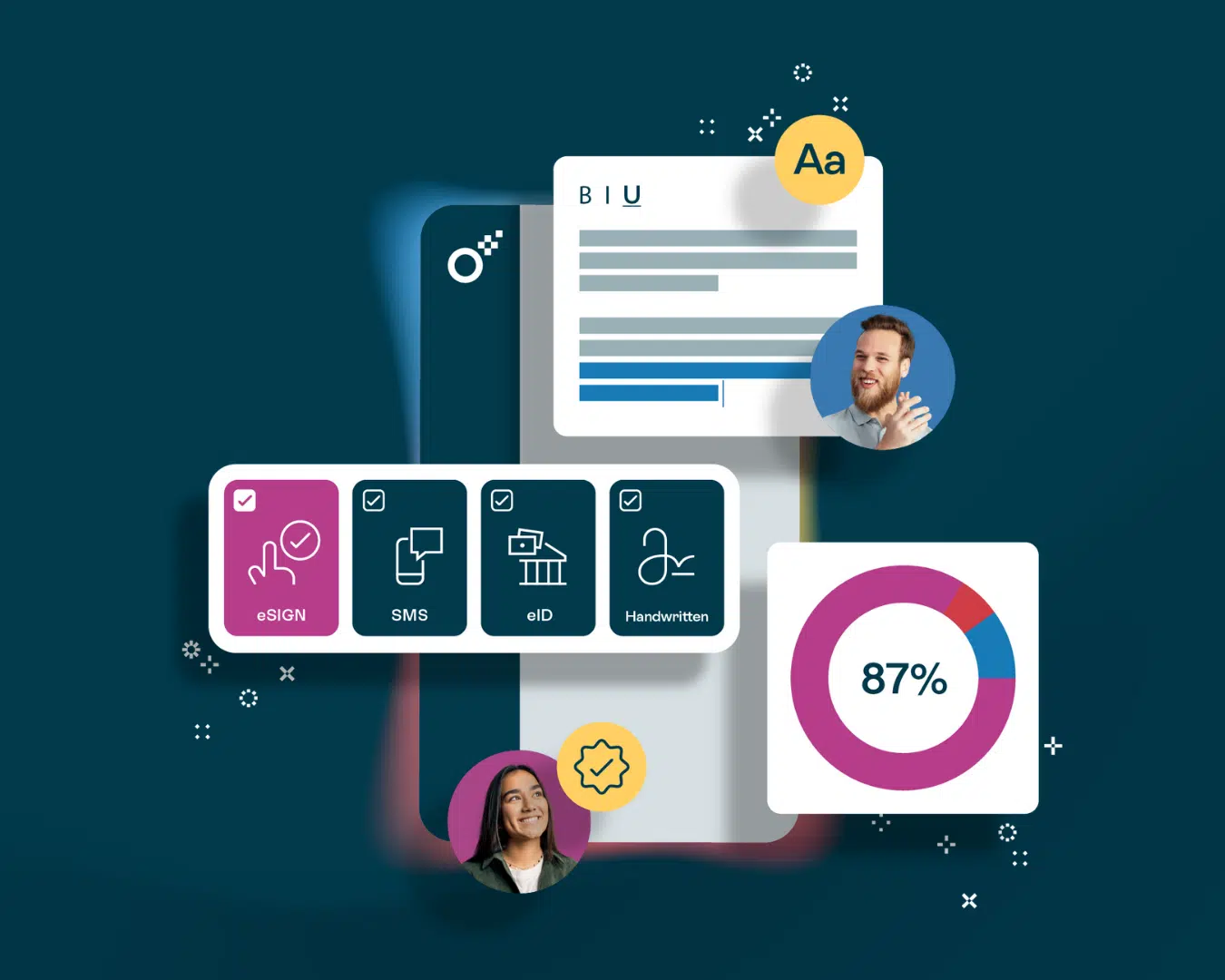 Fleet by Beem
Fleet by Beem is a comprehensive cloud solution that provides all the necessary features for car rental companies and their customers. This includes an electronic signature feature that doesn't require a mobile app.
The benefits of Fleet by Beem software are:
Simple, quick installation. Access is possible from any PC or tablet
Intuitive interface
No annual contract is required to use all the functions of the service. Payment is made monthly
Rental management. You can rent a car and then execute the contract with a digital signature
Auto-complete agreements. The company manager fills out the agreement forms in 1 minute and sends them to you for signing
Multilingual interface. In addition to English, there is an interface in French
Instant payments. You can pay for rent, fuel, and other expenses in one click
The software offers several configuration options, and there is a mobile app.
Yo!Rent
Yo!Rent is a cloud-based software that streamlines the operation of car rental companies, rental points, and their customers. It supports integration with cloud services such as MailChimp, QuickBooks, Google Analytics, and Shipstation for maximum data security.
Features of Yo!Rent for car rental:
Suitable for renting not only passenger cars but also heavy vehicles and bicycles
There are options to rent a car for a day, week, or month
Checking the license and its security
The software creates an easy way to manage agreements and sign contracts with a digital signature.
Myrentcar
Myrentcar is a special car rental software that increases the productivity of car rental companies and saves their customers time. With its help, you can easily manage all the aspects of car rental, such as reservations, the creation of contracts, and invoicing in one click.
The benefits of Myrentcar software are:
Optimized deployment time
Customizable rate management
Allows you to create all necessary types of documents (agreements, contracts, invoices, orders)
Ergonomic quotation tool
High level of customizability
Clickygo app for convenient carsharing, with which you can book a car by yourself 24 hours a day
Myrentcar is also an online space for customers to conveniently manage all their bookings, contracts, and pay the bills in a few clicks. You don't need to install a desktop or mobile app to digitally sign an agreement or a contract. You can perform all operations directly in your browser.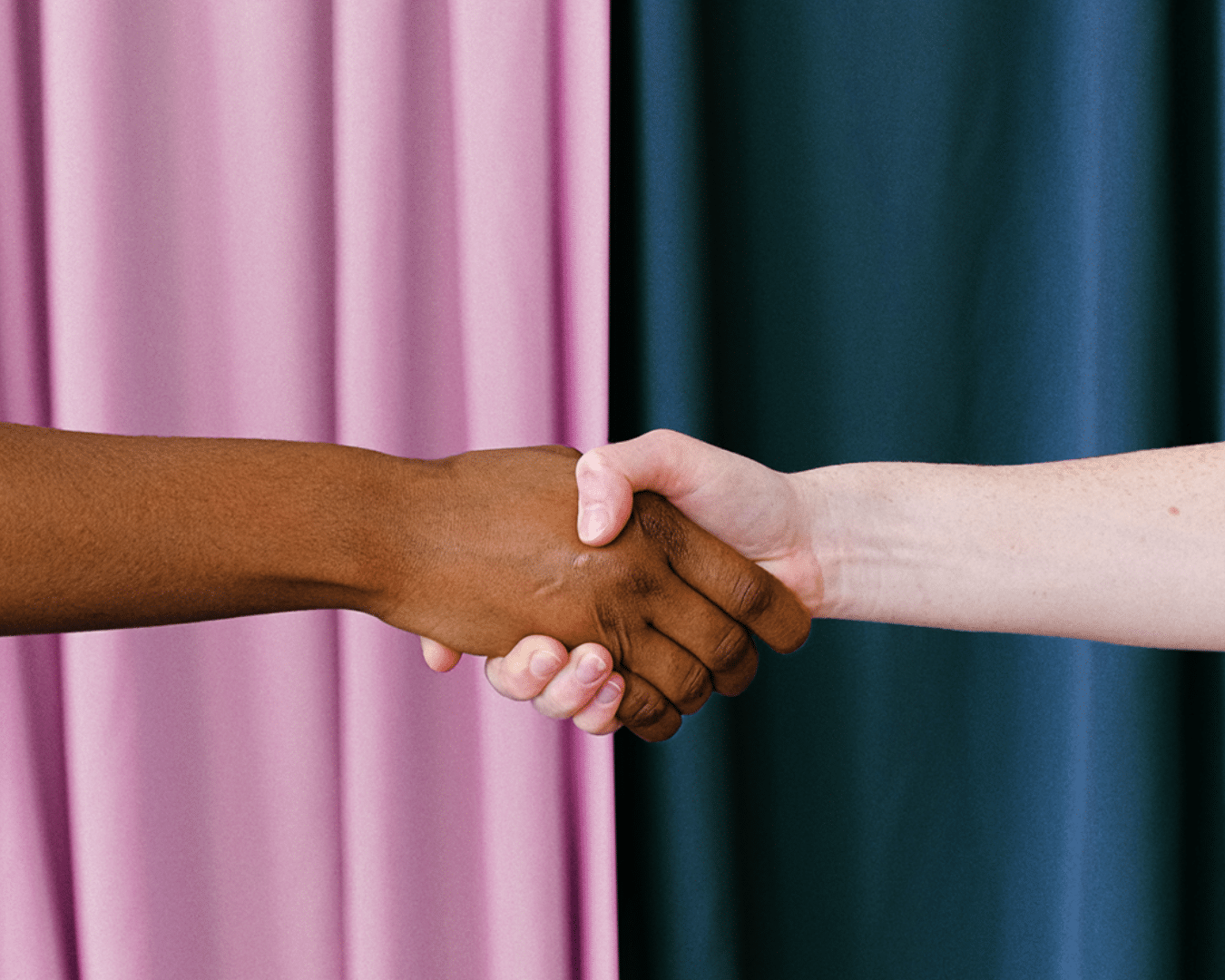 Rentgine
Rentgine is software that allows you to fully digitize the entire car rental process. The user-friendly interface is designed in such a way that you can even sign a contract using your smartphone.
The main features of Rentgine are:
Completely paperless car rental. All documents, including your ID card, can be submitted online to the company manager
Fully automated bill payment
If you don't have a tablet, the manager will send you the contract by email. You only need to confirm the document using a digital signature
Oneflow
Oneflow is software that contains all necessary ready-made templates for car rental contracts. All functions are available online (including contract management from anywhere in the world).
Benefits of Oneflow:
There is a function of fast integration with cloud services for data security and fast data exchange
The lease agreement can be sent to you via email
Copies of all signed documents are automatically stored in a secure digital archiveDigiLocker, where they can be accessed at any time
In order to quickly sign a rental agreement, do like so:
Login to your Oneflow account
Find the document in your folders or upload a new one
Access the template customization using the Tools menu
Enter text and sign it
If needed, add multiple signers (using their email addresses) and customize the signing order
Specify which individuals can obtain the signed version
Add an expiration date
You can also use additional options to limit access to the template
Read also: Why Oneflow is a contract automation platform for everyone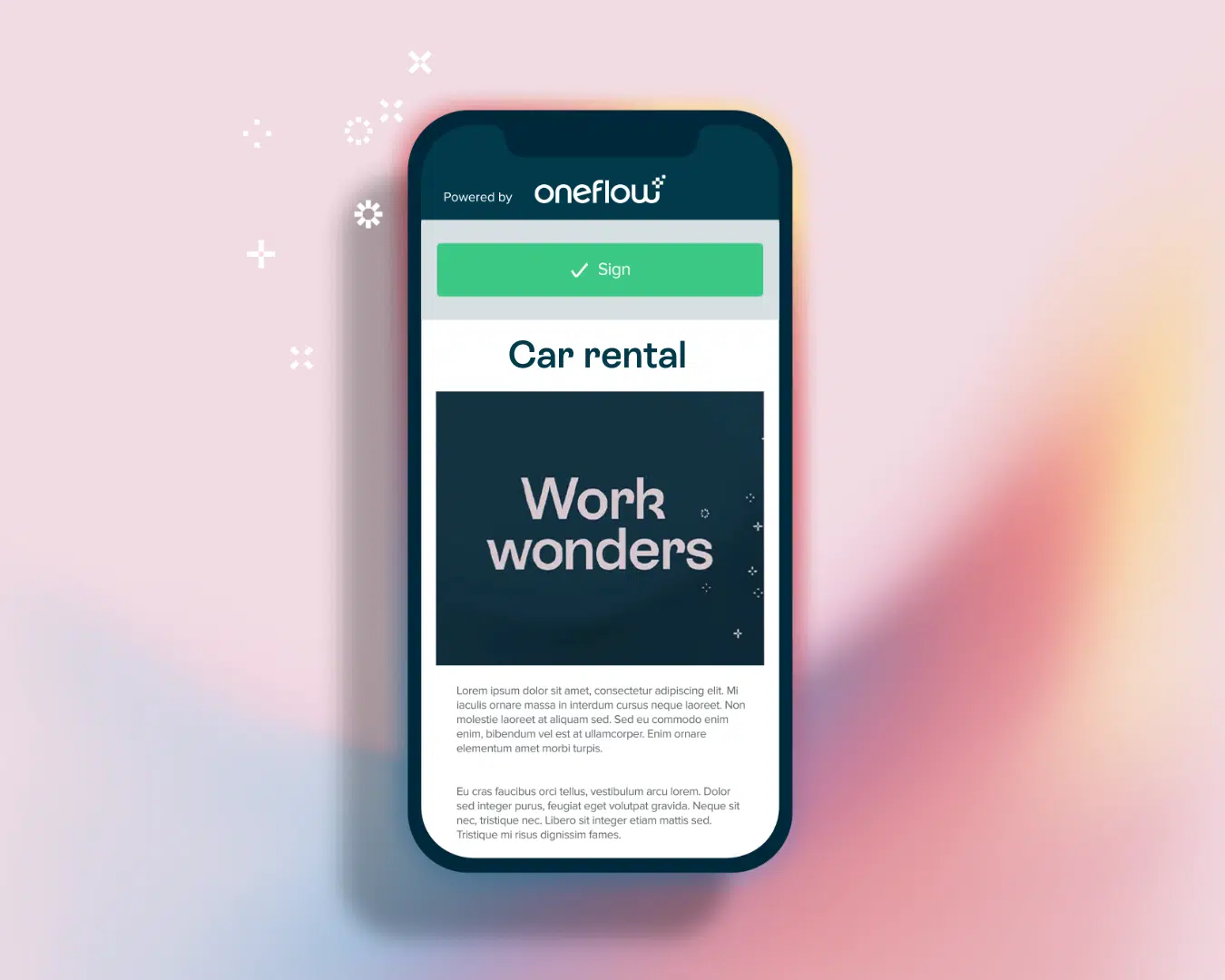 One-Shot Signature
One-Shot Signature is a service that can be used to instantly sign any document, including a car rental agreement. The principle of this signature is based on the use of a digital certificate. It provides the highest level of legal security for the document, including when you need to prove the authenticity of your signature in court.
Advantages of One-Shot Signature service:
Simplicity of operation
Possibility to work via API
Intuitive user interface
Independent from the operating system or platform you use
Cloud-based security without a card
Maximum privacy assurance
Any document can be signed using a tablet or smartphone: you don't need to install any additional apps
Renthub
Renthub is a feature-rich software designed for easy management of all business processes, including electronic document management. The list of Renthub features includes:
Reservation management
Creation of multilingual contracts
Customization of text and other information in created documents
Scheduling function
Extended statistics are displayed on the Dashboard
You do not need to visit the company's office to submit all the necessary documents
To draw up an agreement or contract, you only need to send an electronic driver's license and a document confirming your identity.
Also, in the application, you can access all the information on your previous bookings. Statistics on them are divided by year and additional services for convenience.
Trusted Onboarding Platform
The Trusted Onboarding Platform is a cloud-based solution from InfoCert that is designed to fully dematerialize the entire car rental process. This includes a qualified digital signature based on a digital certificate.
The advantages of the Trusted Onboarding Platform digital platform are:
The simplest and most intuitive user interface possible
To sign a contract, you only need to enter a one-time password, which will be sent to your phone
You can post free copies of invoices using a customized format
Instant creation of the contract
There are several options for verifying a customer's identity
Simple and intelligent integration of electronic signature processes into existing systems is also available to all users.
Read also: E-signing a PDF vs signing a PDF by hand
How to Set Up a Digital Signature for Car Rental
In order to properly set up a digital signature before signing a contract, car rental businesses employ dedicated IT solutions for this purpose.
How to Sign a Car Rental Agreement with a Digital Signature
No matter which software you choose, the way of doing it is broadly the same:
The company manager sends you the document by email, and you receive a notification about it
Next, open the received PDF document or an online form
Put your digital signature
Confirm the insertion of the information with a checkmark, a special checkbox, or an image
Then, you receive another notification that confirms that the agreement has been transferred and confirmed
After that, many services allow you to get a copy of the document. It is worth remembering that a digital signature can be used only once and cannot be transferred to another document. This is what provides the authenticity of the agreement signed with it (such a document cannot be falsified).
The key takeaways
A digital signature is a convenient way to sign a car rental agreement without physically going to the office. You only need a personal computer, tablet, or smartphone for it.
A digital signature has properties of authenticity and irrevocability. Depending on the level of security, a digital signature can be qualified or unqualified. The first type is used when you need the maximum level of legal security and protection against unauthorized access.
If you need to minimize risks, but do not need a high level of security, you can use a simple type or an unqualified type.
Author bio:
Dmytro Sokhach is an entrepreneur and the 6-Figure Flipper Club member. Founded Admix Global (web agency) that builds websites, makes them profitable, and sells them as business