Oneflow for Google Workspace
Contract Magic for Google Workspace makes contract signing and management easy for users without leaving their favorite Google Workspace productivity apps.
+ Built by Oneflow + 100% native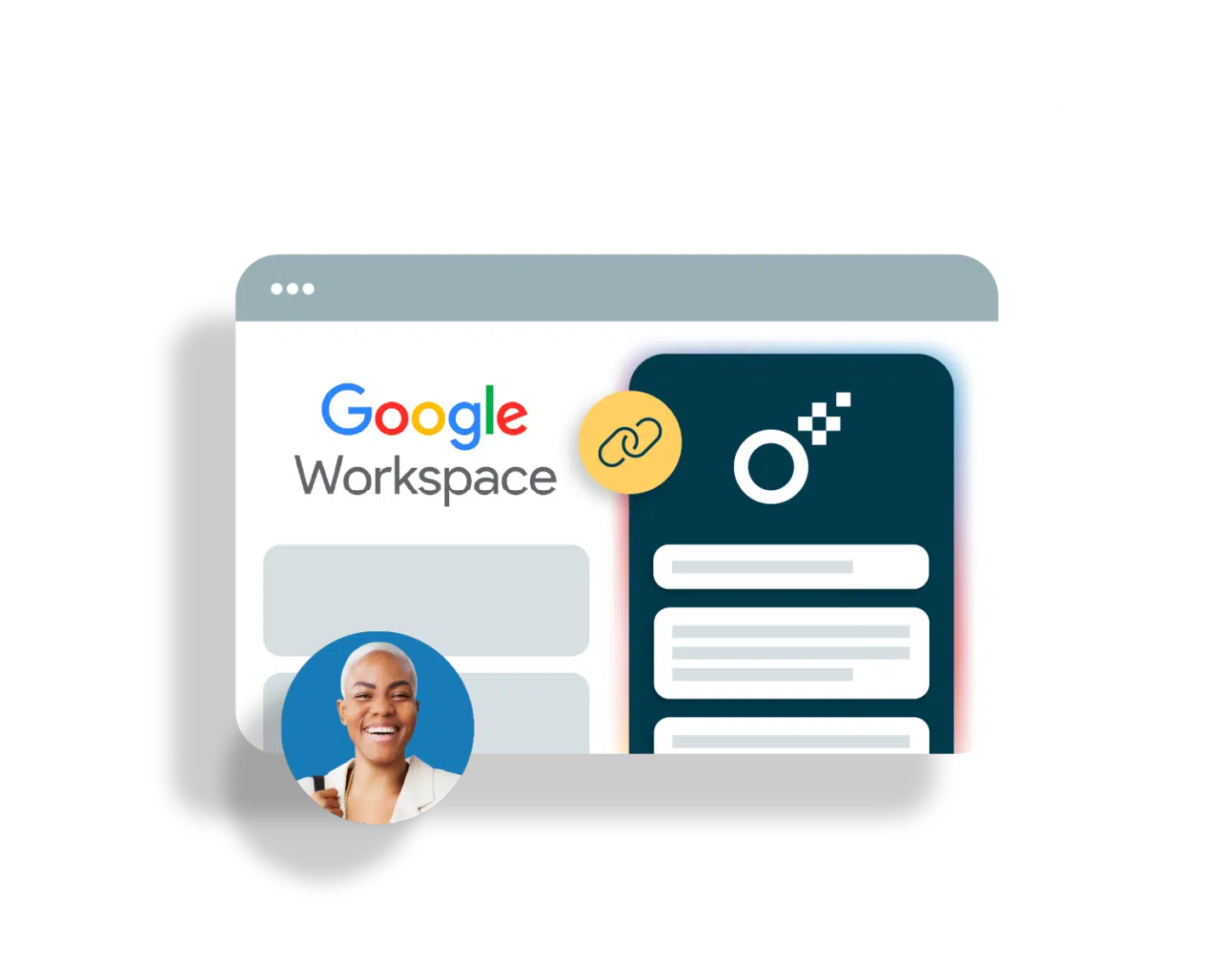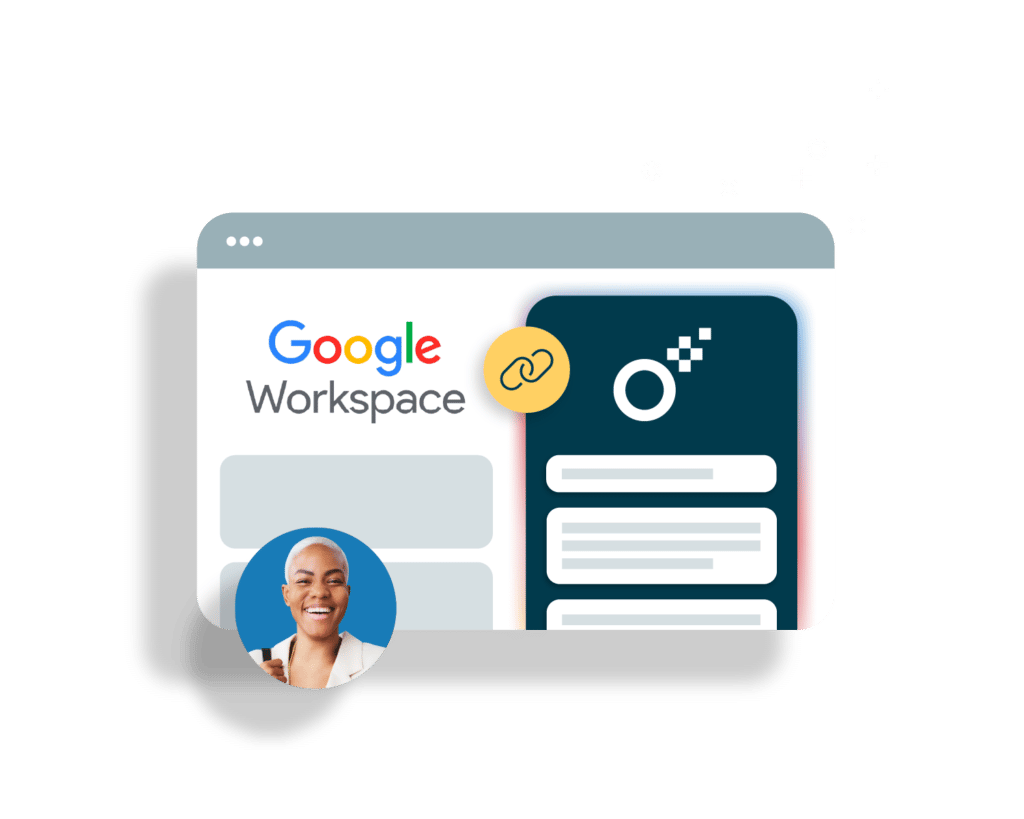 Share contracts from apps
Side-by-side contract status
Create, send, track, and sign your documents from your Google Docs or Slides with Oneflow for Google Workspace. With Oneflow's add-on, you can turn your documents collaborated on Google Workspace apps into contracts. Add counterparties without switching tabs to sign your documents with legally binding signatures.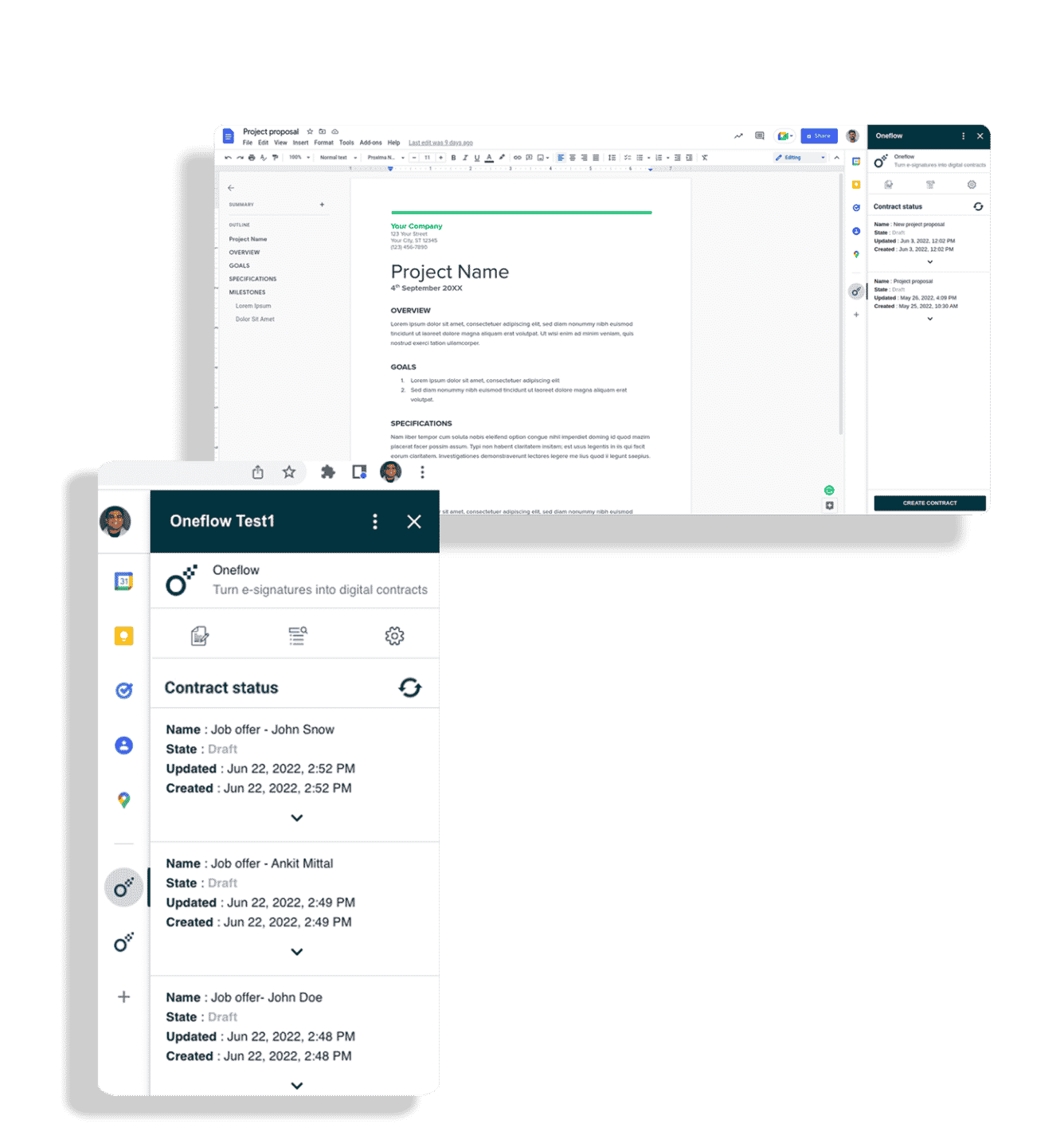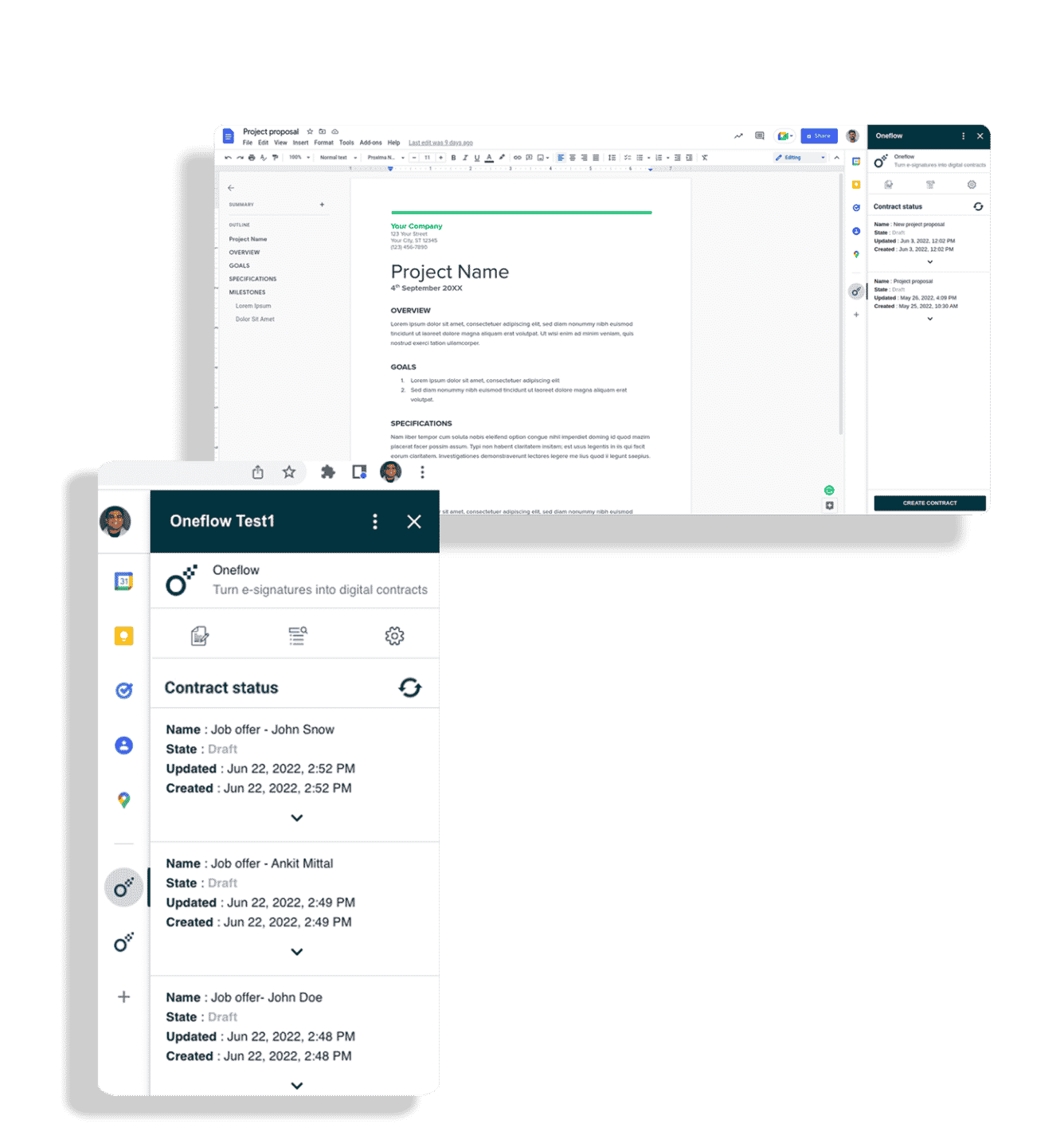 Send and e-sign documents by never leaving Google Workspace
With Oneflow's add-on for Google Workspace, you can create a signable document or proposal directly inside of Google Workspace productivity apps such as Google Docs and Slides. Google Workspace users can invite counterparties, send and e-sign their Google documents into a Oneflow contract without needing to enter Oneflow.
Create multiple contracts from one Google document
Use your Google document as a template to create multiple contracts with the right participants, all ready to be signed in Oneflow. This is especially useful when the same contract with minor edits can be reused for different participants, for e.g. employment contracts. Access all current contract statuses created from the template – sent, opened, signed – in the sidebar next to your document template.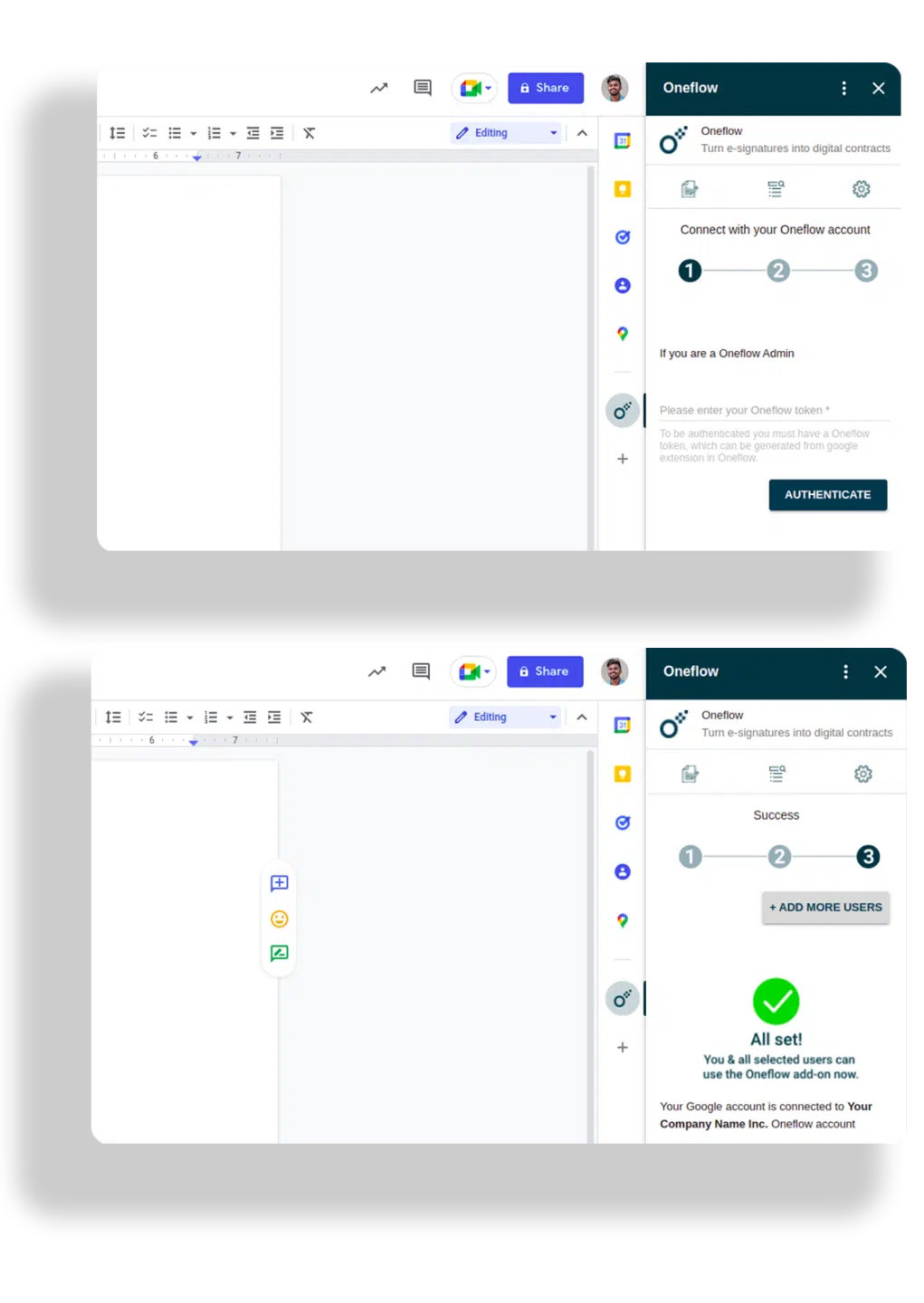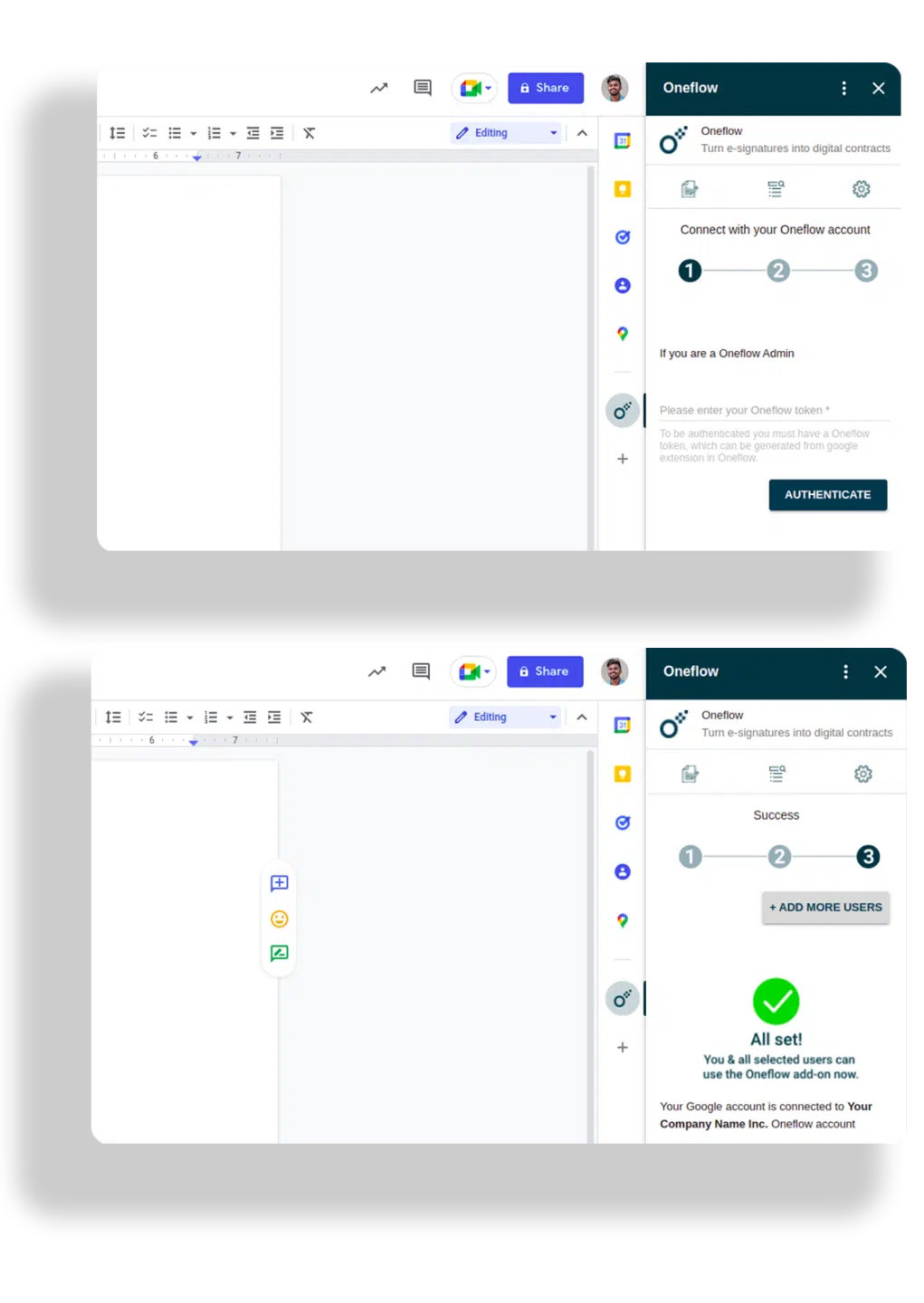 Add contract magic to Google Workspace with a click
Connecting your Google documents to Oneflow is very easy. All you need to do is to download our add-on from the Google Workspace Marketplace, and create a free Oneflow account. Existing Oneflow users can easily connect the platforms together via their Google extension activation code generated in Oneflow.
Google + Oneflow = truly digital workflow
Combine the powerful editing capabilities of Google Workspace productivity apps and turn any documents into digital contracts ready to be sent for electronic signatures.
You can now collaborate as you've always done in Google Workspace apps with your team and add contract signing and management workflows to it without switching apps back and forth. Create, send and sign any documents in one truly collaborative flow.
Find your flow in Google Workspace
A frictionless flow
The integration between Google Workspace and Oneflow allows work to happen seamlessly across platforms, all from inside Google Workspace. Keep Oneflow open in the side panel, whether you're working in Google Docs or Slides.
Easy to connect
Connecting Google Workspace to Oneflow is very simple. Users with admin access can easily enter their Oneflow token which can be generated from the Google extension in Oneflow. Get started with our cloud-based solution in just minutes.
Access to contract status
Stay up to date with contract status. Next to your Google Docs or Slides view, you can see when your contract is sent and when your counterparty has opened, or signed the document. 
FAQs
Which are some of the example use cases for our Google Workspace add-on?
A sales rep shares a stunning proposal created in Google Slides with their prospect and collaborates with them before it's time to sign. From Google Slides, the rep transforms the proposal to Oneflow contracts ready to be sent and signed by the prospect with legally binding electronic signatures. The signed proposal is securely stored in Oneflow.
A recruiter creates an offer letter in Google Docs and sends the offer to candidate A for electronic signature. The recruiter uses the exact same Google Docs (with minor edit on the candidate name) to send the offer to candidate B, then candidate C. The recruiter sees on the Oneflow sidebar which of the offers is opened or signed. The signed offers are accessible by the entire team in Oneflow.
A freelancer doesn't sign contracts as often so it's not worth paying for any e-signature software but still wants a legally binding contract to protect themselves. The freelancer who loves collaborating their statement of work (SOW) in Google Docs with their clients, can now create a contract from the SOW with a click and send it to the clients for collecting free, legally binding e-signature at the very moment an agreement is reached.
Which are the Google Workspace productivity apps that Oneflow currently support?
Currently we support Google Docs, Google Slides and plan to soon support Gmail, Drive and more. Please contact support@oneflow.com if you'd like to stay updated. 
How many contracts can I create from one Google Docs template?
Currently, you can create up to 10 different contracts from one Google document. All statuses of the contracts created from the document are available on the sidebar.
Where can I find Oneflow for Google Workspace?
You can find our latest addon in the Google Workspace Marketplace here.
Who do I contact if I want to know more about this integration?
How do I get started?
Here's how you get started.
2. Download the our addon from Google Workspace Marketplace
3. Activate Google Workspace Extension and copy the activation code (token) generated in Oneflow.
4. Paste the code into the app sidebar on Google Docs/Slides for instant integration. Ta-da! 
Contract magic by Oneflow for Google
Make contract management simple by creating contracts directly inside of your favorite Google Workspace apps. Add contract magic while working with the best Google tools.