Upsales
Close deals faster with automated contracts from Upsales.
+ Built by Upsales + 100% native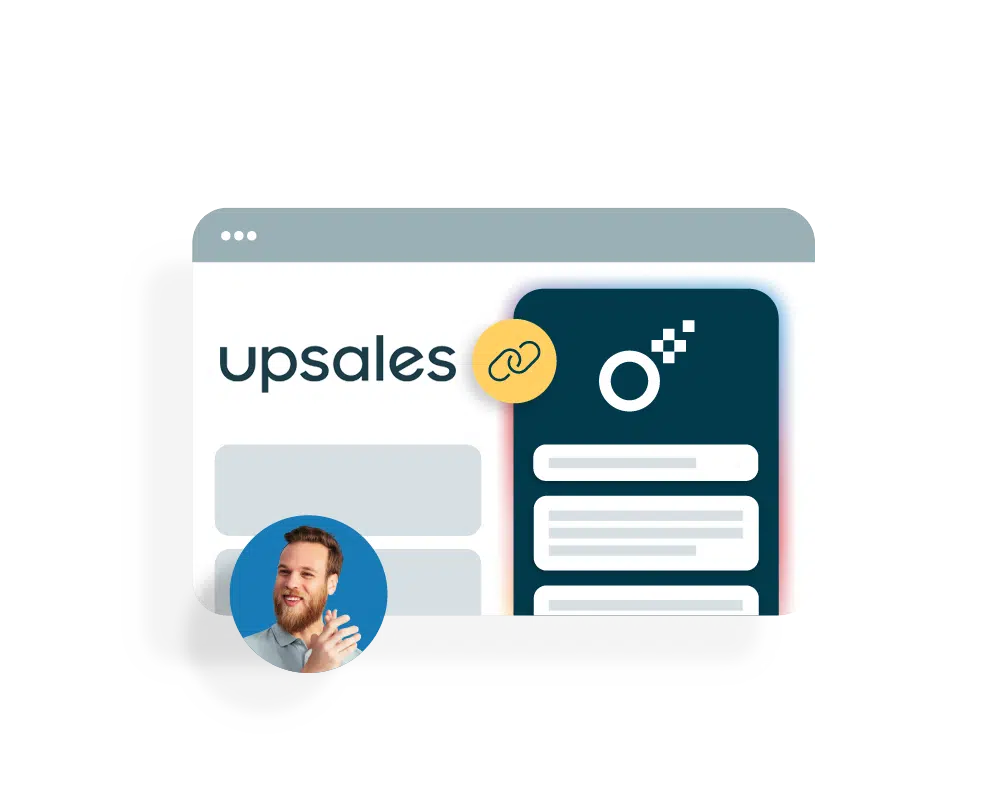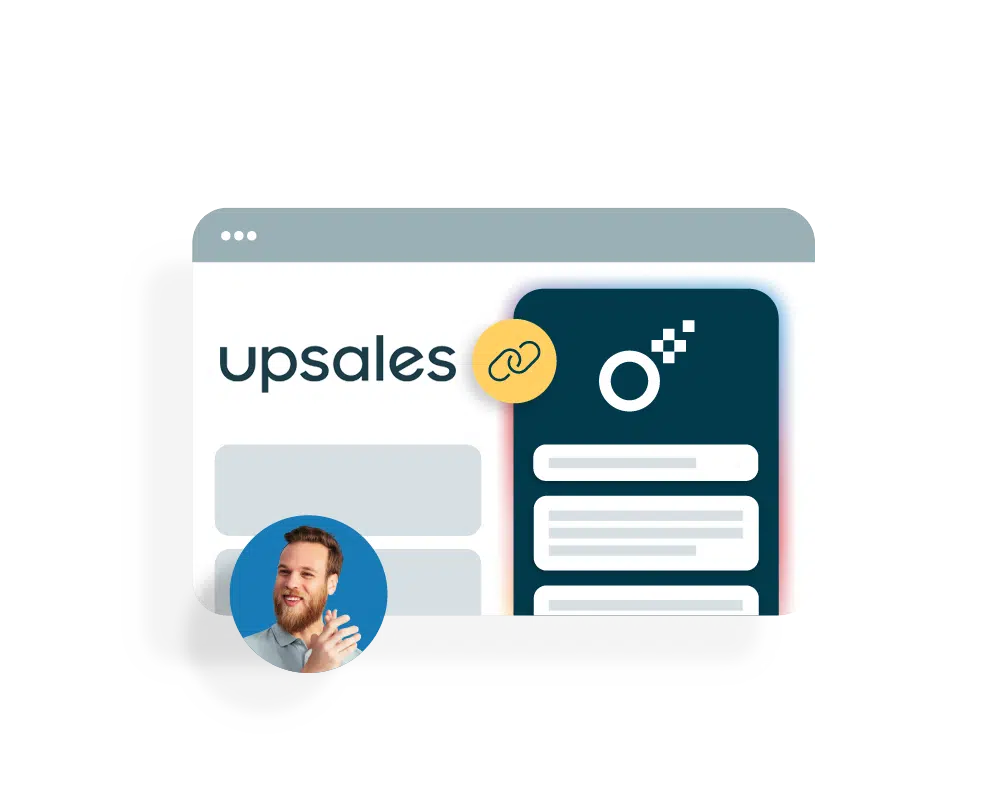 Effortless proposal management
Move faster from proposal to close. Create, track, negotiate, and e-sign your sales proposals without ever leaving Upsales.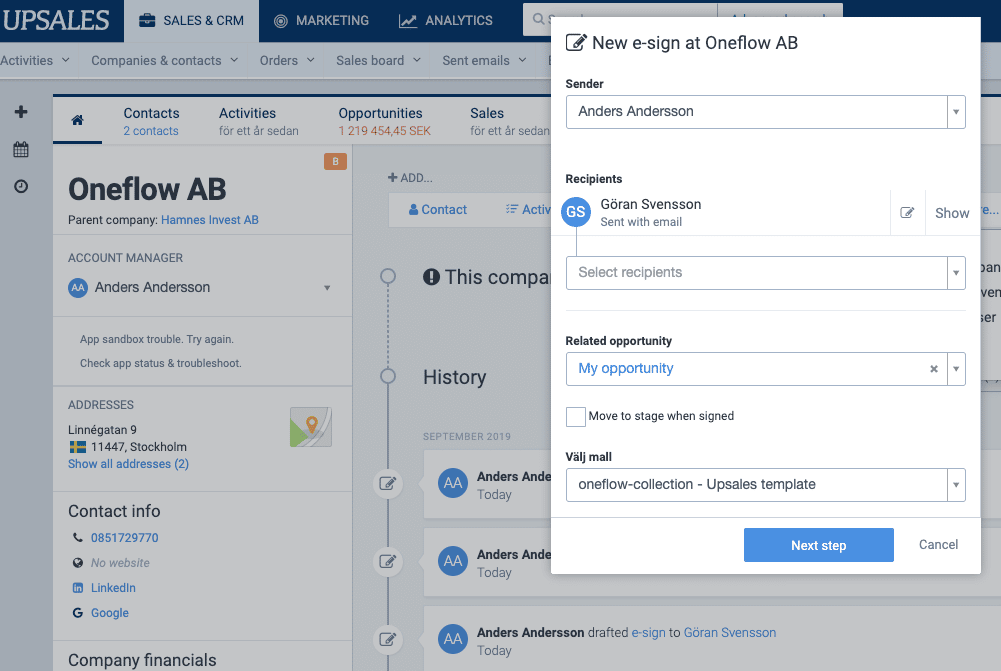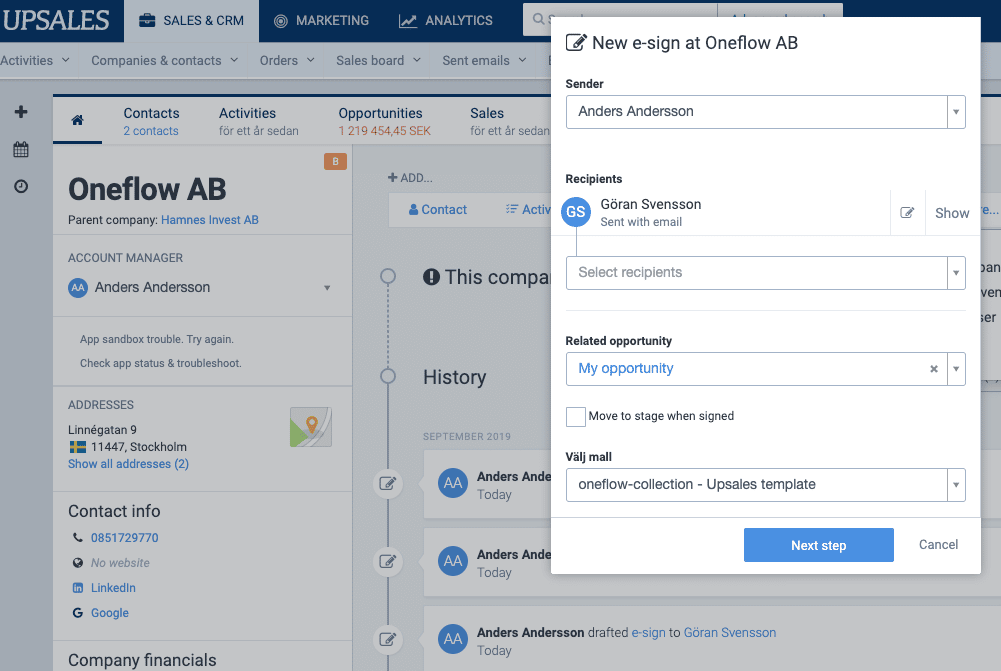 Focus on selling, not admin
Spend your time where it counts. Create your proposals from templates with pre-filled data from Upsales and send with a click. Never enter information twice, ever again.
Reach an agreement faster
Shorten your sales cycle significantly by negotiating with your customer in your browser. Make updates and comments to the proposal, and let customers add products and see discounts. All changes are instantly visible to them.


Keep an eye on your deals
Stay in control throughout the whole sales process. Get instant notifications when your customer interacts with the proposal and follow the progress on the Upsales timeline.
Sign without friction
Get your deals signed faster with legally binding e-signatures. Let people sign with electronic identification (eID), SMS and email authentication, or standard one-click e-signing — whatever suits you the best.
Find your flow in Upsales
Send better proposals
Win more deals by understanding how your contracts perform with insights about sign rate, time to sign, and more.
Get organized
Make sure the right person has access to the right contracts. Create Workspaces for different types of contracts across your organization with permission control.
Automatic reminders
Set a validity period if you want your proposal signed within a certain time. Oneflow will then send you and your customer handy reminders.
FAQs
Do I need any technical skills to enable the integration?
No, Oneflow for Upsales doesn't require any coding. The integration is easily activated from your Upsales account. 
How do I get started with the Upsales integration?
Learn everything you need to know about how to get started in our Help Center.
Who do I contact if I want to start using Oneflow for Upsales?
We'd be happy to help! You're welcome to book a demo and we'll take it from there.