The users have spoken. Oneflow is recognized as Momentum Leader in G2's Winter 2021 awards for the categories of Contract Management and Document Generation. Users also rate Oneflow High Performer in these categories, as well as in E-signatures and Proposal.
G2 is the go-to place when you're on the hunt for new software and want to know what real, honest users think. Every quarter, G2 highlights the top-rated solutions in the industry based on customer reviews. Here's a roundup of Oneflow's G2 awards this winter:
Contract Management
Momentum Leader
High Performer: Enterprise, Mid-Market, Small Business
E-signature
High Performer: Europe, Enterprise
Easiest to do business with: Enterprise
Document Generation
Momentum Leader
High Performer
Proposal
Additional Reward
Users Love Us (The feeling is mutual!)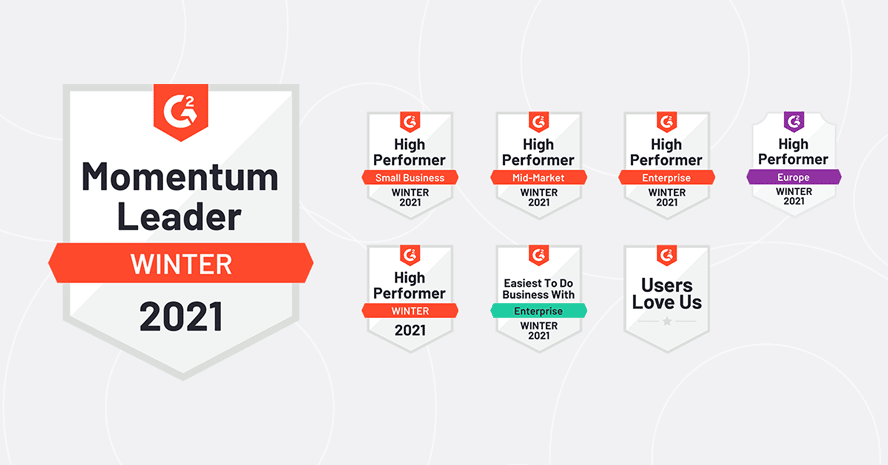 Outstanding results in the Enterprise segment
Oneflow ranks high for Contract Management and E-signature by Enterprise users. It is clear that Oneflow makes business run smooth and meets the strict security requirements of large organizations.
Recognized as High Performer for E-signature in Europe
You'll find Oneflow in the top class in the Europe Regional Grid for E-signature. Our strong presence in the Nordics is starting to spread to other markets on the continent.
Oneflow ranks top 3 in the G2 Momentum Grid
The G2 Momentum Grid shows the growth trajectory companies have had in their respective spaces. The rankings are based on user satisfaction scores, employee growth, and digital presence over the last year. Out of 22 companies, Oneflow ranks top 3 Momentum Leader for Contract Management!
A special thanks to our users
We're extremely proud to receive such great awards. It's proof that our users — a community of brilliant people across the globe — appreciate what we do. Oneflow helps you remove friction so that you can focus on doing your best work. With that said, we'd like to thank all of you amazing people for sharing your experience with Oneflow. Your reviews help others find a contract automation platform that makes their life easier.
Do you also want to share your experience with Oneflow? Go to G2 to leave a review