We're heading into the time of year where once again some people will be out of the office. Holiday season tends to do that and when people are out of the office, it's important to keep your contracts in order. Especially as we'll be starting a new calendar year when those people come back to the office and you want to get off to the best start possible for the new year ahead.
So with that in mind, here are a few tips to ensure that no contract is left behind when starting 2024!
Contract tip 1: Assigning an administrator for the winter
Based on our experience, we highly recommend having an administrator present during the holiday season to ensure uninterrupted contract processes. The administrator will have the authority to modify user roles, access permissions, invite new users, deactivate existing users, and will be the primary contact for all administrative tasks related to your workspaces and account settings.
Here's how to turn a user into an administrator:
Go to your Admin settings in the bottom left menu
Click on Users
Find the user you want to turn into an administrator and click the three dots to the right of their name
Click on Edit
From here, change their User type from "User" to "Administrator", and save the changes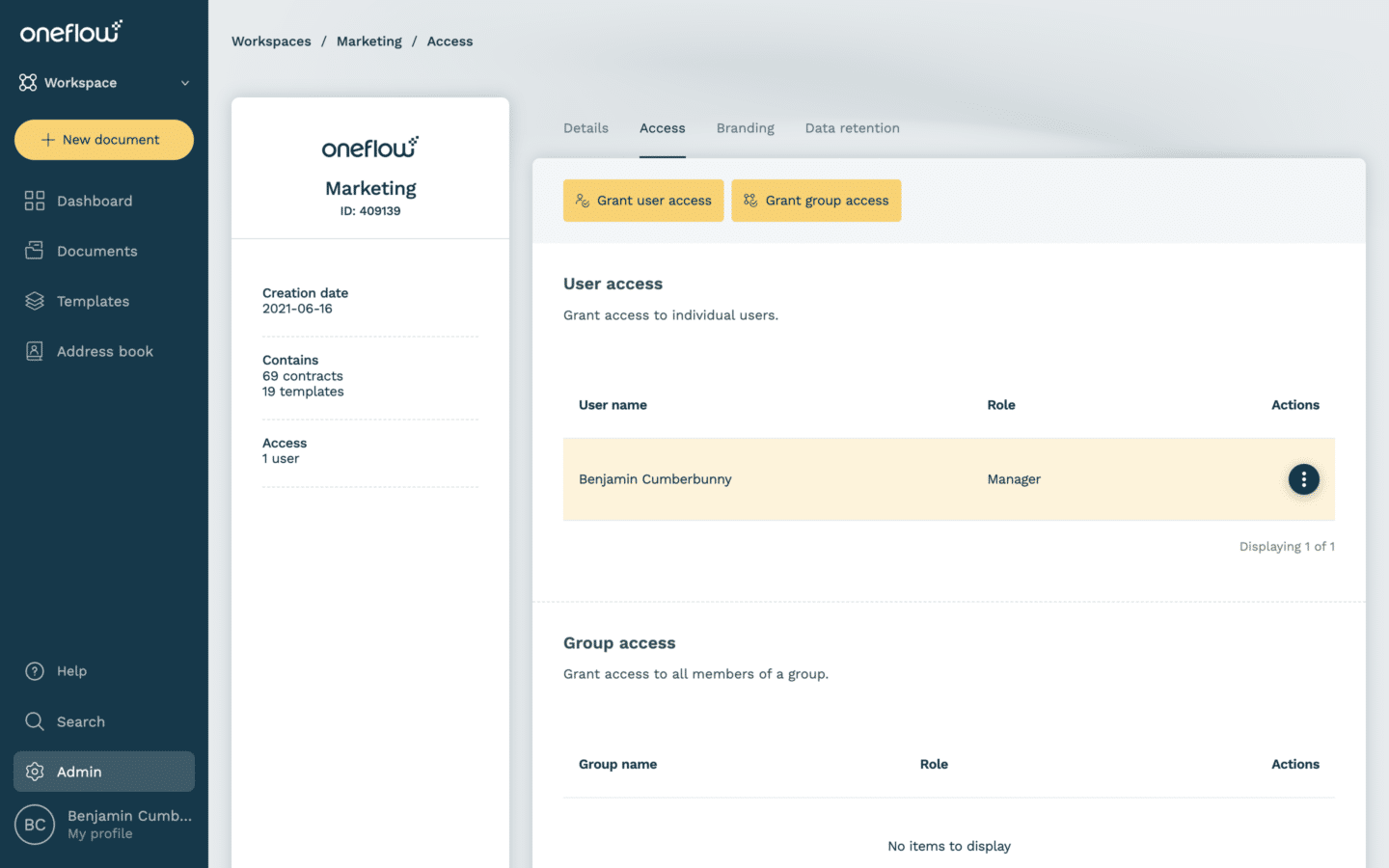 Contract tip 2: Ensure contract renewal and signing periods are maintained
During late November and December, especially around Christmas time it's possible that your customers are on vacation and you need to extend contract signing periods. You can be prepared for this by assigning someone a Manager role to adjust contracts.
In your workspace, a Manager can add themselves as an Organizer in the contract. This gives them the possibility to change the signing period, handle the administrative tasks, and best of all – it won't be visible to the customer's side or affect any signatures that have already been collected.
f you have a Manager ready in your workspace that will be available during the summer, you can simply ask them to follow these steps:
Go to the document that needs to be updated.
In the participant's list, click on "Add colleague" under your company's name.
Select yourself, and choose the role of Organizer. Save the changes.
To extend the signing period, click on the cog wheel in the top right corner to go to the contract's settings, and from here, click on the date that is available under "Signing period".
Choose your new date, and confirm! All participants can now sign again until that date, and an email will be automatically sent out to the participants that the contract has been extended.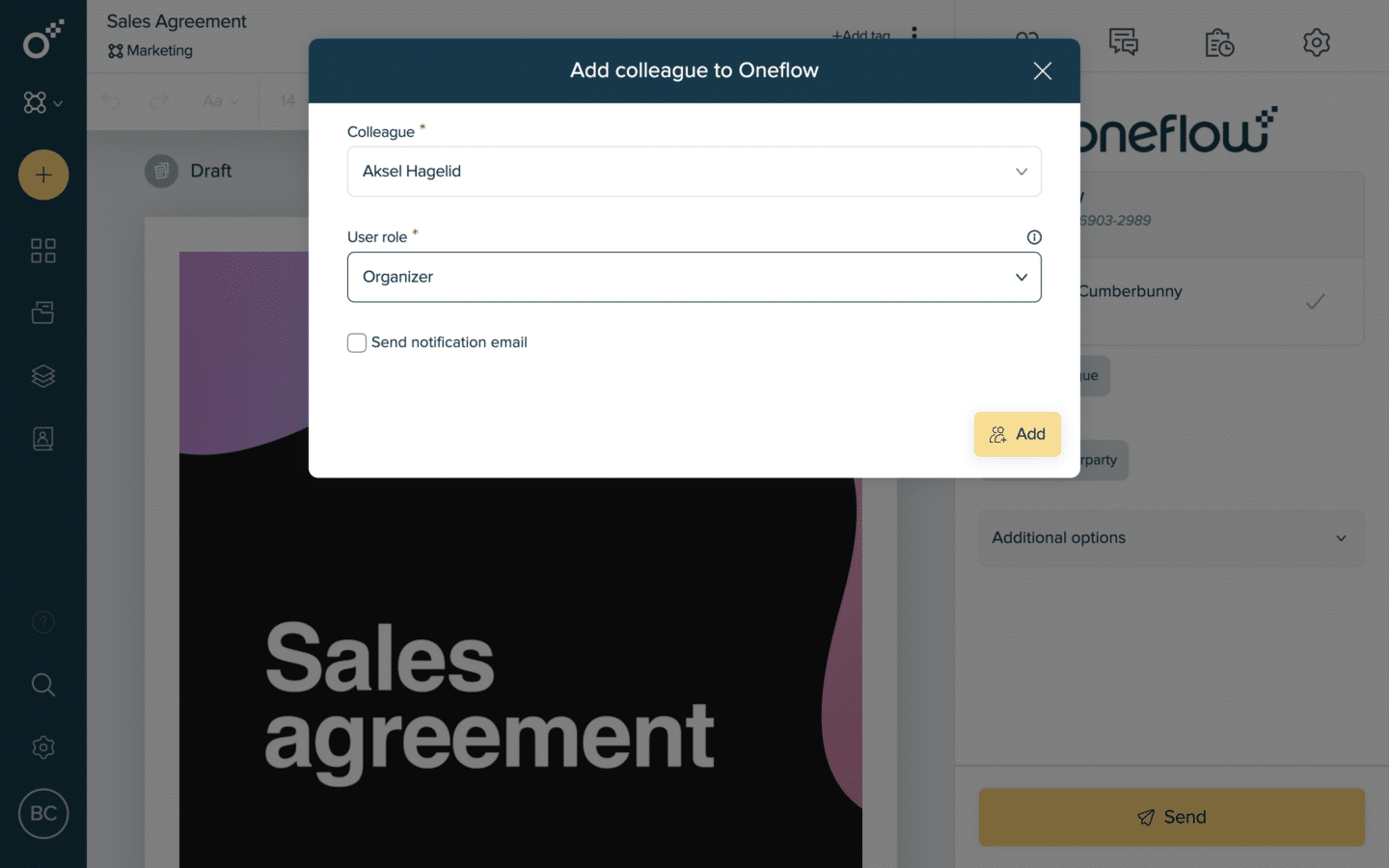 Tip 3: Don't be afraid to contact the support team!
There will surely be questions that you or your users may need assistance with, and we're here to help! You can reach out to us through three different channels:
Chat: You can chat with us by clicking the (?) icon at the bottom of the left menu in Oneflow. Note that the chat is closed between weeks 30-34, while our other contact methods are still open as normal.
Email: You can send us a ticket through support@oneflow.com or fill in the contact form at our website.
Phone: If you prefer to talk to someone, you can reach us at +46 8 517 297 70, and then click on "2" for support.
We appreciate you using Oneflow and hope you have a wonderful Autumn, Holiday Season and start to the New Year! Stay on the look out for more tips and tricks that we have to help you become a Oneflow pro!