With two-way sync now available, you can auto-populate data from Dynamics 365 into your contracts and back, saving you time and ensuring data consistency.
Time is of the essence, and any tool that can help you save time and reduce human error is a necessity. Microsoft Dynamics 365 has long been such a tool, but contracts have always been a clunky, manual process that can disrupt your sales flow. In the past we've helped ease that friction by letting you create, send, and track contracts straight from Dynamics 365 but now with the increased functionality in our integration, you have even more power at your fingertips.
Sync more product data from custom entities
Now you have no limits to the amount of data you can import into your contracts from Dynamics 365. This means you can sync more product information and any other custom entities you've created in your CRM into your contract.
Auto populate data both ways with two-way sync
If you've used our Dynamics 365 integration before, you know how easy it is to auto-populate data from Dynamics 365 entities straight into your contract with a click of a button. Now you can just as easily sync back final contract data back into Dynamics 365.
Any changes made in Dynamics CRM, even after the contract is created, are instantly reflected in the corresponding Oneflow contract, and vice versa. This ensures that sales teams are always working with the most up-to-date contract information, eliminating admin time, confusion and potential errors.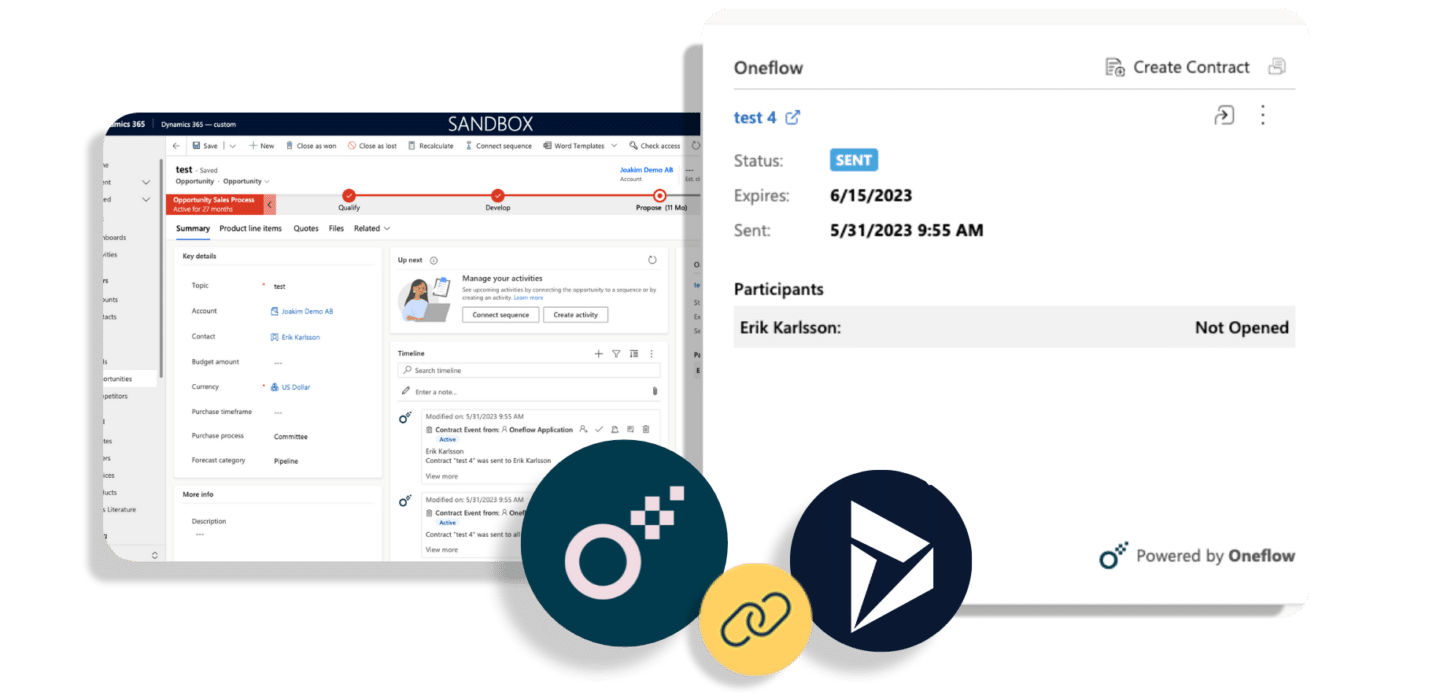 Control what you sync with dynamic mapping
Now you have complete control over which fields get synced from Dynamics 365 to the contract, and back. This makes it possible for you to have certain data synced both ways, while having other fields only go one way or the other.
This control also applies to the mapping of what product information gets filled into your contract's product table.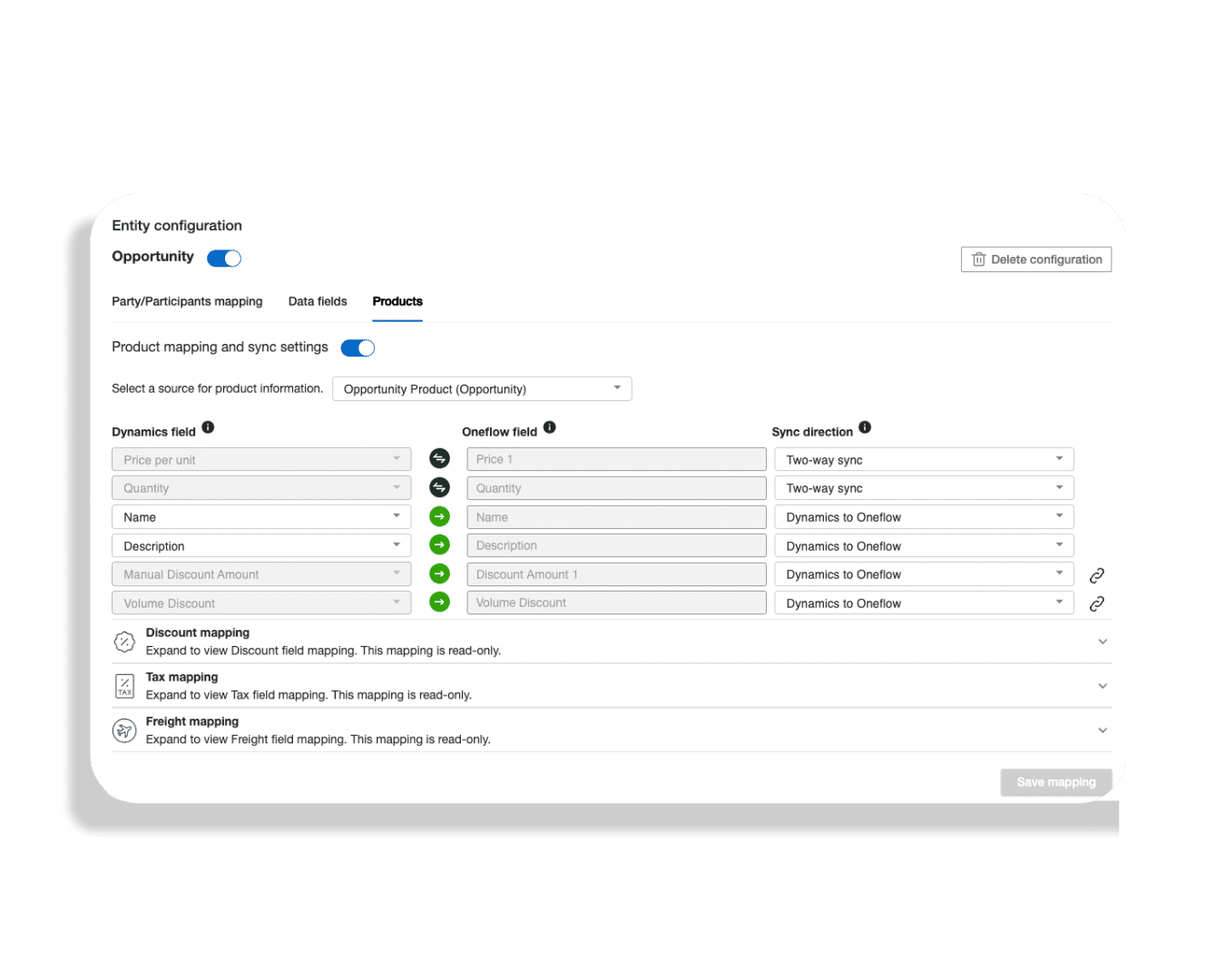 Other benefits with Dynamics 365
Create contracts from anywhere in your CRM
You can create, send, and sign a contract quickly straight from any entity in Dynamics 365.
Track the status of your contract
No need to be left in the dark and wonder if your prospect has received, opened, signed, or declined your offer anymore. Track and use these insights to always be one step ahead and take the appropriate actions at the right time.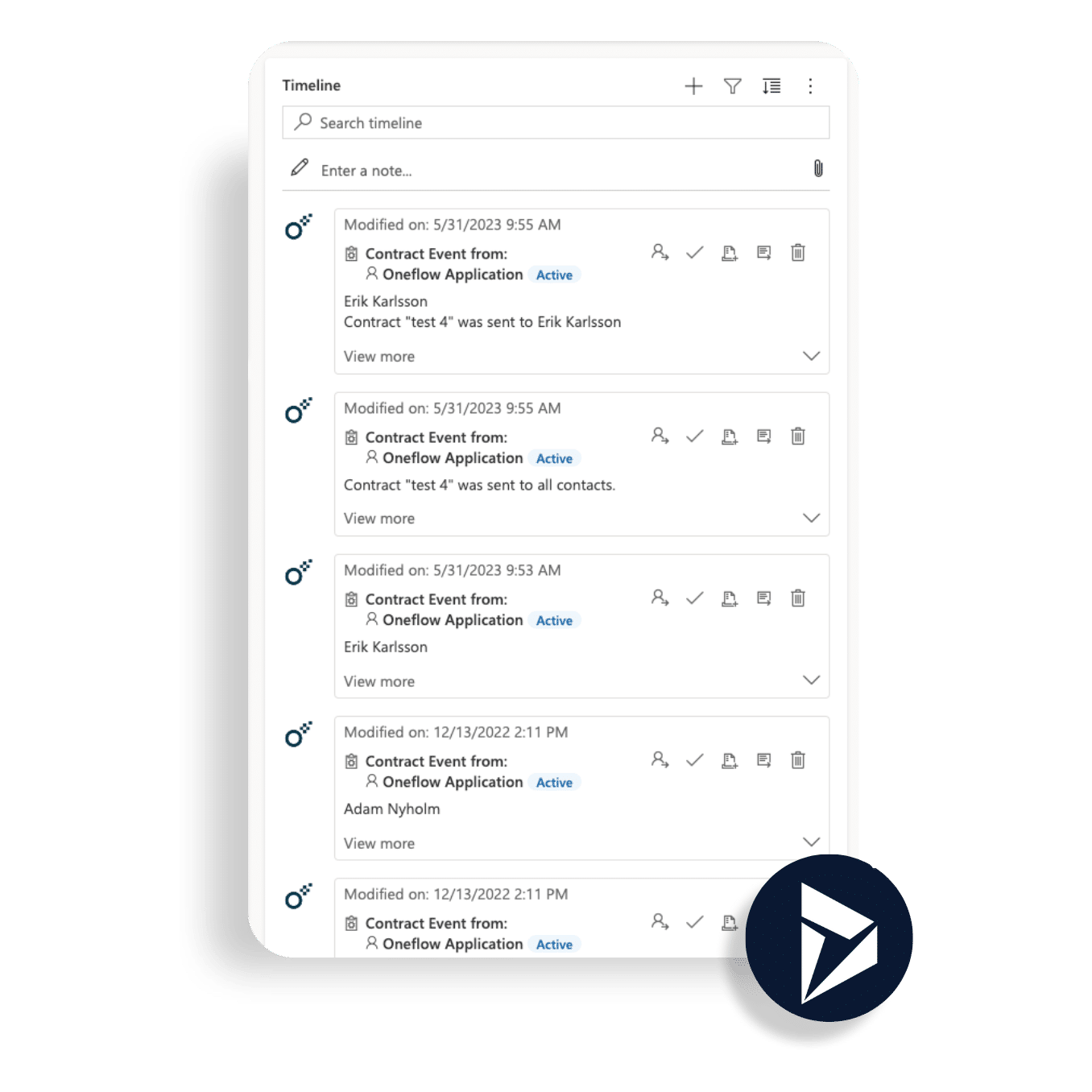 Negotiate and collaborate in real-time
Don't worry about having to rewrite and re-upload a contract while you are negotiating. Use the comment feature to ask or answer questions with your counterparty, and edit the contract at any time with the confidence that your counterparty will only ever see the most up to date version.
Automate even further with Microsoft's Power Automate
If you are an avid Dynamics 365 user, you may also be familiar with Microsoft's Power Automate which allows you to automate certain actions. Connecting Power Automate with your Dynamics 365 x Oneflow integration can save you more time or ensure more data integrity by adding actions like automatically exporting all signed contracts into Sharepoint.
Tailored and customisable control
We understand that each sales process is unique, and customisation is key. That's why our integration offers dynamic mapping capabilities, allowing users to tailor the information flow from Dynamics CRM to Oneflow. Users have complete control over which data fields and product information they want to sync, ensuring that the integration aligns perfectly with their specific needs and negotiation strategies. This level of flexibility empowers sales professionals to optimise their contract creation process and deliver personalised experiences to their prospects.
To take advantage of the enhanced integration, add the Dynamics 365 extension in your Oneflow account, or visit Microsoft AppSource and install Oneflow today. Transform your sales process, amplify your success, and conquer new heights with Oneflow's cutting-edge contract management solution.
*Note:
The enhanced integration updates are available for both new and existing Oneflow users. For more information and support, reach out to our dedicated customer success team.*