We just launched our newest integration, which many have been waiting patiently for quite some time. It's our integration with Zapier, the app that increase productivity and allows for increased automation with the apps that you use the most.
So now you can automate even more of your workflows with Oneflow X Zapier. However, when getting started, you probably have questions. The main one being, what is a Zapier connector and what's a zap?
What's a connector?
A connector in Zapier's own words, lets you connect a CRM connector with thousands of the world's most popular apps. It allows you to automate your work so that you can work on what your real job is, whatever that may be. It's possible to connect to over 5,000 apps with Zapier.
So a Zapier connector allows you to integrate any of the apps that you use in your day-to-day with Zapier. It enables the information to be shared back and forth between the two, or however many apps that you integrate with Zapier. Then, with every connector added, you can include triggers and determine automated actions to occur based on certain triggers. In sum, a Zapier connector just links an application of your choosing with Zapier to automate a certain portion of, or an entire workflow.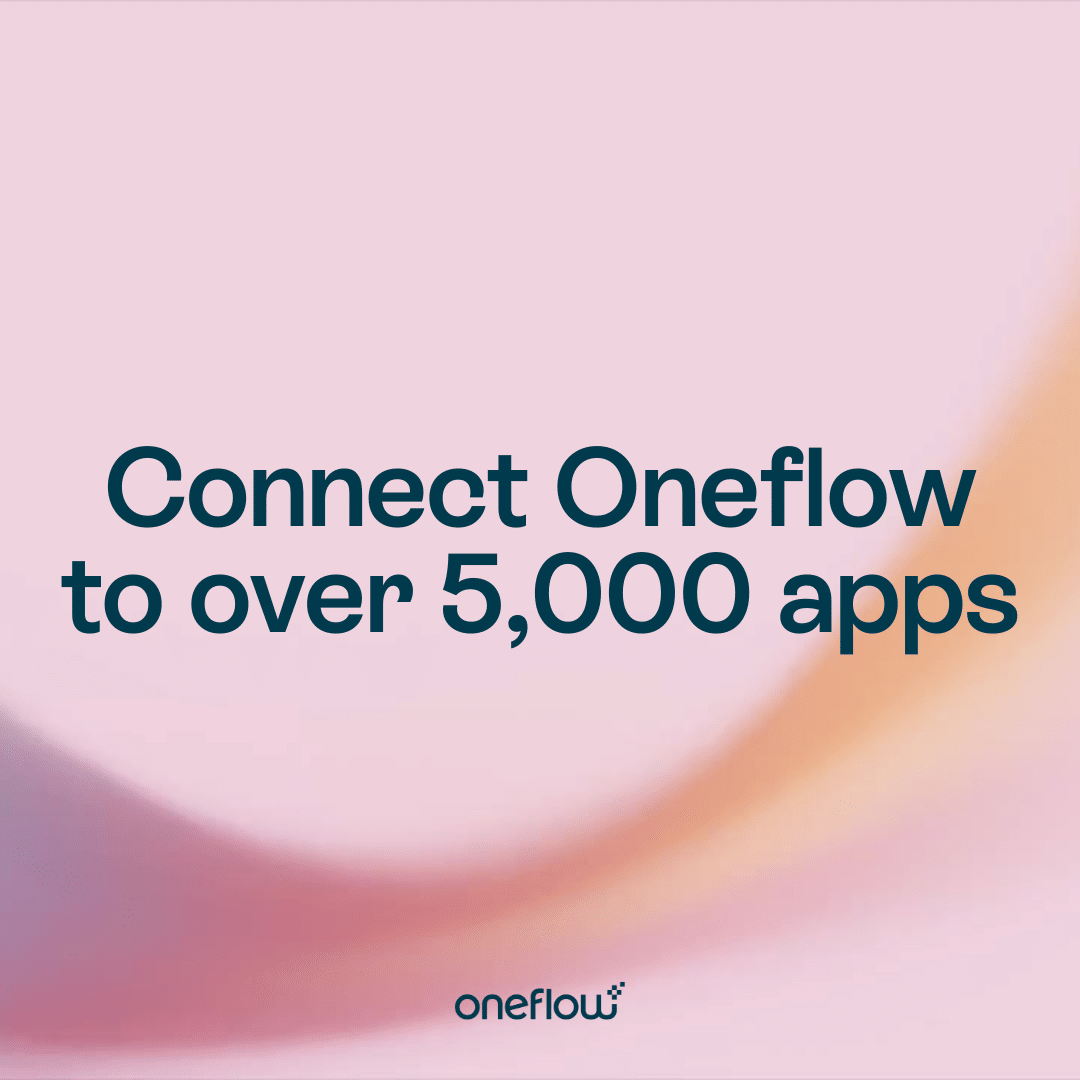 The main connectors:
Some of the most popular apps that are connected to Zapier mainly deal with productivity:
Google Docs – Set up triggers and Zaps to create documents in google docs, or turn these docs into Oneflow contracts.
HubSpot – Connecting Hubspot with Zapier allows for increased automation in your ongoing processes, and seamlessly ensures accurate data transfers from your CRM into your other Zapier connectors.
Salesforce – When Salesforce is connected with Zapier, it enables faster cycles and better data transmission when advancing through the various stages.
Google Calendar – Connecting your google calendar to Zapier can create automatic scheduled meetings based on filled out forms etc. Essentially automates the scheduling process for you.
Slack – Using Slack as a Zapier connector keeps you and your teams in the loop whenever a predefined action is taken. If you get a new lead, a new meeting scheduled etc. Anything can be sent to slack so no updates are missed.
Oneflow – Digital contracts can be created automatically through a connection to Zapier, so contracts are sent out, and signed even faster.
These are just a few examples of the over 5,000 apps that you can connect with Zapier, and now more importantly, with Oneflow inside of Zapier.
Zapier x Oneflow example
How would a Zapier Connector work with Oneflow?
Well, let's say that you get a demo request for your product on your website. That triggers a meeting to be scheduled in your Google calendar, thanks to that Zapier connector. The meeting goes well, your prospect was super impressed by the product and things are progressing to the next stage in the cycle.
Because of that, you update your HubSpot CRM to indicate that the opportunity is looking good. Then you set up another meeting where you're both going to be going over the offer. That CRM activity then triggers a Oneflow contract being sent out with all of the up to date information from your CRM.
Pretty much every step of this process is automated thanks to Zapier connector and is finalised with a Oneflow contract being sent, and of course, signed. The permutations and possiblities of workflows possible with Oneflow for Zapier are quite literally, endless. There tons of different ways you can incorporate Oneflow into your workflow thanks to this new integration with Zapier, and speed up the signing process even more.
To learn more about how this integration works and get it set up in mere moments, check out this page here.