Sales is one of the most dynamic professions out there. No two days are the same. Which can be good and bad at times. But, the sales world of today is a digital one. Many sales leaders, managers, and salespeople themselves are wondering how to bring the sales process online.
In short, it be done very quickly. But of course, there's a much longer and more convoluted answer to the question of how to bring the sales process online. For instance, there are many different factors that depend on the easiness of the task of bringing the sales process online, such as what do you sell? Where are you selling your products to services, and to who? All of these questions require time and effort to be answered properly. But there's a way to get an answer quicker. And that's by implementing a digital tool to aid your digital sales process.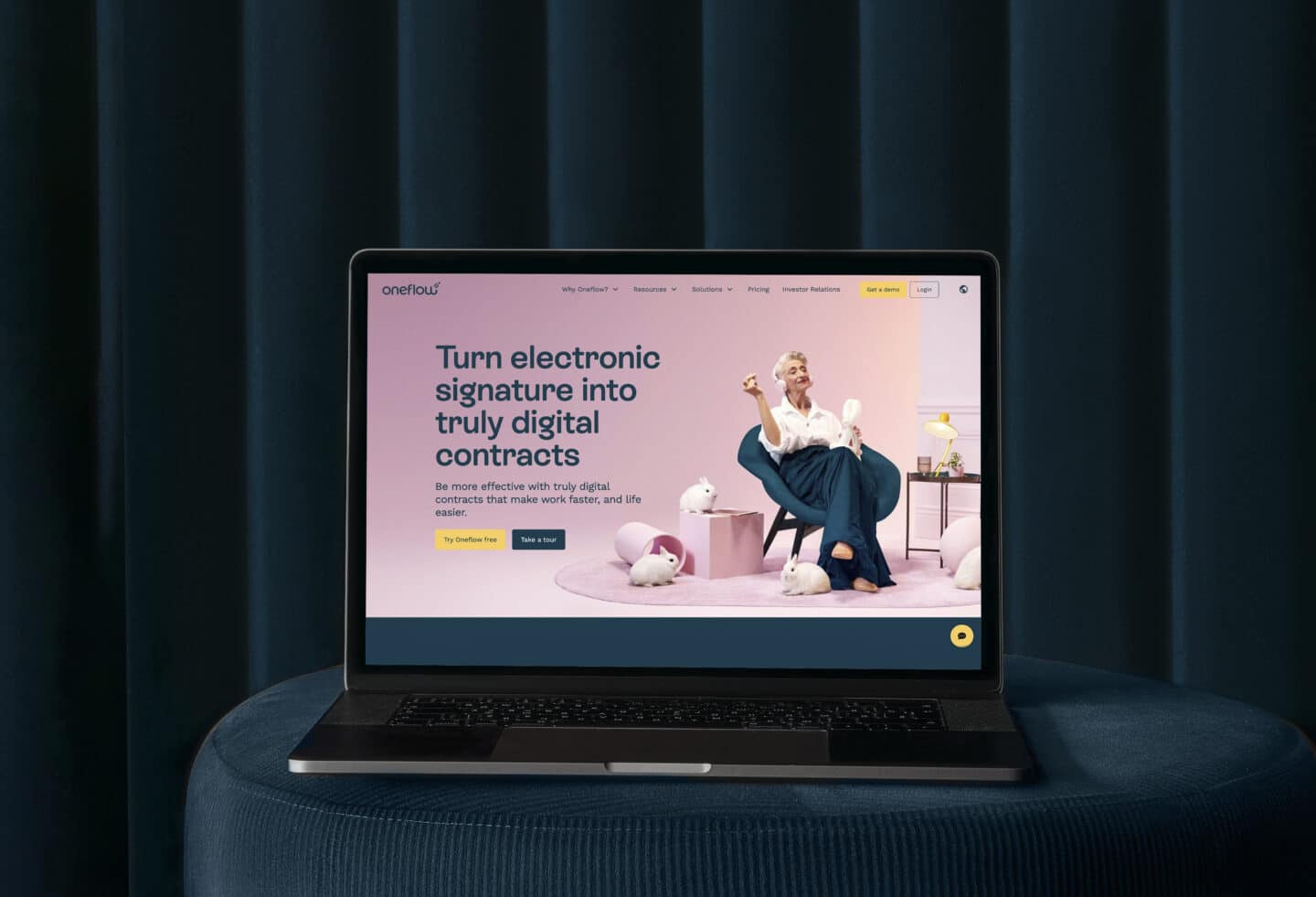 Modernizing sales and inhabiting the world of digital commerce we live in is important for every company. Even brick-and-mortar stores have online web shops. It's a must in 2023 if you want to come anywhere close to profitability as a company.
Here's how to bring the sales process online, regardless of what industry or size by using digital contracts from Oneflow.
Read also: How contract management can benefit your business?
The sales process is digital now
Sales cycles can be done entirely online these days. They can even be done without sales people being contacted, which is a bit ironic. That being said, by using Oneflow's digital contracts as a part of your sales cycle, it solves the questions of how to bring the sales process online for your company.
With Oneflow, you can add personalized and customized videos to your contracts. What better way to showcase your sincere efforts than by personalizing your contracts and offers to prospects. You can add demo videos, customer success stories and more video rich data to your contracts to enhance their buying experience. It's a way for a seller to recap any calls, meetings or interactions they've had with a prospect and host it all in one place.
A great sales person is one who stands out from the crowd. They're able to truly connect with their prospects and customers in a way that feels them feel valued. One way that they're able to accomplish that is by using the best tool available to them. Using Oneflow's digital contracts to bring their sales process online and to life is a great way for them to sell more, sell faster and become a much more efficient salesperson.
Bring the sales process online: Interactive Product Tables
Selling a product or service means you have to have a discussion about the price. That's just part and parcel of being a salesperson. But, one crucial thing that needs to be done in order to bring the sales process online is having a place where both parties can determine the right amount of products, and agree on a price together. Enter Oneflow.
By using Oneflow's digital contracts during the sales process, you're able to insert interactive product tables. You can include a table with all of your products that states everything you have on offer, a description of all of them, price, a discount if relevant and the amount of each product they'd like to purchase.
The product tables calculate automatically for you, so any changes made will reflect in the total amount in the deal total. It's possible to lock, or open the product table so that your prospects can choose the amount they'd like to buy themselves.
Negotiations done online inside of Oneflow
After the price discussion, or during the discussion, you're going to be having lots of back and forth with your prospect. That often times can lead to deals being delayed and slowing down the process. Not when you use Oneflow to sell. With Oneflow's digital contracts, you can negotiate and communicate with prospects directly inside of the contract. All messages, comments, edits and versions are logged in the detailed audit log. This allows for everyone to stay in the know when it comes to the ongoing negotiations and the status of the contract.
That's one of the most important parts of solving the question of how to bring the sales process online. As sometimes, during regular sales cycles, deals can fall through the cracks when the negotiations start.
When a new party is added to the contract, they'll be able to see everything that has happened during the process as it will all be visible to them inside the Oneflow contract. And as people are added to the contract, they can be designated certain fields to fill out, or sign off on by giving their e-signature for approval. It's easier for everyone to get aligned and up to speed on every deal, even if they weren't there from the beginning thanks to having digital contracts involved in their sales process. When you negotiate inside of your contract,
How to bring the sales process online summed up
When a company is asking themselves how to bring the sales process online, they are going to ask themselves what they need to do, and the tools required to do it. You can look to the best sales tools a salesperson can use, or sales strategies, but for arguably the most important stage of the sales process, the signing stage, there's no better tool than Oneflow's digital contracts. 
With Oneflow, you'll be able to sell online in a wholly more efficient way. Digital contracts for a digital sales process. If you want to take your sales process to the next level, then get started with Oneflow's digital contracts and see the impact they'll have on your process firsthand.
Get started for free here: Oneflow.com/signup