We're thrilled to share that we've updated Oneflow x Salesforce – a native app for digital contracts. And it's pretty amazing. The new functionalities open up a lot of possibilities for automation and customization, and you can tailor it to fit all your processes and needs. Working wonders in Salesforce just got easier than ever.
The updated integration has all the previous features, but now, with the new functionalities, there's so much more you can do.
Oneflow opens up inside of Salesforce
No more going back and forth between platforms when creating and handling your contracts. These days, Oneflow opens up directly inside Salesforce, and as always, all data is seamlessly synced into the linked data fields.
New, fancy widget
Once a contract is created, you'll access it easily at all times, through the widget right inside of Salesforce. The widget also shows you an overview of the contract status, last updated date, and how each participant is doing.
Download the contract straight from Salesforce
With the click of a button, you can now download a PDF version of your contract straight from the Oneflow widget in Salesforce. Amazing, right?
You can sync your data both ways
Changes that are made in the contract, even after it's been sent, will now automatically be updated in Salesforce, thanks to the new out-of-the-box two-way-sync functionality. If the counterparty makes changes in the fields you've left empty, or updates existing information, it will seamlessly be transferred between the platforms without you having to lift a finger.
It works the other way around, too! Without having to switch to the Oneflow app, any edits you make in Salesforce will also show in the contract. Again, even after it's already been sent. Talk about frictionless!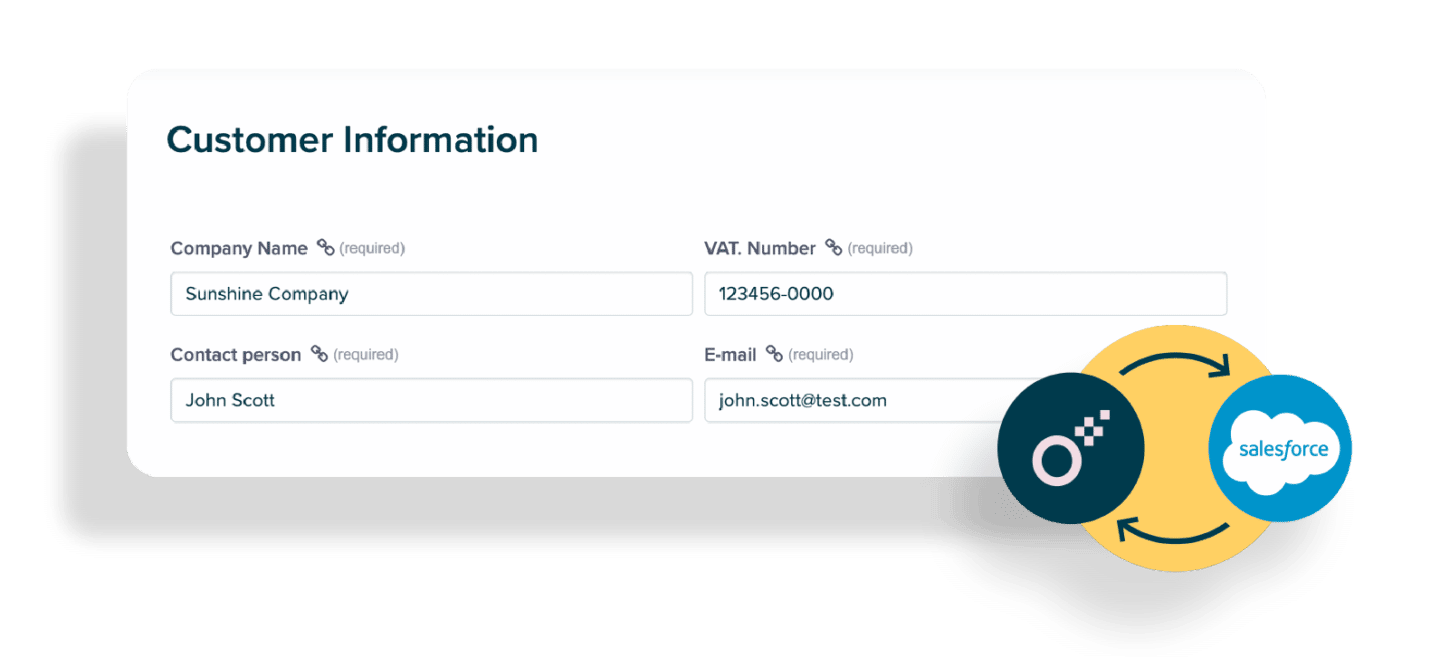 Automations delivered
You asked for more automations – so we've delivered!
You can now connect your lead gen tools straight into Oneflow, without having to go through Salesforce. This will, as you understand, save you a lot of time and resources. The best part is, to use this new feature, all you have to do is set up a workflow – and it will work just like magic.
Turn your custom objects into products
Is your product represented as a custom object in Salesforce? No problem, it's now possible to transfer information from any object into the Oneflow product table. This means that you out-of-the-box can transfer custom information about a product in Salesforce into the Oneflow document, without any friction.
Using CPQ?
Oneflow for Salesforce works with Quote PDF and products from Salesforce CPQ.
Easily sync your work between the solutions.
Meet the all-new Slack integration
This new integration is really where some magic happens.
Thanks to this handy new feature, any changes made to a contract will automatically show in Slack. This covers everything from edits through to signing. You can even choose what notifications to get so that you're not constantly inundated. Pretty neat, no?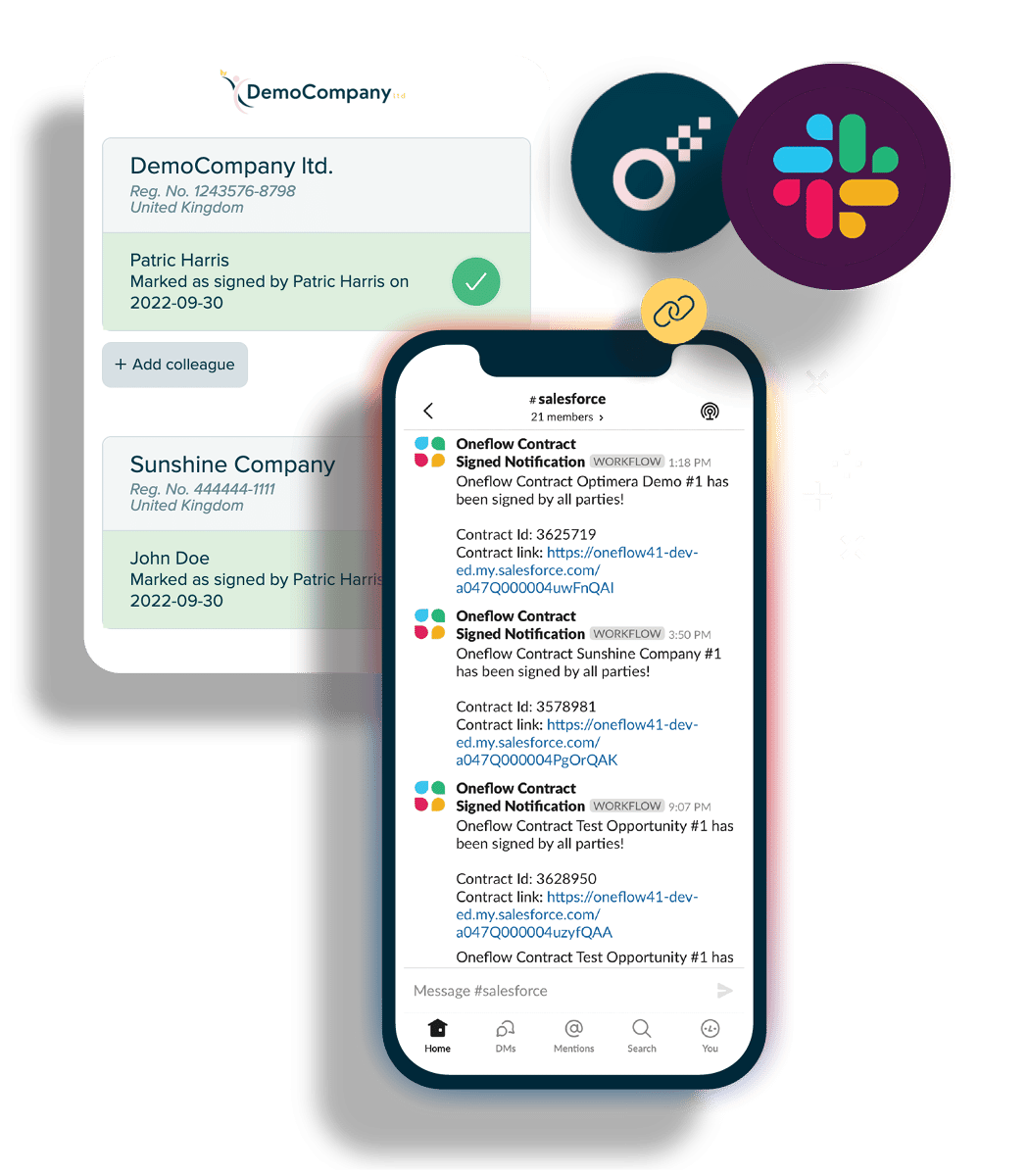 Handle B2C with ease
With Oneflow for Salesforce, you can now choose if your counterparty signs as a company member or as an individual. So whether you're using Salesforce for B2B or B2C, you can create smart, interactive contracts with legally binding e-signatures.
Track changes in real-time
With our updated integration it's easier than ever to stay on top of your contract pipeline. Keep an eye on the status of each opportunity directly in the Oneflow widget and easily track all updates in the activity timeline. All this, without ever leaving Salesforce.
Improved stage mapping
From now, stage mapping is not just limited to the Opportunity. With our flow-based approach, you can automatically change stages associated with any object based on the status of the Oneflow contract.
Flows
Have a different process in mind? Want to create contracts with different objects? No worries, with our new Salesforce flow-based solution, you can customize everything to fit your processes and needs, that's the real power of our solution.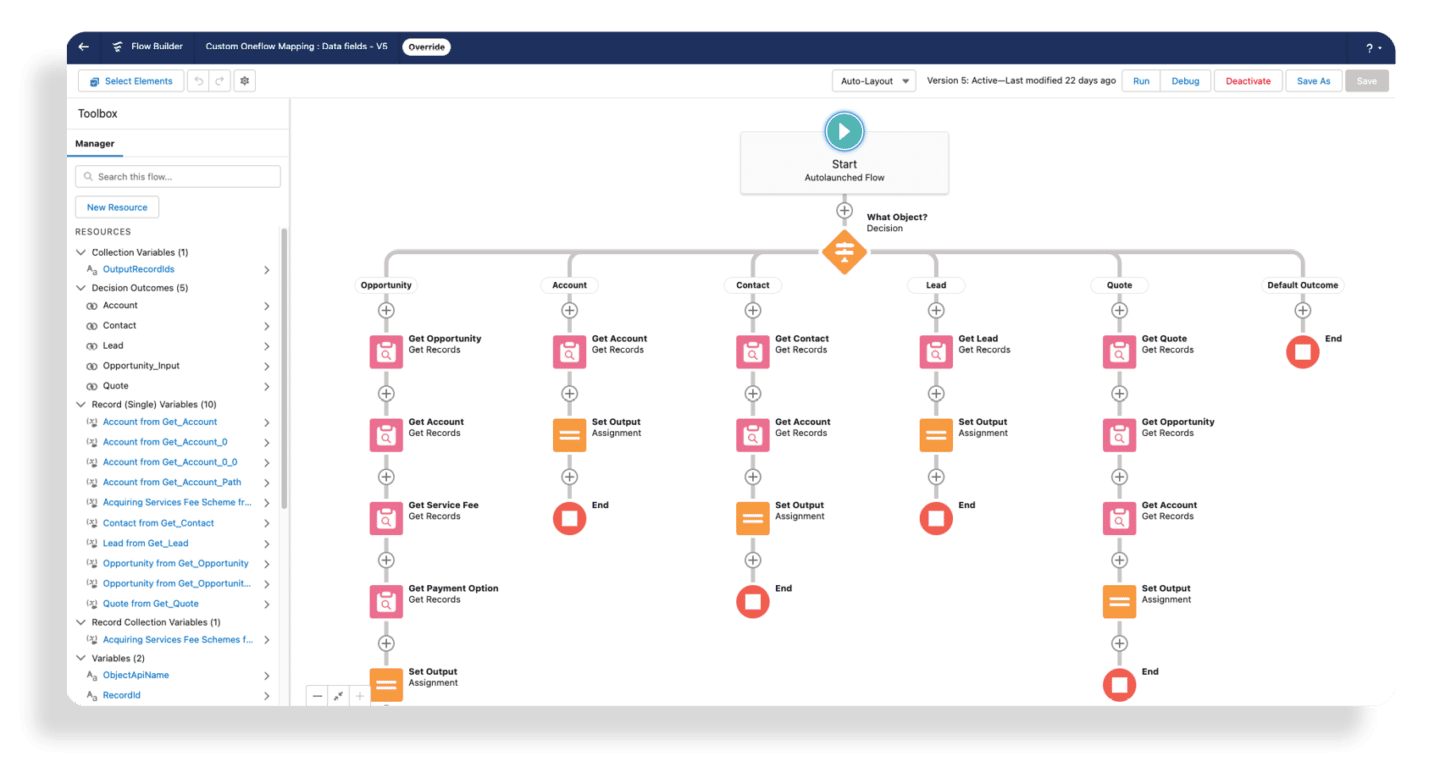 We hope you're as excited as we are – the possibilities with this integration are endless! As always, our fantastic teams will be on hand in case you have any questions.
Want to try Oneflow for Salesforce? Go to Salesforce AppExchange to get started.