The success of a retail business depends on how fast products can flow from the supplier to the customer. Contracts in retail business help bind the compliance of external and internal parties involved. Unfortunately, they also slow down the process.
E-contracts and signatures uphold the binding compliance of paper contracts. And they significantly reduce the processing time. Consequently, they can improve the speed and efficiency of retail businesses.
Future of electronic contracts for retail businesses
Retail businesses need to draft and manage contracts for several departments. Here is how e-contracts can improve different aspects of a retail business.
Electronic contracts in Supply chain management
Supply chain management requires several contracts with different vendors. You'll need to create contracts for suppliers, logistics partners, and storage partners.
Compared to paper contracts, electronic contracts in retail are easier to create, review, and send. You can use the same template to draft contracts for many vendors. Then you only need to make key changes and send them to different parties. They can receive, review, update, and sign their respective contracts simultaneously.
For instance, you need to draft contracts for different logistics partners for deliveries in different regions. You can use the same electronic contract template for all vendors. All you need to do is change key details such as vendor details, postage shipping rates, location details, etc.
E-contracts can help improve the contract drafting and signing process. It ensures fast and efficient supply chain management. So it improves the flow of products from the suppliers to the customers.
Inventory management
A retail business needs to update its inventory frequently. This means that they need a consistent supply of products based on the frequency of sales. Each supply round entails procurement contracts with the supplier and the logistics vendor.
Electronic contracts can not only improve this process but also help automate it. You will not need to change order details manually for each round of supply. The inventory management system can generate a query based on product requirements. The electronic software can source product details and quantity requirements from inventory management. Then it can draft a contract based on this information.
Paper contracts don't offer such flexibility. A retail business needs smooth inventory management to ensure it's never out of stock. Electronic contracts can play an important role in removing paperwork and compliance-related hurdles from this process.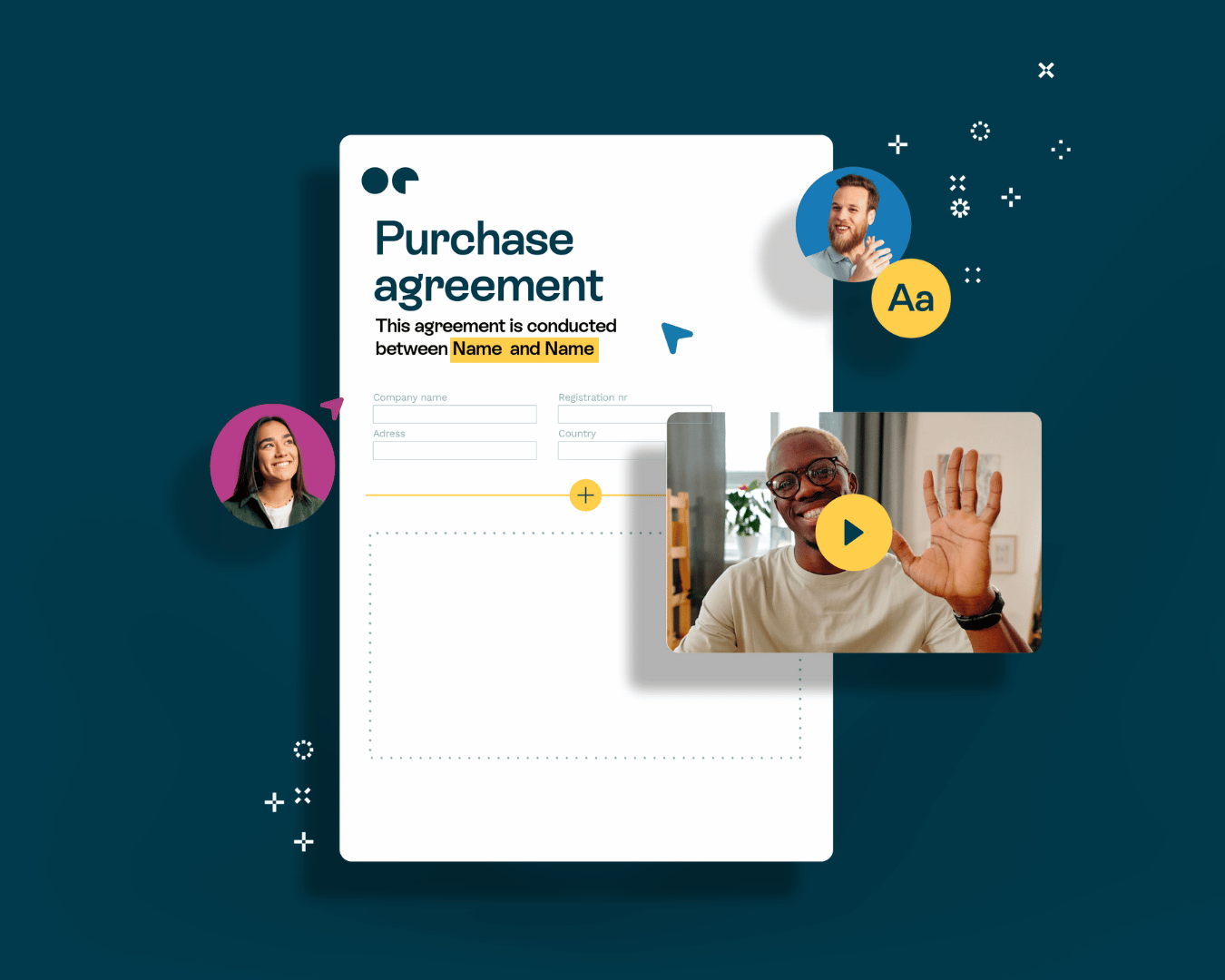 Marketing & Sales
Retail businesses use several channels to promote and sell their products, including finding affiliate marketers, independent sales reps, resellers, etc. All these entities perform the same function, but they operate in different ways. So, they are bound by condition-based compliances.
Electronic contracts in retail can help you reduce the paperwork. And it simplifies the contract creation process for different sales channels. You can create distinct templates for different sales channels. But you only need to do this once for each channel. Then you only need to update a few details in each contract. This way, you don't have to draft ten different contracts for ten affiliate marketers.
Since these contracts use digital signatures for compliance, you can complete this process faster. Many of the sales channels also require different agreements for customers. Electronic contracts are especially useful in such scenarios.
A paper contract is easy to manipulate and difficult to monitor. But with digital contracts, you can ensure that only your version of the contract reaches the customer. You can track the process in real-time and prevent the vendor from hiding information or manipulating the facts. And you'll get control over customer service without involving the vendor.
Electronic contracts in retail: Customer service
A retail business has to create a contract for each customer, including purchase orders, warranty contracts, terms of use, and privacy policies. Electronic contracts can help improve customer experience without compromising compliance.
Most online retailers already use digital contracts. Only instead of an electronic signature, the customers click on an "I Agree" button to confirm their compliance. Though it is an easy method, it is not very transparent. 77% of customers have confirmed that they do not read these documents.
You can balance the ease of use and transparency with digital contracts and e-signatures. This will help you build trust with your customers as well as reduce the possibility of friction over the fine print. A transparent digital contract also assures the customer that the retail company is as bound for compliance as the consumer.
Transparency is even more important for retail businesses that offer product subscriptions. This business model relies on the customer's trust because it requires periodic contract renewal. Electronic contracts can automate this process for retail businesses.
Electronic contracts in HR operations
A retail business also needs contracts for its internal operations. These include employment agreements, termination contracts, non-disclosure agreements, etc. It takes a lot of time to draft these contracts.
Digital contracts are also easier to create, store, sort, and find. One template can sort out contract creation for an entire department. Based on demand, retail businesses may also need employees on short-term contracts. A long and tedious paperwork process can hamper the company in times of crisis.
It is much easier for retailers to use digital contracts in such scenarios. Retailers can draft many agreements simultaneously and collaborate with candidates by letting them add their details themselves. This reduces the burden on the retailer. With electronic signatures, retailers can make the onboarding process quick, easy, and secure.
This flexibility is especially useful if the retailer hires people in remote locations. They will not have to send contracts to the signee's locations. Nor do they need to wait for the candidates to revert the signed agreements. As everything happens digitally, they get real-time updates on the process.
Conclusion
E-contracts can improve the speed and efficiency of all retail operations. They are also a cost and time-saving solution as you don't need to pay for papers and printing. This cost may seem minimal for a single contract. But, the charges stack up along with the pile of paper contracts.
Electronic contracts are easier to review, update, and sign. They also eliminate the dependency on physical documents and stationery. People can use and manage digital contracts from anywhere. E-contracts are a smarter, more efficient, and eco-friendly choice for retail businesses.