In only one year digital transformation has taken a huge leap. Especially at the workplace. And that's all thanks to/because of you-know-what. So, what happens now when societies open up and we enter the post-pandemic era? In many workplaces, a hybrid work model can be the solution. And to succeed with that, you'll need really good tools for hybrid work.
Looking for tools for hybrid work? Think about this first
In the early stages of the pandemic, it was all about finding the right tools to succeed with remote work. That was a different thing. Back then, when the entire workforce worked from home, everyone had the same conditions. It was 100% digital, no questions asked. But now? When one part of the team is gathered in a meeting room while a few others are joining online? Then it's important to evaluate if your tools are suitable for hybrid work. Here are a few tips you should consider:
Watch out for tool fatigue. Too many tools become too much to handle and lead to frustration. Look for tools that cover multiple needs or integrate seamlessly with each other.
Make sure all information is available digitally. Including the decisions made by the coffee machine. Invest in a great documentation system that works for you.
Keep thinking digital-first. In partly physical meetings, make sure everyone sits in front of their computer so that the person joining online also feels included.
1. Oneflow: manage hybrid work effectively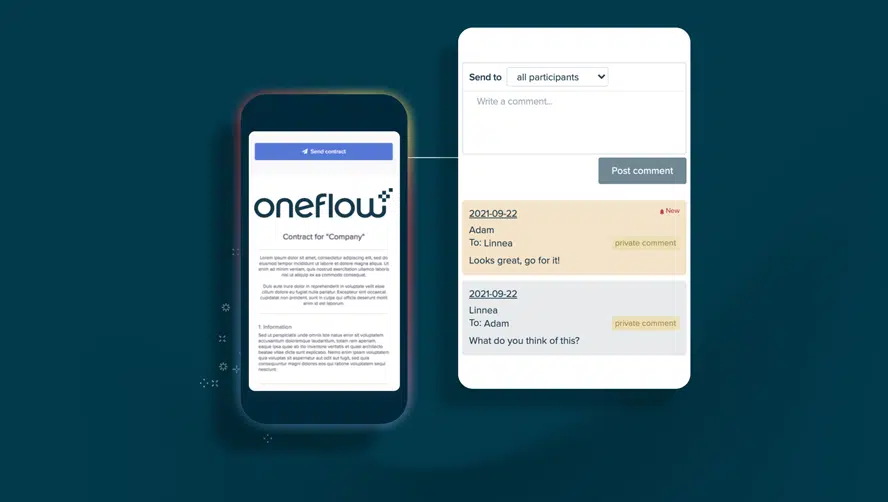 Contract work usually means a lot of twists and turns before everyone is happy. With Oneflow, you can skip many time-consuming steps. We give you an all-in-one platform with everything your team needs to collaborate with ease, no matter where you are: live editing, interactive fields, notifications of new events, a comment section, and a clear audit log. You can also integrate your contracts with your favorite system, or with our public API.
Imagine this: you're about to sign a contract with a customer who comes with a requirement you have to meet, fast. Otherwise, they'll go with another vendor. You need your manager's input who at that exact moment is in the middle of dropping off the kids at kindergarten. But that doesn't stop your manager from pulling out their phone, viewing the contract, leaving a comment, and giving you the green light. In a couple of minutes, your deal went from unsure to signed. Just like that!

Try Oneflow free and experience true contract magic.
2. Slack: a famous hybrid work tool for communication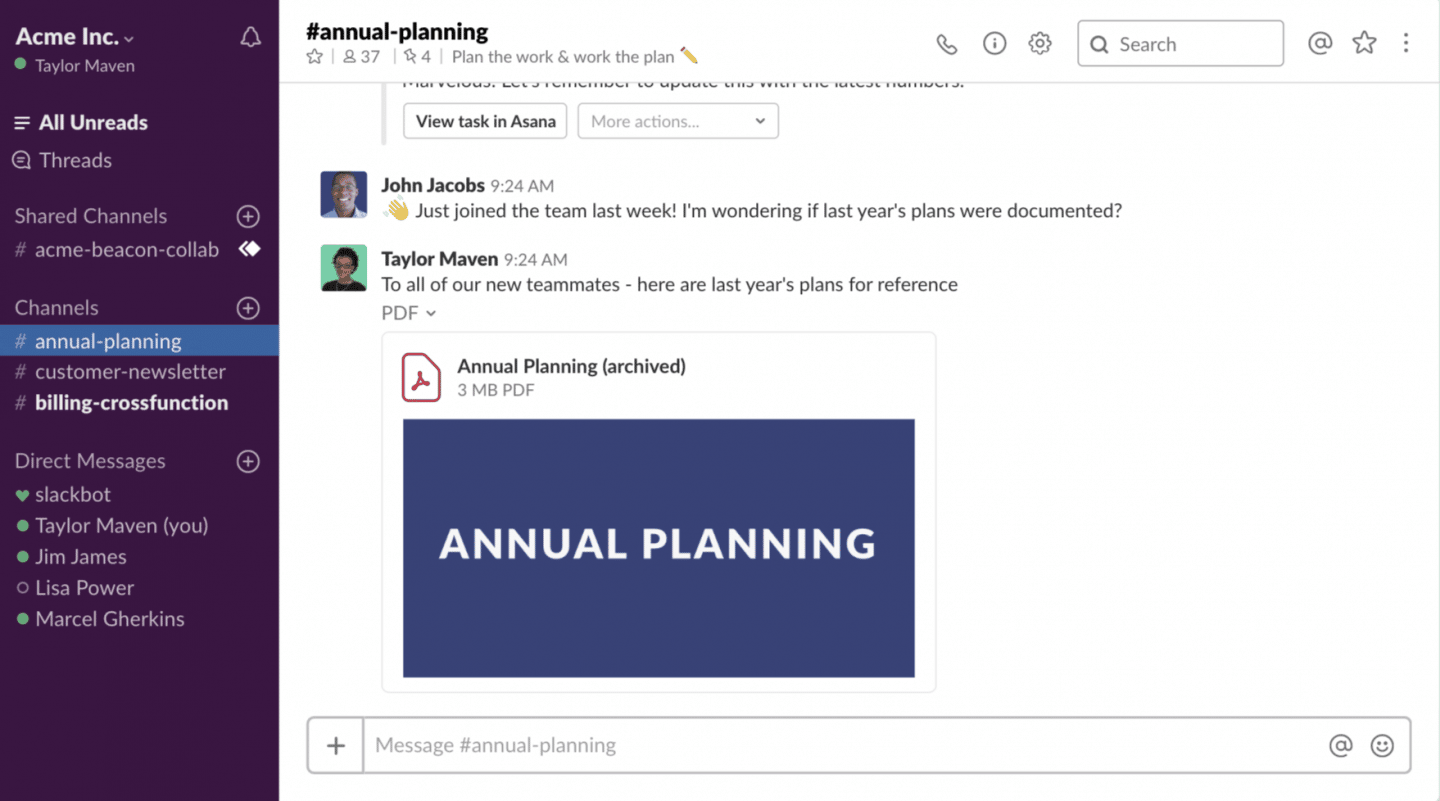 Slack is the communication platform with a capital C. Send quick messages to a colleague or create channels for different projects and teams. You can also start a video or voice call to make collaboration easier. It's usually more efficient (and nicer) to talk face to face. In addition, you can connect Slack to many of the systems you already use for an even smoother workflow.
Read also: Work from home – the best tools to succeed
3. Google Drive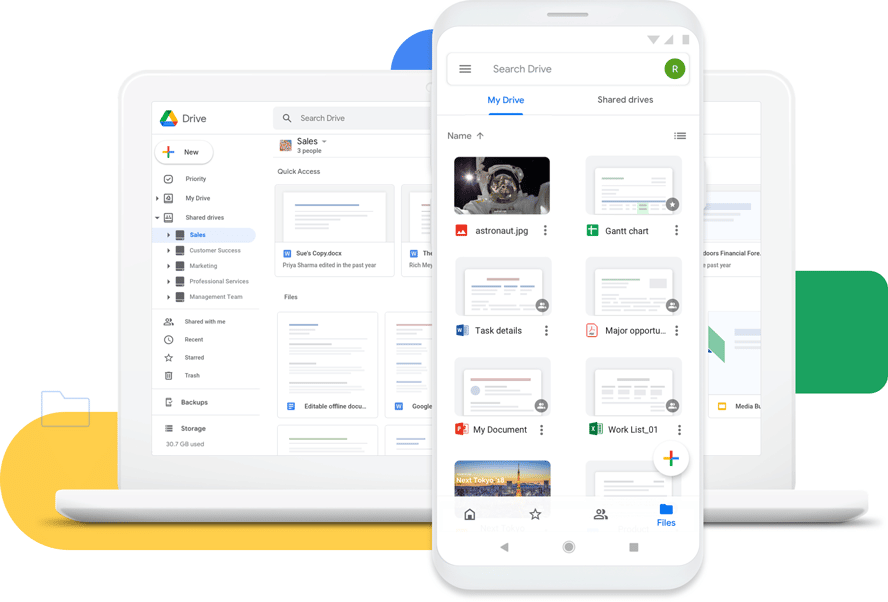 On Google Drive, you and your team can create and collaborate in text documents, spreadsheets, and presentations. It's also perfect for storing other files and documents you need to share. Google Drive is also available on other devices, which gives you easy access to everything you need, from everywhere in the world.
4. Trello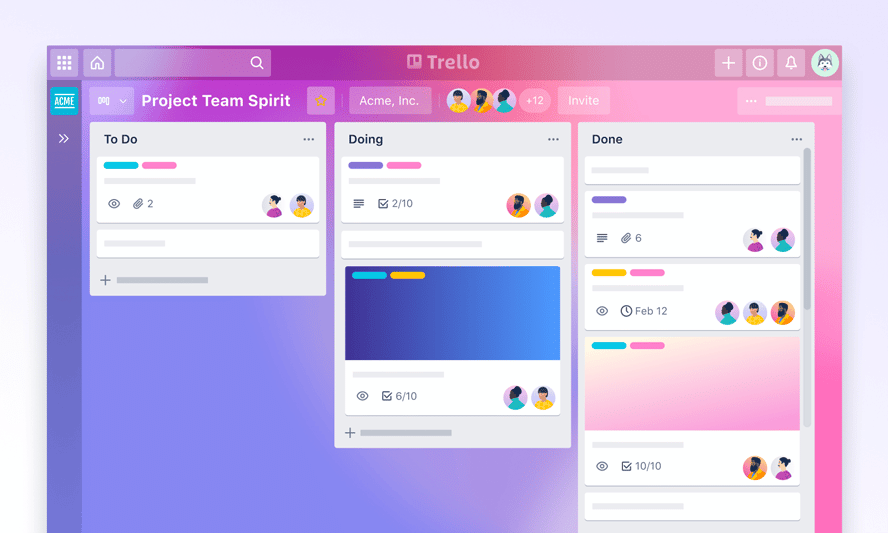 Trello is a perfect project management tool for smaller teams. Organize your work with cards you can move between different stages and meet your goals by setting a deadline. You can easily collaborate with your teammates, add comments and checklists.
5. Asana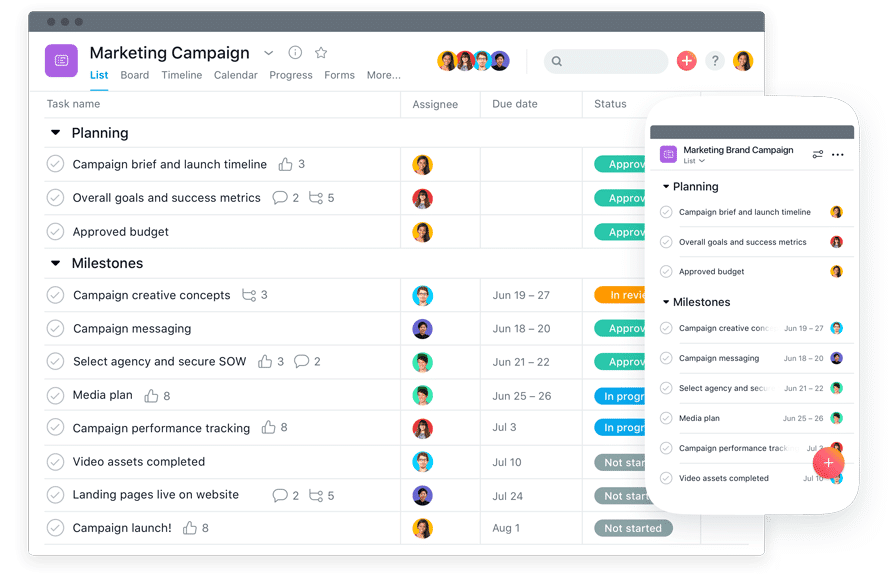 In Asana you can manage larger and more complex projects. Split your project into subtasks and assign your team members their tasks. You can view your tasks in a calendar, on a timeline, or on a board. Asana has over 100 integrations so that you can keep most of your work in one place.
Read also: Hybrid work: what is it and does it work for you?
6. Zoom: for hybrid and remote work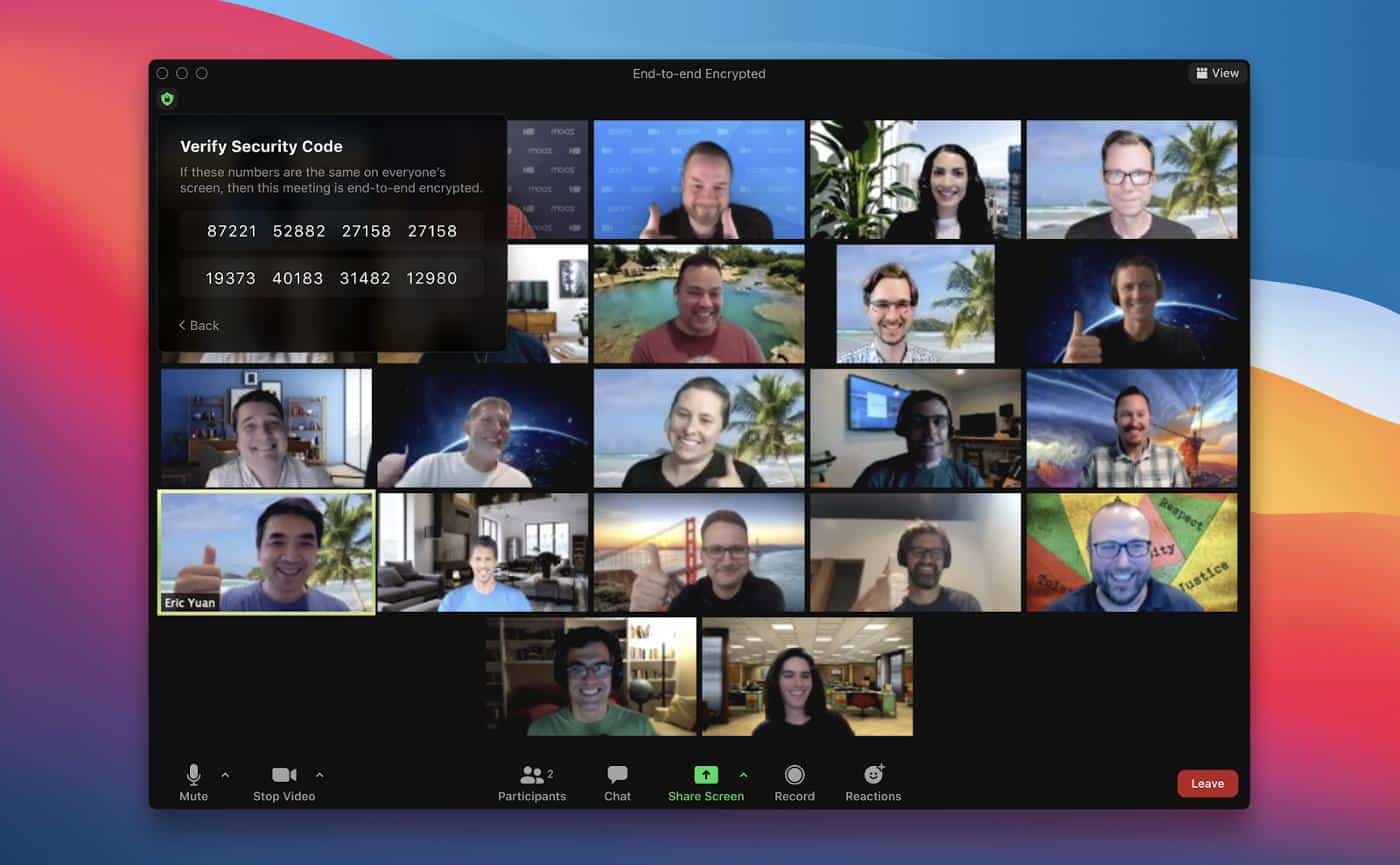 Zoom meeting was used interchangeably with video conferencing during the pandemic. The tool has many functions that facilitate remote work, including the ability to share multiple screens simultaneously, chat with support for document sharing, and a recording function.
7. Microsoft Teams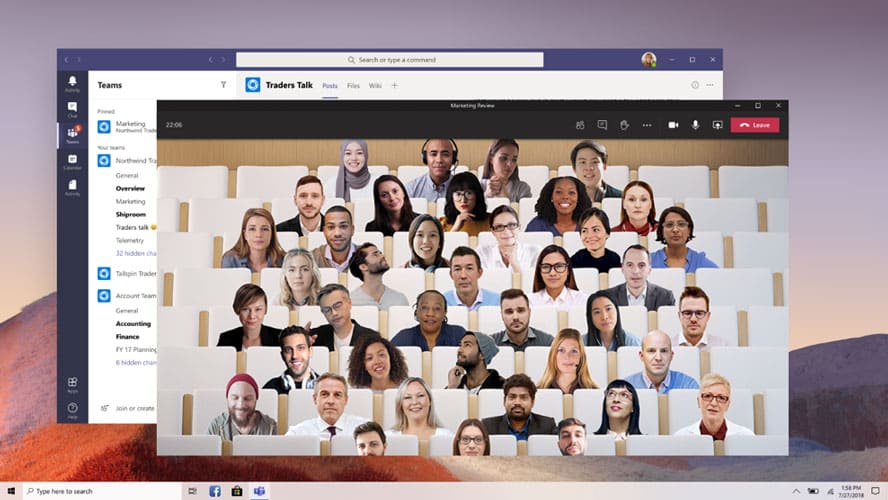 Another digital winner during the pandemic is Microsoft Teams. It's great if you're already using Office 365 and want to stay in the same environment. Collaborate in documents, have video meetings, and send direct messages or chat in channels.
8. ProofHub
When you are working hybrid you need to keep track of the tasks, follow-up with the team, and get frequent feedback. This is where ProofHub comes into the picture, to assign tasks, online proofing, group chats, and to keep a track of all the tasks through Gantt charts and Kanban boards. You've got it all in real-time, under one roof! ProofHub also lets you integrate with several other tools so that your hybrid team works efficiently.
9. Miro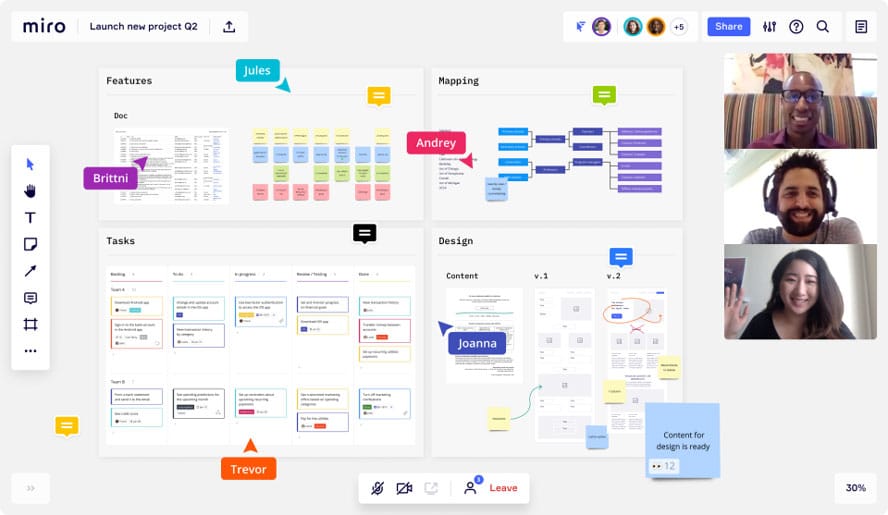 We've all collaborated on a whiteboard before. And that's exactly what Miro is, but online. The tool lets you and your team generate and communicate ideas without the restrictions of a physical whiteboard. You can use it to brainstorm ideas, plan, iterate, and drive projects. Miro also lets you integrate many of the tools you already use.
10. &frankly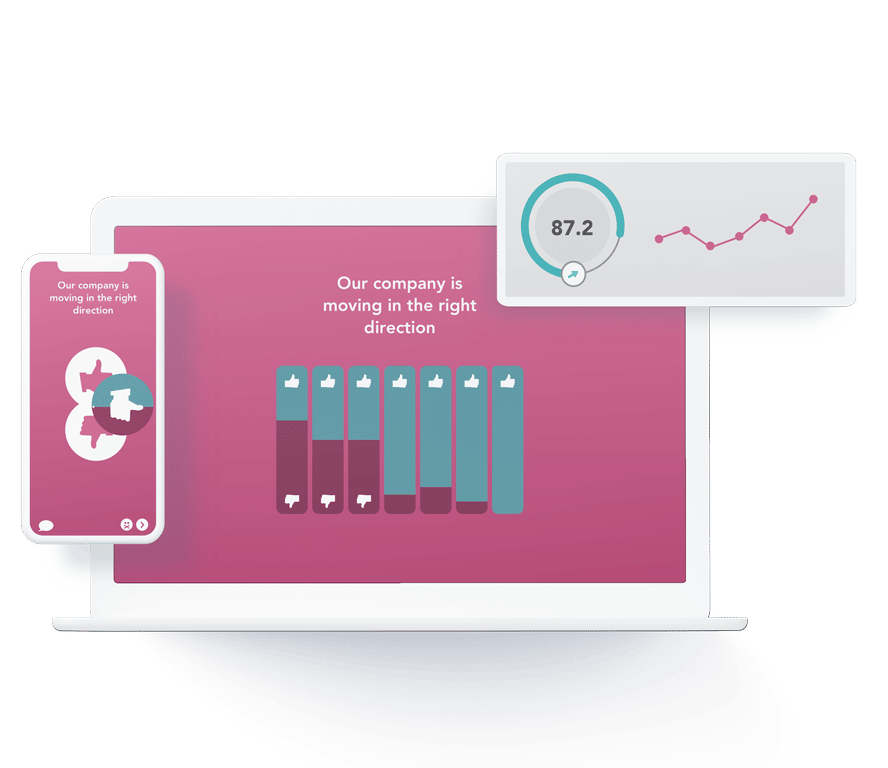 Feel the pulse of your team with &frankly. Send them quick questions, for example about the work environment, mood, and team spirit. Thanks to the insights, you can act quickly if needed. Something that could be extra important when some people are working from other places than the office. To make their voice heard and get the heartbeat of the entire organization.
11. Mentimeter
Boost engagement in your meetings with Mentimeter. Create polls, quizzes, and Q&As to give everyone the chance to make their voice heard. And it can be done anonymously for greater transparency. Regardless if the participants are in the office, at home, or somewhere else, everyone can feel included. And for a seamless experience, you can integrate with Zoom and Microsoft Teams.
12. WeTransfer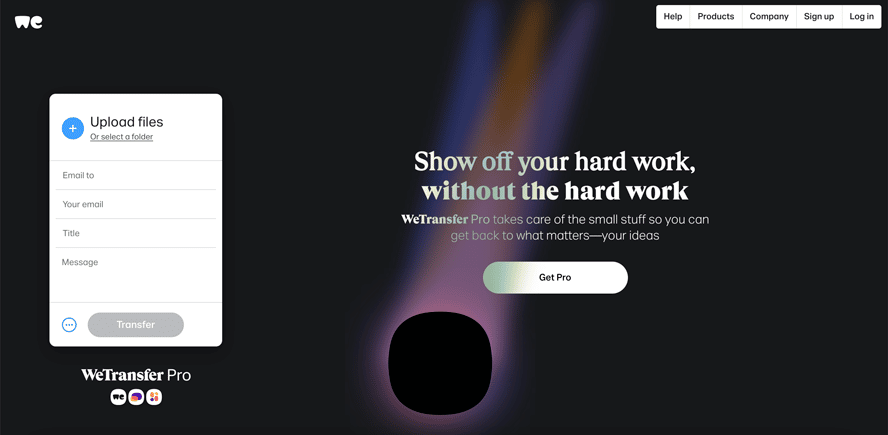 WeTransfer is great when you need to share large files with your team. All you need to do is to upload your files, type in the email address you want to send the files to, add a message and you're done. It doesn't get easier than that.
13. LogoDesign.Net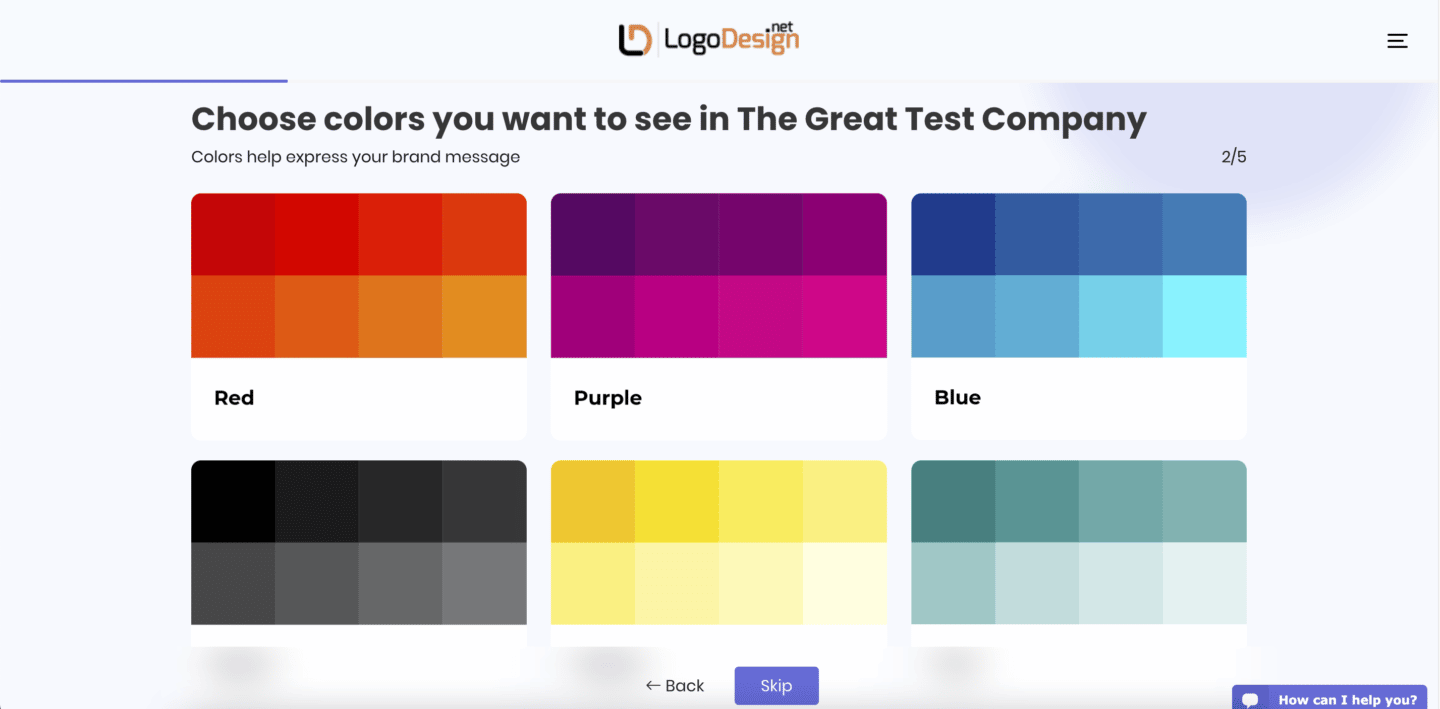 LogoDesign.Net is internet's premium online logo maker. Everything works with a drag-and-drop feature, meaning an eye for aesthetics is enough for you to generate your brand's entire visual design gallery. If you know what you are looking for, the design process doesn't take more than 5 minutes, tops. From illustration logos to minimal logos and more, everything is just a simple click away.
14. Sceyt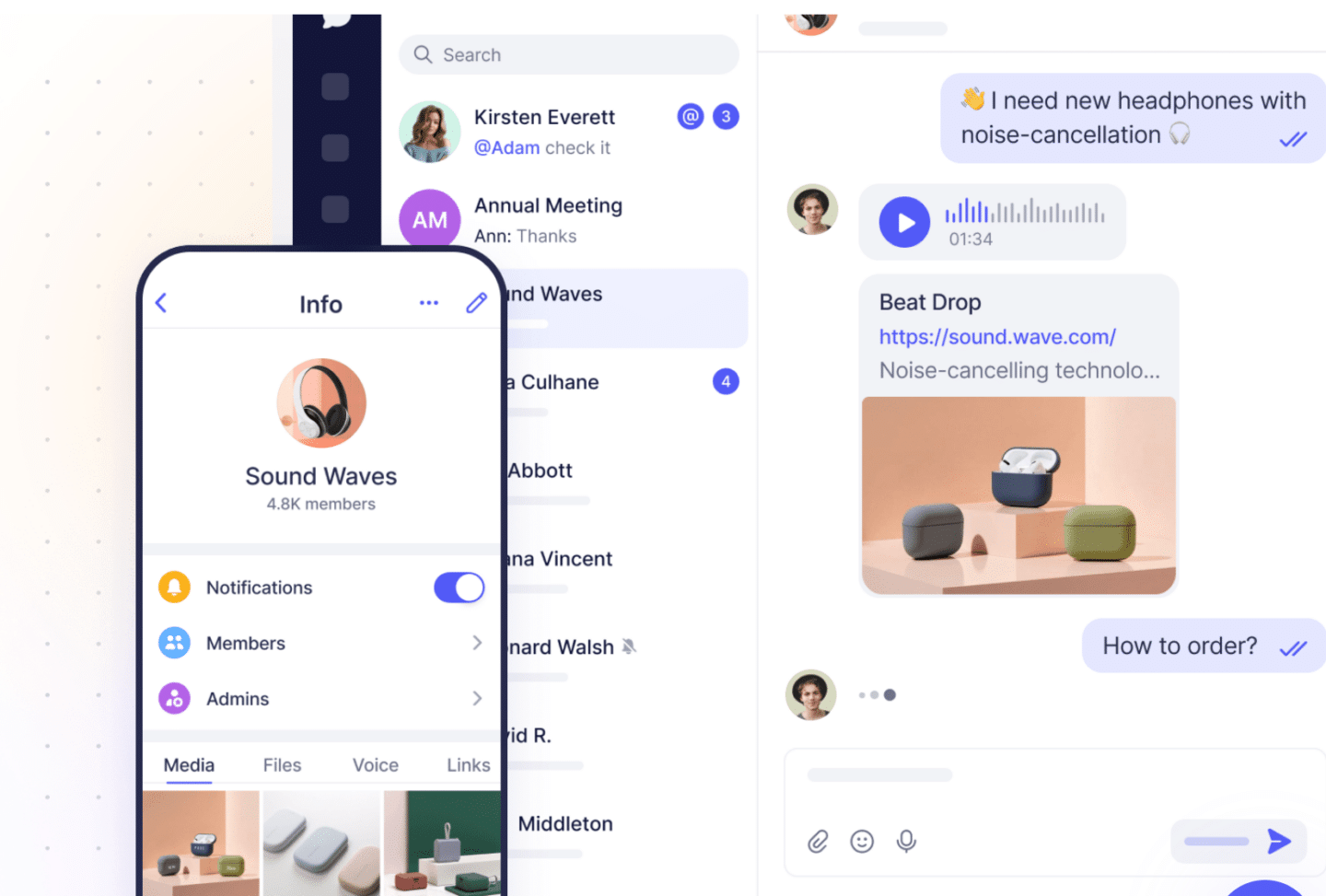 Sceyt is an in-app chat solution that allows developers to easily integrate real-time messaging functionality into their applications. With its minimal code API and ready-to-go UI kits, developers can quickly set up and customize the chat experience to match their app's design.
Sceyt also boasts fast and reliable message delivery, making it an ideal solution for businesses that require efficient and seamless communication between users. If you're looking for an alternative for Sendbird, Sceyt is a perfect solution.
15.X. Crowdspring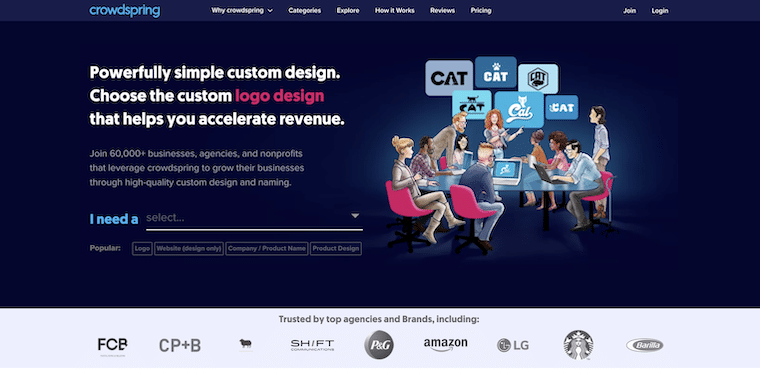 Crowdspring is your gateway to a world of creativity and design. This popular global platform connects businesses with over 220,000 professionals across various design disciplines, including custom logo design, website design, product design, and 30+ other categories. Simply post your requirements, receive custom design concepts, and interact directly with designers to refine their ideas. With robust intellectual property protections and excellent customer support, crowdspring makes accessing global creative talent a breeze right from your desk or home if that's where you're working. It's like having a personal design team at your fingertips, no matter where you are.
To wrap it up
Hybrid work can take many different forms depending on the company and industry you're in. Nevertheless, digital tools are more and more important and the requirements of a seamless experience are increasingly higher. The tools you use for hybrid work should support you, not disrupt your work. So think about your team's needs and challenges when evaluating the tools you're going to use.