It's finally here. You can now connect Oneflow to Google Workspace productivity apps and experience true contract magic by automating the entire contract management process – without even leaving the Google environment.
A Google digital native's best friend
Google Workspace, formerly known as the "G Suite", includes Gmail, Google Sheets, Docs, Slides, Drive, and many other apps, was designed to allow asynchronous work to happen. Multiple users can edit a document, spreadsheet, or presentation simultaneously on a truly digital collaboration platform that makes our lives easier.
Oneflow's vision is to help businesses remove friction in working with contracts by transforming every manual step in the process into digital so the experience feels like magic. Combined, Oneflow's addon for Google Workspace apps enables digital natives to create, send, track and sign contracts directly from Google Workspace apps. 
"Oneflow's addon will change the way Google Workspace users were working with contracts, and make their experience even better. The possibility to transform any documents into legally binding contracts without leaving your favorite Google apps will free up time for you to be creative and focus on more important things. It's definitely a feature that we've been longing for!", says Ankit Mittal, Technical Integration Manager at Oneflow.
Why use Oneflow for Google addon?
As we've transitioned to a remote or hybrid work model, the ability to be productive on devices other than one computer has increased in importance. The possibility to access documents at any time, and share them with anyone, is now a necessity.
With Oneflow for Google Workspace, any Google user can at zero cost connect, create, and collaborate in real-time. 
This is especially useful for freelancers or those who don't sign contracts as often so it's not worth paying for any electronic signature software but still want to sign legally binding contracts to protect themselves and their business. 
By connecting Oneflow and Google, you can collaborate your document, say a statement of work (SOW) in Google Docs with your client, create a contract from the SOW with a click, and send it to the client for collecting free, legally binding e-signature at the very moment an agreement is reached – anywhere, anytime.
You'll benefit from the powerful editing capabilities of Google Workspace apps, such as Google Docs or Slides before turning the documents into digital contracts ready to be signed. Ta-da!
Read also: Smart tips for signing online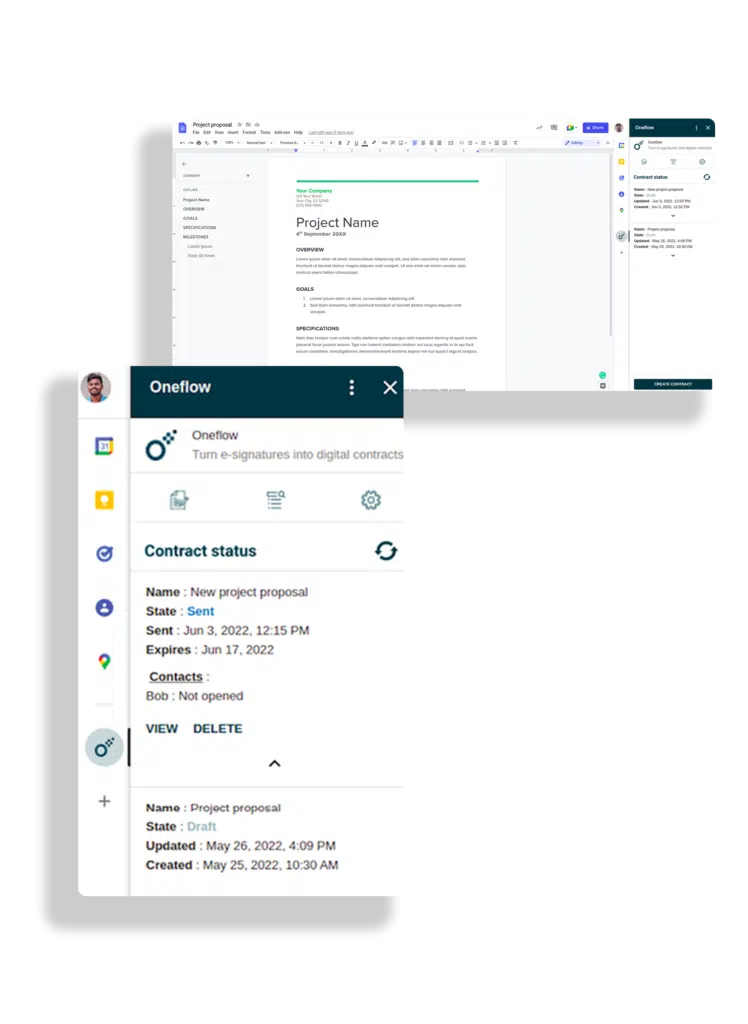 Benefits of Oneflow for Google Workspace
Let us dig deeper into the wonders you can work with this integration:
Never leave Google Workspace with the Oneflow addon
Gone are the days when you had to switch between multiple apps when working with contracts. Typically you'll create and present a document to your counterparty and make edits until you reach an agreement. Then you'll upload the agreement to an e-signature tool for signing. With this addon, you can create Oneflow contracts directly from any Google documents, pretty much with the click of a button. Get notifications and check the status of all contracts in real-time, on the sidebar sitting next to your Google apps, without leaving the document view. Imagine how much time you'll save not having to switch back and forth between the different tools just to get a contract signed.
Turn documents into contracts in no-time
Oneflow for Google Workspace makes contract collaboration smoother than ever. Involve as many parties as you want at any stage of the process without friction. Share documents between collaborators and invite counterparties to sign documents with secure, legally binding electronic signatures.
Choose the level of access for all participants and allow them to edit, comment or view your document in Google, then manage who should sign, or just view, the Oneflow contract. You can also decide in which order.
By making it easy to co-create and work on the contracts in real-time simultaneously, Oneflow for Google Workspace encourages a truly collaborative culture.
Read also: Grow your business with contract management software
Save time by using Google Docs as templates to create multiple Oneflow contracts
Make contract templates out of your Google document to create multiple contracts with the right participants, all ready to be signed in Oneflow. For example, when you want to send the same contract with minor edits to different participants.
From a single Google document template, you can access all current contract statuses created from the template – sent, opened, signed – in the sidebar next to your document view.
Contract magic by Oneflow for Google
Make contract management simple by creating contracts directly inside of your favorite Google Workspace apps. Add contract magic while working with the best Google tools.
Read also: 5 benefits of contract automation that will boost your business
Want to start using Oneflow for Google Workspace?
Just like magic, it's free to use our Google Workspace addon with our free plan. All you need is a Oneflow account and install the addon to your browser.
Here's how you get started.
2. Download our addon from Google Workspace Marketplace
3. Activate Google Workspace Extension and copy the API token generated in Oneflow.
4. Paste the code into the app sidebar on Google Docs/Slides for instant integration. Ta-da!
More information on how to get started with Oneflow for Google Workspace integration on our Help Center.
Create, collaborate, track contracts and sign them with legally binding electronic signatures – try it free now.