Sales teams are constantly seeking innovative ways to streamline their processes, enhance collaboration, and close deals more efficiently. One way to do this is through a digital sales room.
At Oneflow, we've got you covered with all the tools and features you'd expect in a digital sales room. However, we steer clear of labeling ourselves exclusively as such. Why? Because the digital sales room tools only scratch the surface of the benefits our contract solution provides. We focus on providing tools that help all departments and across the entire contract lifecycle from pre-sign to post-sign.
What is a Digital Sales Room?
According to G2, to qualify for inclusion in the Digital Sales Room category, a product must:
Provide a customer-facing digital portal that allows salespeople to share relevant content
Allow salespeople to track customer engagement with content
Allow customers communicate with sellers within the customer-facing digital portal via chat or video
So how do these features actually work to guide the sales process forward?
1. Video Demo
Imagine starting your sales process with a warm welcome video or integrating video demos directly into your contracts. This personal touch not only engages your prospects but also provides a dynamic and interactive experience.
2. Attached Testimonials or product information
You can also attach testimonials and additional product information right inside your contracts, so that your prospects can see your product information when it matters most. Prospective clients can access this valuable content right alongside the deal, reinforcing your product's value.
3. Interactive Product Table
Perhaps the most important part of the digital sales room is allowing your potential clients to interact with your products through a product table where they can select the quantity of licenses or products they need. From one-time costs to variable expenses, automatic summations provide real-time pricing information.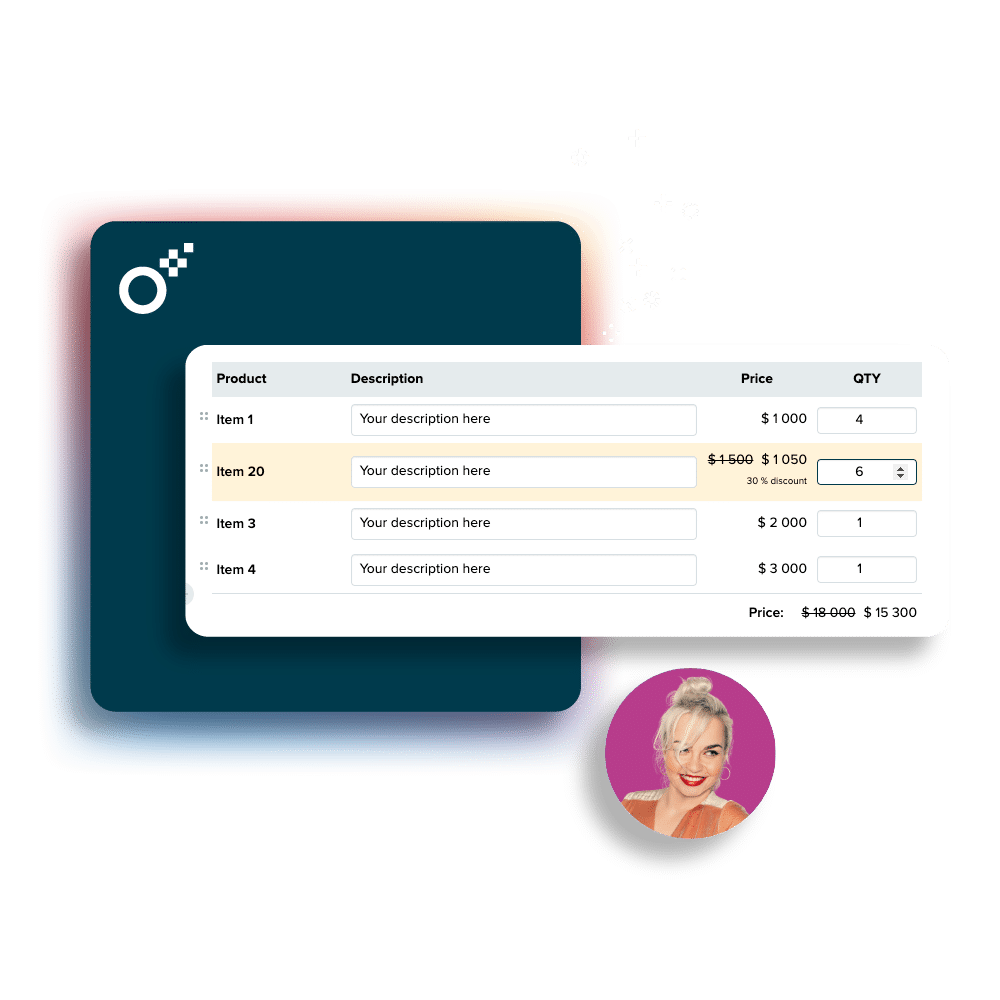 4. Inline Comments
Say goodbye to the confusion of back-and-forth calls and emails. With inline comments, you can communicate directly within the digital sales room. This eliminates misunderstandings and streamlines the negotiation process.
5. Engagement Tracking
Know when your clients open the contract. By receiving notifications, you can reach out at the right moment, ensuring that you're there when they need you. Plus, you can track how many times each user has accessed the contract to know who might be the roadblock in negotiations.
6. Live Editing
During discussions, agreements might require adjustments. With live editing, you can make changes to the contract in real-time, and the counterparty will only ever see the most up to date version. No more rewriting and re-uploading – for everything from big changes to correcting small mistakes.
7. Sign Later
Now for the important part: closing. You can use all of the features above without the pressure of a sign button, because with sign later, you can add the signing function only once you've all agreed about the terms of the deal.
So how might a singular focus on digital sales rooms cost your company money?
Oneflow recognizes that confining digital sales rooms to the sales department can be a costly mistake, limiting the success of your contract solution. The success of these solutions depends not only on their ability to assist the sales team but also on adapting to the unique needs of various departments. This approach is not just about convenience; it's about ensuring the security of having all your company's contracts in one centralized place, simplifying the logistics of IT management, and, above all, making your contracts easy to find once they are signed.
Don't waste extra time and money on third party storage software, or other contract management tools for different departments.
So how does Oneflow cater to your whole company and the whole contract process?
1. An automated and searchable archive
All contracts created in Oneflow are automatically saved to your searchable and filterable Oneflow archive. When you create a contract template, you can pre-assign it to be saved into a dedicated folder and with specific tags, so that no matter who uses it, it will always be saved in the right place. You can also use contract linking to see all related or impacted contracts if one of the documents needs to be re-signed. 
2. Integrations for each department
Oneflow provides integrations that cater to the specific needs of each department. You are probably already familiar with our CRM integrations, but we also have integrations for HR and recruitment software, and productivity integrations with Zapier, Google Workspace, and Microsoft 365. These integrations ensure that each department can leverage the full power of Oneflow within their existing workflows.
3. A digital sales room: Workspaces for individual departments
Workspaces within Oneflow allow each department to have its own templates, dashboard, and archive. This means that HR, legal, procurement, finance, and IT & Ops can customize their work environment to match their unique needs. They can create and manage templates specific to their department, track the progress of contracts on their dashboard, and access an archive that contains contracts relevant to their operations.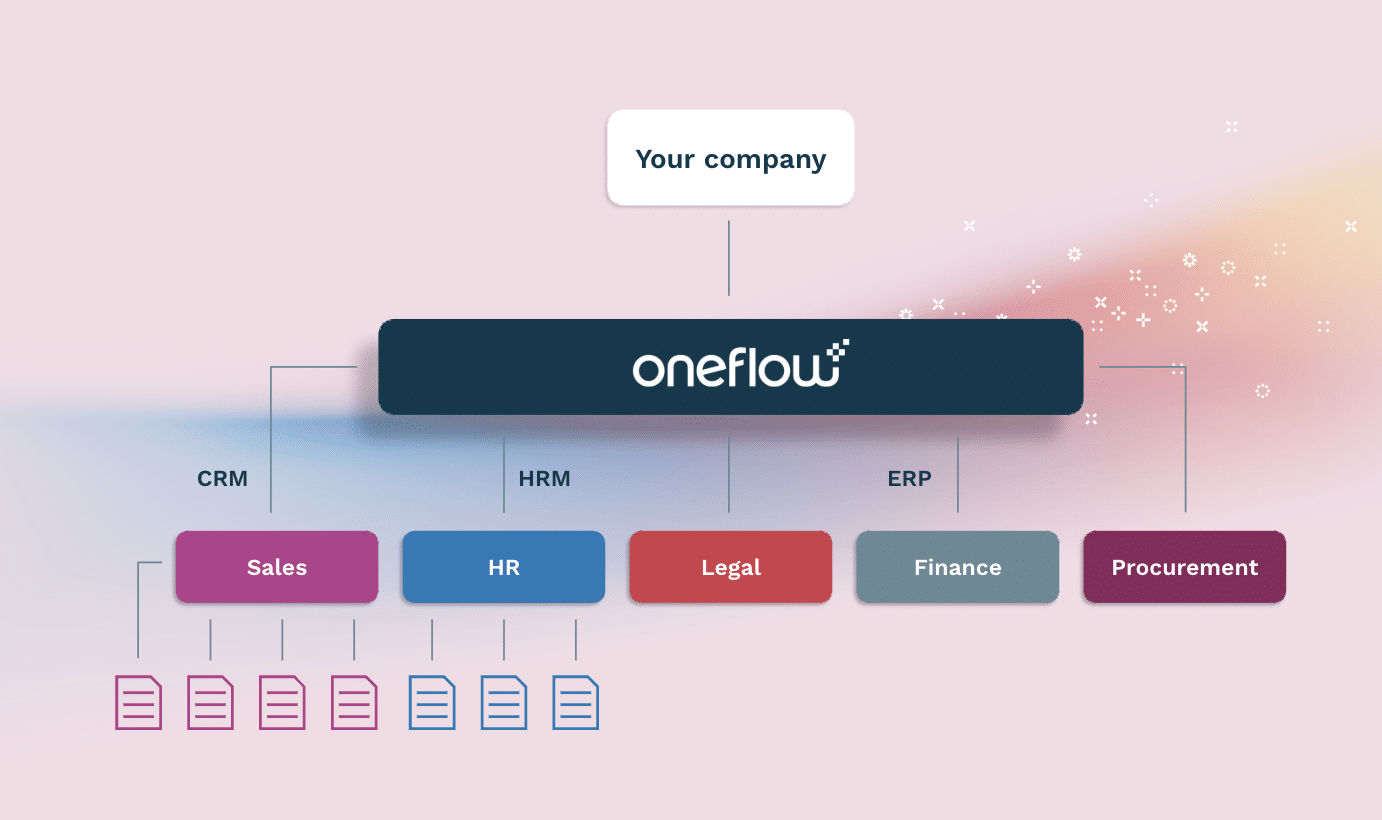 4. Customizable user permissions user, role and access management
Oneflow understands the importance of data security and access control. To address this, the platform offers customizable user permissions. This feature allows you to define who can access what within the system. Your employees will only see and interact with the workspaces and data relevant to their roles and responsibilities. This ensures that sensitive information remains protected, and employees can focus on their specific tasks.
5. Reporting & dashboards
Keeping track of all of your ongoing contracts and proposals is pivotal in providing unparalleled clarity when it comes to ongoing deals. In Oneflow, you can track all ongoing contracts, or filter in your archive for unopened contracts, overdue contracts, or contracts where it is your time-to-sign.
The digital sales room powered by Oneflow is undeniably a game-changer for sales teams, offering a plethora of tools and features that enhance the entire sales process, from engagement to closing deals. However, its true power lies in its ability to transcend sales and cater to the diverse needs of your entire organization. With Oneflow, your organization can harness the full potential of this digital sales room to optimize productivity and streamline operations across the board.