There's no question about it. The future of contracts is data-driven, interactive, and built in HTML. We call it truly digital contracts because that's exactly what it is.
You've heard of digital contracts and documents. Perhaps you're thinking of PDFs and Word files. But how digital are they, really? The functionality is still quite limited. Oneflow contracts, on the other hand, are not a half-hearted attempt at a digital contract process like PDFs and traditional electronic signature solutions are.
They are truly digital, the real deal. Made for our lives as they are today and tomorrow.
In this article, we'll cover:
The difference between semi-digital and truly digital contracts
There are two schools in digital contract management. One advocates the digitization of an analog model, much like the CD was for the LP. Here we find traditional electronic-signing providers focusing on an isolated part of the contract process, namely digitally signing a PDF.
To use the data in such agreements, you need additional software or time-consuming manual work.
The other school thinks beyond that and invents an entirely new approach to contracts.
Just like Spotify changed our way of listening to music. And this is where we find Oneflow. We make contracts data-driven, dynamic, and secure so that companies can grow faster with fewer risks and smoother workflows. And make smarter decisions that lead to faster deals.
Read also: Discover the Best Contract Management Tools – Our Top 10 Picks!
What about digital signature?
Digital signature is actually part of the whole image, digital contracts is the whole process that includes pre-sign, sign, and post-sign phase.
Oneflow is an all-in-one platform for your digital contracts. Where you can store your custom templates, create new documents and negotiate in real-time inside of your contracts.
No change or comment is ever lost, as you can track everything due to the detailed audit log.After sending the contract for digital signatures, each contract is stored in your extensive archive, which you can access at any time.
Filter your documents by certain traits and get an overview of them all on the dashboard or calendar view.
Each contract's lifecycle can be actively managed. You will receive notifications when action is required on a certain document.
What makes Oneflow unique
Three main points differentiate Oneflow from other players in the contract management market. These are:
An end-to-end platform for all steps in the contract process: Pre-sign, digital signature, and post-sign
Functional and flexible HTML editor
Structured and transferable contract data
Read also: Sell the smart way: with digital contracts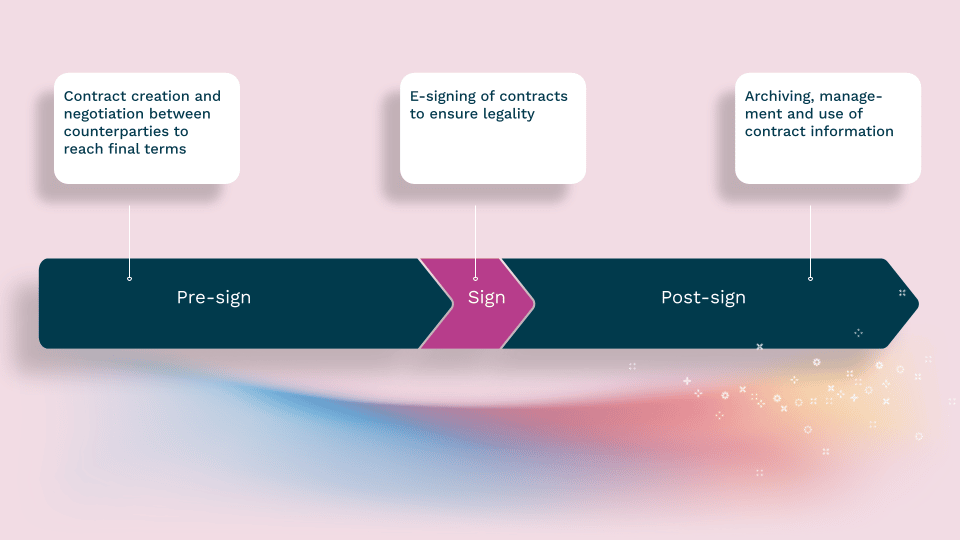 End-to-end platform
A contract goes through three phases during its lifetime, pre-sign, sign, and post-sign. Typically, many players focus on one or a few parts of the value chain.
Oneflow, on the other hand, is a complete solution for all phases and functional areas – you can create, collaborate, sign, archive, and manage your agreements on one platform.
In addition, you can gain valuable contract insights and integrate the contract flow with your other business systems.
Functional and flexible HTML editor
In Oneflow, you can create agreements in an HTML format. It makes them interactive and responsive and allows real-time editing. Are you opening the contract on your phone? Then, text size and line breaks are adjusted to make it easy to read.
To facilitate negotiation and collaboration in the contract, you can add interactive fields that the recipient can fill in. And all changes and updates are made in real-time, on the same version.
You can also create templates that make it easy for you and your team to have control and ensure that the correct format is used.
Structured and transferable contract data
The contracts in Oneflow are based on structured data stored in one place. The data is structured so that users can easily and smoothly find information and transfer contract data to other business systems automatically.
"Contracts are the most important assets in all companies.
And too much contract data is trapped in dead documents, such as paper and PDFs. We help companies digitalize the entire contract flow before, during, and after signing," says Anders Hamnes, CEO and founder of Oneflow.
Read also: Contract automation: A complete guide
Who can use digital contracts with Oneflow?
The short answer: everyone. Our customers range from small and medium-sized businesses to large national and international enterprises in most industries – from consulting companies to retail and logistics. Companies such as Thule Group, Northvolt, DHL, and Swish.
And the good thing is that all departments and teams benefit from Oneflow's truly digital contracts.
This means that they don't have to spread across different systems, which is expensive, messy, and risky.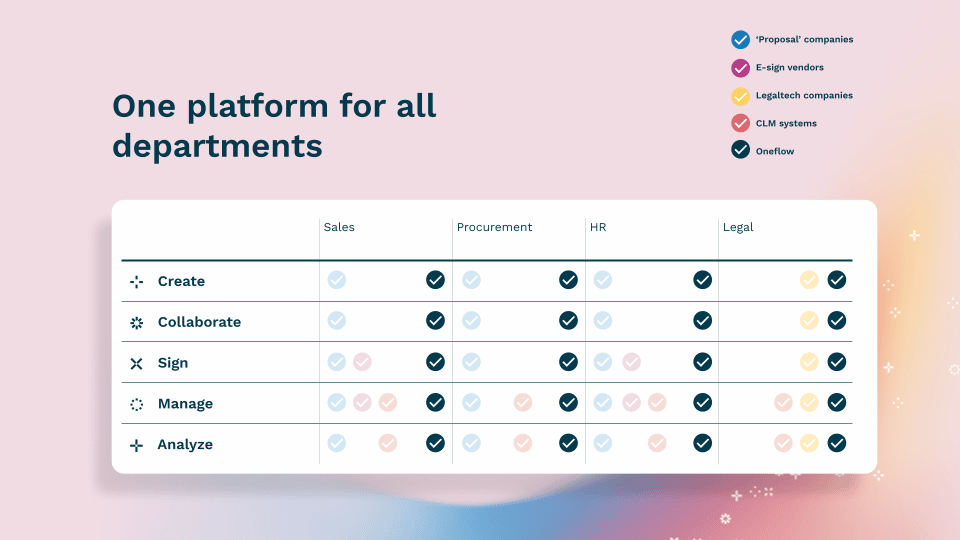 Improving sales with Oneflow
The sales department benefits significantly from Oneflow. They can use Oneflow to increase the proportion of customer contacts that lead to sales, shorten the sales cycle and streamline the agreement flow with e-signing.
Digital and interactive quotes simplify and streamline negotiations and collaborations as agreements can be updated in real-time, even after they're sent. Everything is handled on the same platform and often directly from the customer's CRM system.
How Tele2 uses Oneflow to drive more sales
What about HR using digital contracts?
HR teams can use Oneflow to digitalize employment contracts in the recruitment process with e-signing.
Digital agreements provide a modern and professional image of the company as an employer and make it easy to update terms of employment. Everything is handled on the same platform and often directly from the ATS system.
How Hedin Bil uses Oneflow to streamline their contracts and ensure GDPR compliance
Oneflow for procurement and finance
The Procurement and Finance departments can use Oneflow to create and digitalize supplier agreements whose contract flow typically includes several participants.
A digital flow with a digital archive makes it easy for those involved to negotiate and update terms in the same version, keep track of renewal dates and billing information, and access all agreements on the same platform.
How Byggmax uses Oneflow to make smarter and faster purchases
The legal teams can also benefit from Onelfow
Legal teams can use Oneflow to create agreements and templates on the same platform, streamline agreement flows, manage agreement templates, check permissions, and overview the organization's agreements in different functions.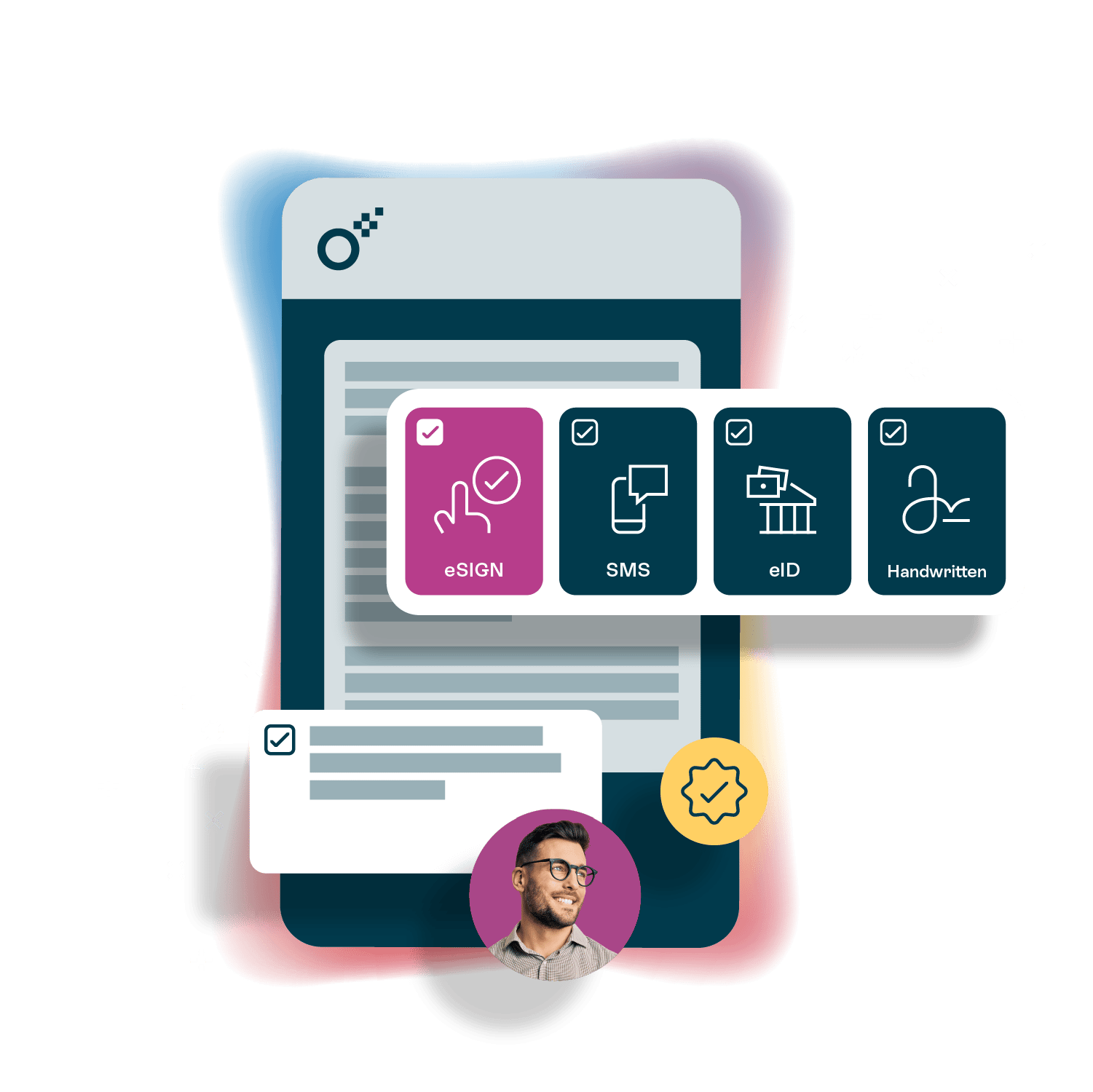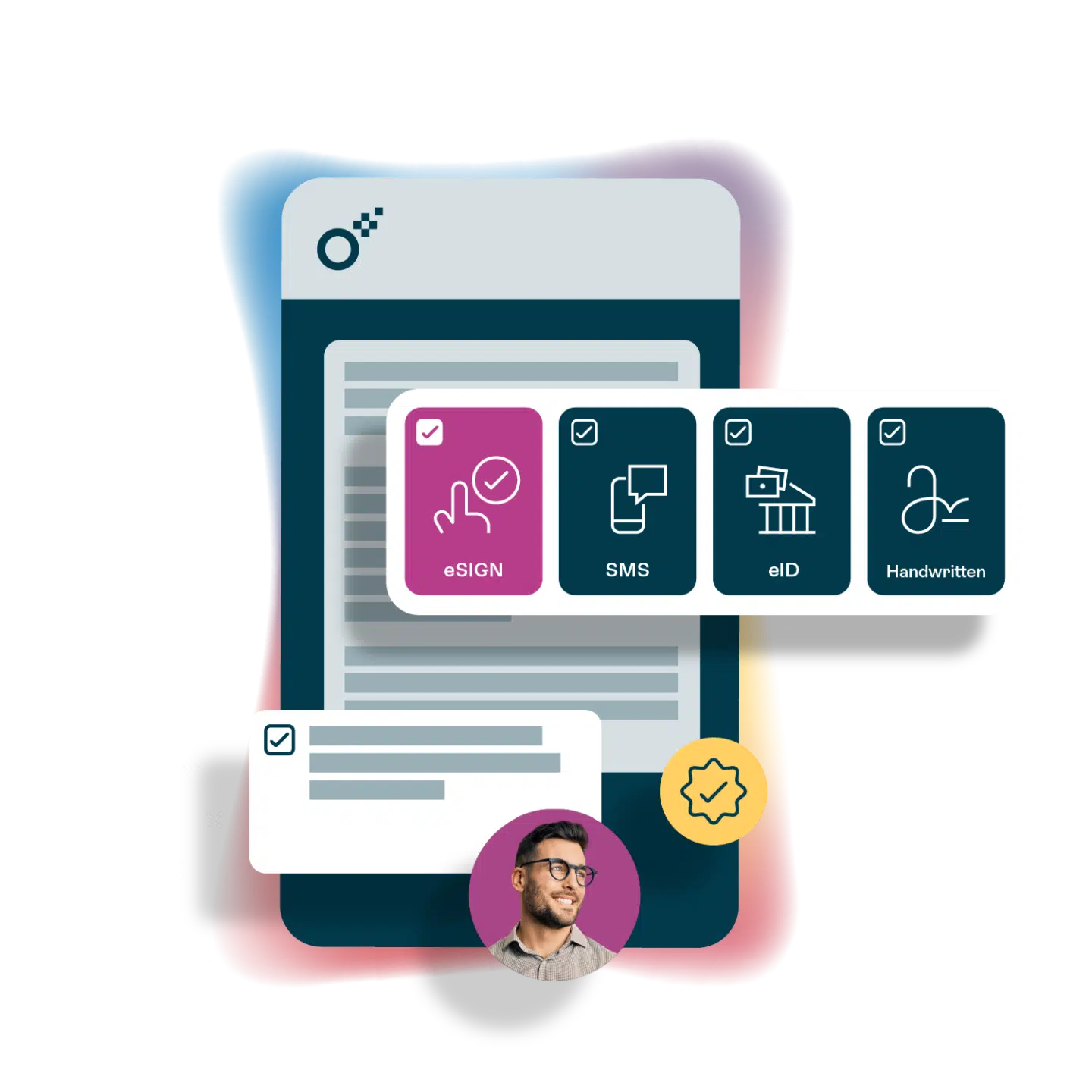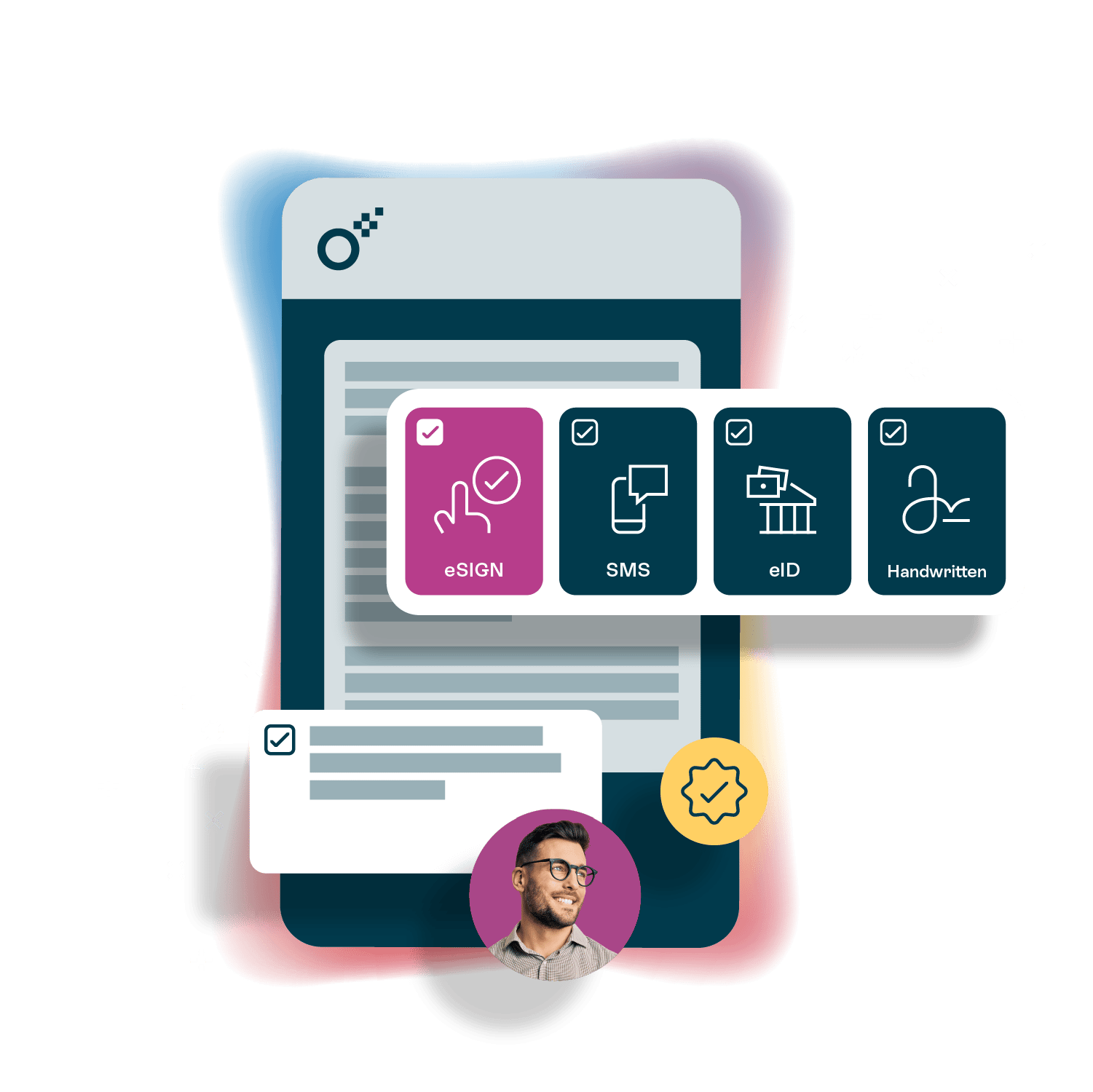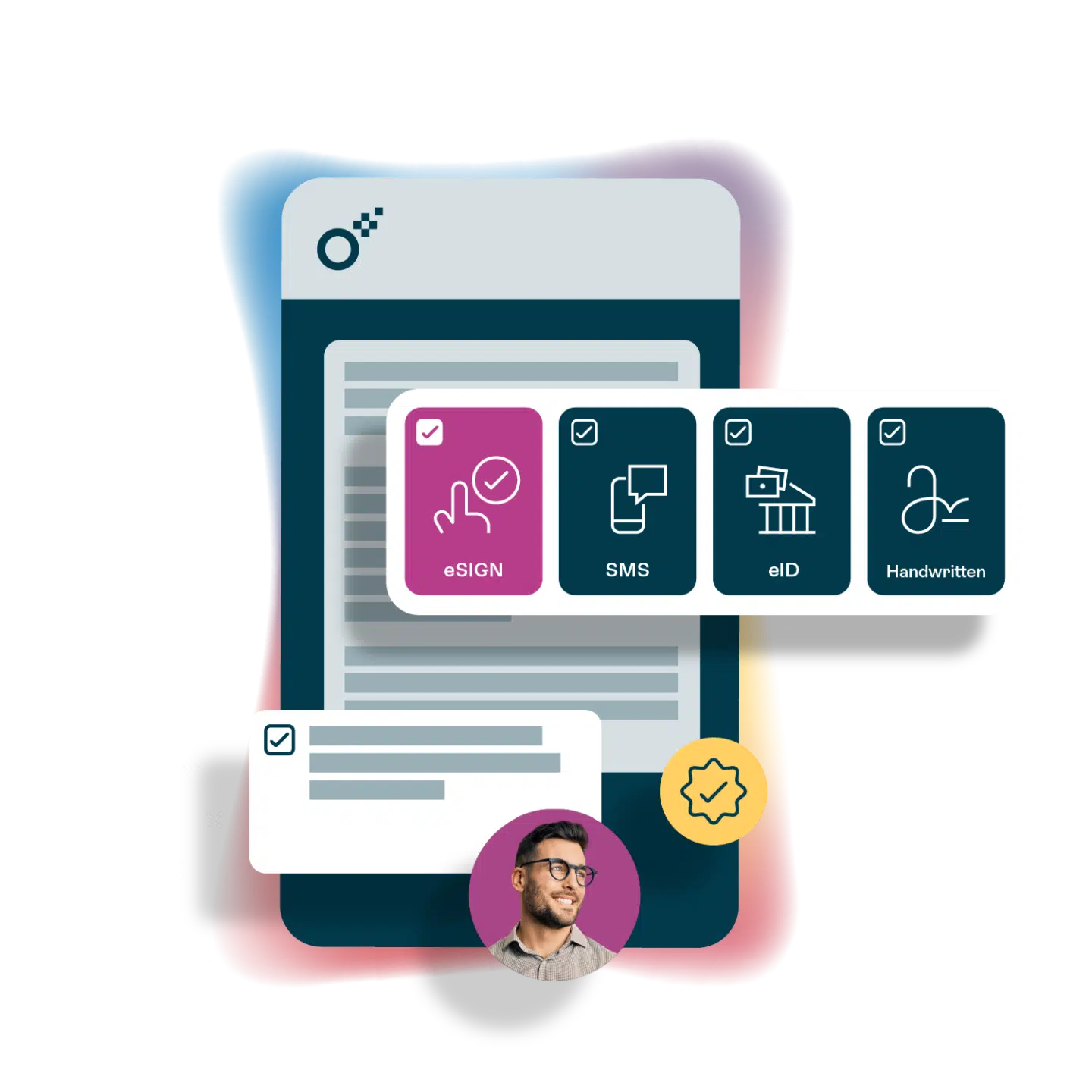 Ask us anything about truly digital contracts
Want to know more about digital contracts or the future of contract handling? We'd love to hear from you.