Whether you're familiar with Oneflow or not, one of the services we offer is the ability to sign documents using an e-signature. But this is merely the tip of the iceberg and there is so much more innovation in our box of tricks.
Our motto is "less contract admin, more contract magic" and that's exactly what we aspire to provide throughout the entire contract management process. Oneflow doesn't just focus on the signing aspect of the contract lifecycle, it's a holistic platform that also handles the pre-sign and post-sign elements too. From creating, to collaborating, signing and storing. Let's explore what you can do using Oneflow besides e-signature.
Why is contract management important?
Contract management is an often overlooked but essential aspect of management for any business. Contracts impact every aspect of business, from Sales, to HR, to Legal and Procurement. Even a small company can deal with hundreds, if not thousands of contracts on a regular basis.
Having so many agreements with third parties at once can become a huge task to manage properly. Failure to renew a contract, negotiate a new one, or store one can have dire consequences to your bottom line and could result in customers losing faith in your company and churning.
HTML based – see edits in real time
While there are still many people using PDFs for their contracts, we've realized that times have changed and this format just doesn't cut it anymore. PDFs are static documents, which means that all the data contained within is trapped and cannot easily be transferred between systems.
Oneflow's digital contracts are HTML based, which means that it's essentially a living document. All parties are able to work within one version of the document and edits can even be viewed in real time, even after the contract has been sent. This removes the inefficiency and tediousness of sending documents back and forth with changes multiple times.
Vital information can also be captured from a digital contract and synced directly to the software and platforms you use elsewhere in your business, such as your Google CRM. Much more than just e-signature, right?
Read also: 7 benefits of electronic signatures in the hybrid workforce
AI Assist
AI has been dominating headlines lately and is definitely a trend that is here to stay, with some really exciting applications. This is certainly the case with our AI Assist copywriting assistant. This feature gives anyone the ability to draft a contract in seconds without ever leaving Oneflow.
All you need to do is supply AI Assist with an outline of the type of contract you want to create and it'll generate a first draft in seconds.
Whether you're looking to create a contract for a new apartment or an offer of employment, AI Assist has your back. Rough ideas can become fully fledged contracts in the blink of an eye. Once you've had a quick proof read and made the edits you require, your contract is ready to be sent!
Besides e-signature: Use Oneflow templates
It can be incredibly time consuming having to constantly create brand new contracts from scratch. Businesses deal with a multitude of contracts for different functions every day. Attempting to draft these without having templates to hand really isn't an option.
Oneflow's smart templates can be easily customized due to our intuitive contract editor. For example, you can add video messages,images or interactive product tables to make really compelling proposals.
We encourage you to get as creative as you like with the design and make your contract the way you want it. Include all the elements that you think will help you to stand out and get that e-signature without delay!
Read also: Contract lifecycle management: A complete guide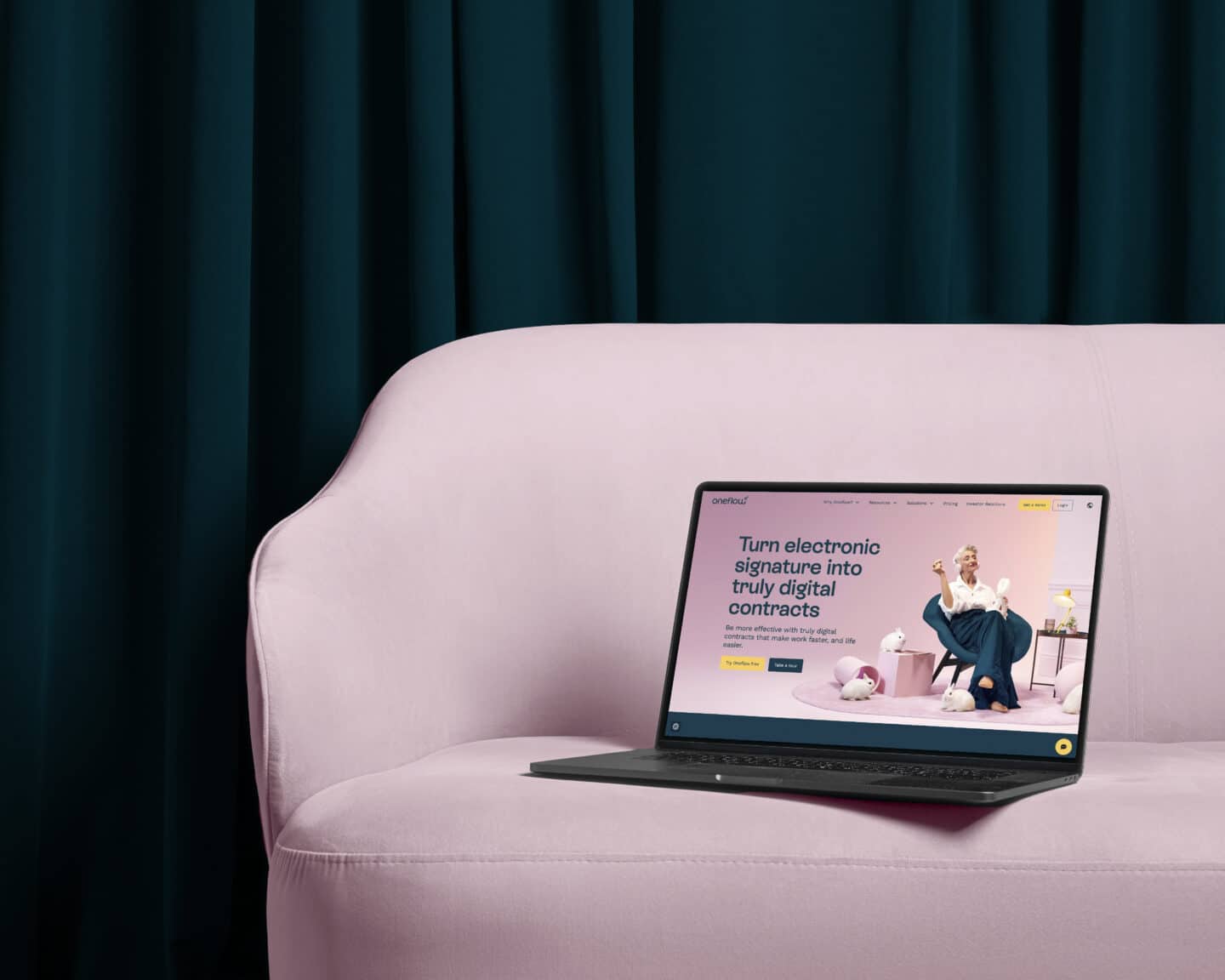 Oneflow Integrations
The data in digital contracts isn't trapped, unlike PDFs, and can be transferred between the different systems you may be using. Oneflow integrates with multiple software tools, including:
Salesforce
With Oneflow's Salesforce integration you can easily create contracts from any object inside the CRM – without ever leaving the platform. You can automate and customize workflows, seamlessly transfer data and track the progress of deals in real-time.
The integration also includes a two-way sync, which means that any changes made in either Salesforce or the contract, will seamlessly be transferred between the platforms without you having to lift a finger.
HubSpot
Our Hubspot integration gives you the ability to create, track, negotiate and add an e-signature to your sales proposals directly from HubSpot. Reach your targets with a fully automated proposal workflow.
You can also create proposals directly in HubSpot from templates with a click. Data such as products and participant information, will automatically transfer to your proposal.
Zapier
Oneflow's Zapier integration allows you to connect our contract management to the tools you're already using in your company – creating a smooth and efficient experience. Zapier has over 5000 apps that you can connect with!
Google Workspace
Create, send, track, and sign your documents from your Google Docs or Slides with Oneflow for Google Workspace. With this add-on, you can turn your documents collaborated on Google Workspace apps into contracts. Add counterparties without switching tabs to sign your documents with legally binding signatures.
Read also: 6 ways how B2B businesses can survive in a recession
Share a video
This feature helps you to increase the hit rates of your proposals and contracts by providing a more personlized experience to your prospects. With Oneflow you can record a screen demo and add your voice or a personal video greeting and add them as part of the content in your proposal!
Additionally, if you have an existing video you'd like to use, you can upload this to be embedded in your contracts as well.
Mobile friendly
Business is no longer conducted solely on a laptop or desktop, and many individuals like to stay up to date with work when they're on the go. In fact, 70% of B2B contracts are signed on a mobile device. Oneflow lets recipients review a contract on any device and sign with just a tap.
Automation
Oneflow includes a number of automation features that can help improve efficiency. For example, you can automatically send reminders to sign contracts, reducing the need for manual follow-up. What's more, Oneflow's integrations with other software tools can automate the contract process even further.
You can also set up automated workflows to help avoid issues with compliance. Digital contracts can be set up with automatic reminders for contract renewals, ensuring that you're always up-to-date with the latest regulations and deadlines.
So, there you have it. Oneflow is certainly no one trick pony and there's a lot more under the hood besides e-signature. The platform encompasses the entire contract management process from start to finish, with a wealth of pioneering features to remove the friction from your workflows and help you to experience true contract magic.