Thinking about signing a document online? Don't bother. Unless you want a quick and easy way to sign documents electronically on your phone. Otherwise, it's definitely not for you.
Ok, so you've carried on reading. Maybe you have some questions popping into your head? In this article, we'll cover:
How to electronically sign a document
Is signing documents online free?
How to sign documents on the phone
Signing documents electronically is a little too easy
Have you tried getting a paper contract signed with a counterpart miles away? Signing documents electronically is stupid simple in comparison. If you're used to the hassle of chasing signatures, you might get suspicious of how easy electronic signing is. Could something so simple even be legal? Absolutely.
How to electronically sign a document
There are many different e-signature platforms out there and variations of signing methods; click of a button, SMS, eID, drawing on the screen, etc. But in general, the signing flow looks something like this:
Upload your document to an e-signature platform or create it in-app
Add signers and send them the link to the document via email
Sign the document with your preferred signing method
Done!
Signing documents online is sometimes free, sometimes not
If you're looking for a way to sign documents online for free, there are a few things you need to consider first. Even though the short answer is yes, you can sign documents online for free, it all depends on:
The level of security connected to the e-signature
The document format
Are all levels of electronic signatures free?
Not all e-signatures are free of charge. As a rule of thumb, it depends on the level of security connected to the e-signature. For example, signing with a tap or drawing your signature on the screen is free, while SMS or eID signing comes with a cost if it's issued by a third-party provider.
And this is important! When evaluating e-signature vendors, always ask what security measures they apply to protect the legal value of your signatures. This goes for free as well as for premium e-signatures.
Is signing any document format free?
The world is made up of paper, PDF, and HTML contracts. You could say that signing paper contracts is free, but only if you don't count the time and risks involved. And they're definitely not suitable for our lives as they are today.
When it comes to PDFs, it depends on the tool or platform you're using. Many e-signature vendors offer the possibility of free signing of PDFs, but with certain limitations. For example, the level of security could be compromised, or there's a limit to how many signatures you can create per month.
HTML contracts are generally not free to sign. To be able to use the benefits of interactive, data-driven documents, you normally have to pay per user and month.
No one wants to sign documents on the phone
This might be true if you're a hibernated dinosaur. But for the rest of us, it can sometimes be the preferred way. Signing documents on the phone is easy and lets you be flexible and efficient. It's as legally binding as a document signed on desktop.
Did you know that 70% of B2B contracts are opened on the phone? Not a small number you can ignore, so you need to make sure the contract is readable on the phone. Pinching in and out to read the PDF document means an experience full of friction, wouldn't you agree? Choose an e-signature vendor with care, one that offers the possibility of creating mobile-friendly documents.
Have some documents you need to sign online?
If you insist on signing your documents online, Oneflow could be an option. Let's have a look.
How to electronically sign documents in Oneflow
In Oneflow, signing contracts electronically is blink-and-it's-done kind of easy. In other words, nothing for lovers of lengthy processes. Here's how you do it:
Click New contract > Create blank, then Add content or Upload PDF
Add counterparty and click Send
Voilà, the green Sign button pops up, and you can electronically sign your document with a legally binding signature
Wondering what it looks like for the person on the other side of the virtual table? Recipients of your Oneflow contract can electronically sign your document like this:
Open the email with the invitation to sign
Click the link to open the document
Review the content and click Sign
Confirm you're the person asked to sign, that you have understood the contract, and have the intention to sign it
Click Sign to finish
Is signing documents free in Oneflow?
To sign documents for free in Oneflow, you have to choose the basic signature with a click. It's legally binding and offers a high level of security. But because it's defined as a Simple Electronic Signature according to the eIDAS, it's not regulated by any specific security requirements laid down by law.
In Oneflow, you can sign interactive HTML documents and PDFs. The first option comes with a price, and the latter is free – forever. So if you want to sign endless documents at zero cost, you can do that by uploading PDFs.
How to sign a Oneflow contract on your phone
Removing friction in your work is at our core. In Oneflow, you can create mobile-friendly documents that look great on any device. And lets you sign with a tap. Good for you, the recipients, and your patience.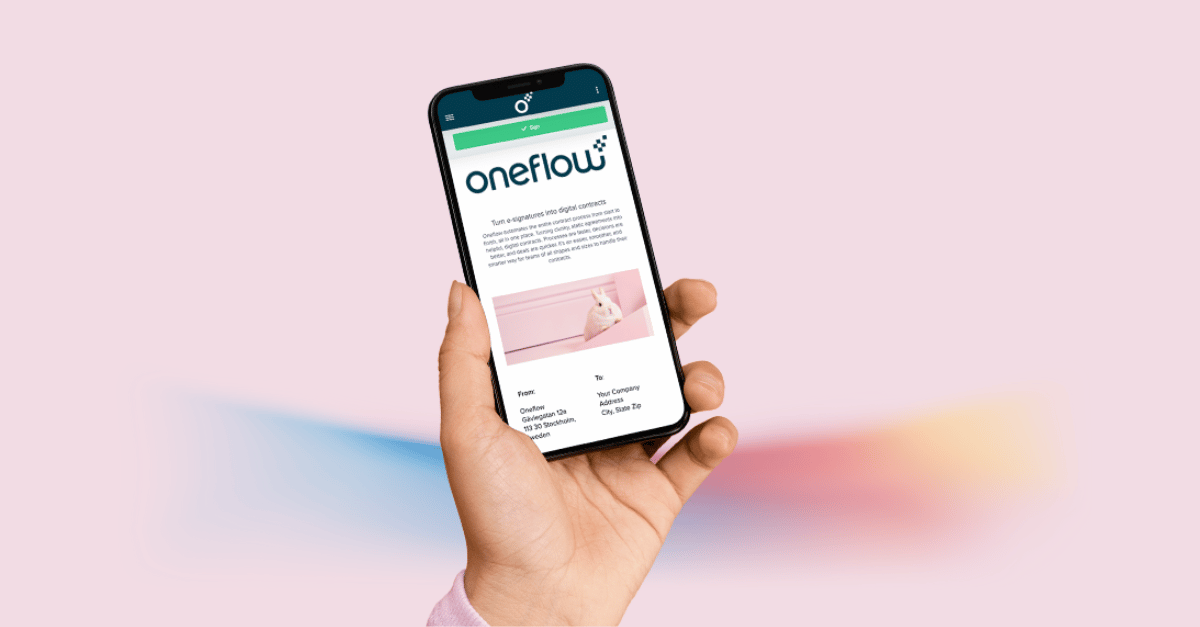 As you probably can tell, signing documents online is not for everyone. It's for those who are serious about removing friction in their work and adapting their business to the digital order. Does this sound like you? Let us know!